Belgian pianist returns to Lincoln Sept. 12
By Tom Ineck
"The 1998 Jazz in June series ended with the spectacular American debut of Belgian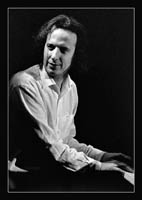 pianist."
Thus began my Lincoln Journal-Star review of Paduart's last Nebraska appearance.
When he returns Sept. 12 for a 7:30 p.m. performance at P.O. Pears (one of several upcoming shows funded by the Berman Music Foundation), it promises to be a similarly stellar occasion--and a bit of deja' vu.
Yes, Paduart is four years older and has released three more CDs since his first visit to the States, but his lush, romantic piano style still contains echoes of his most obvious influences, from Bill Evans and Fred Hersch to classical impressionists Claude Debussy and Maurice Ravel. And, he will be accompanied by the same longtime Kansas City rhythm section of bassist Bob Bowman and drummer Todd Strait, who recently relocated to Portland, Ore.
Bowman and Strait proved their thorough musicianship by doing justice to Paduart's often difficult pieces just hours after meeting the composer, I wrote of the trio's first concert collaboration. The up-tempo opener, "Steps in the Snow," was a good example of the trio's ability to lock into a groove and expand on the chord changes.
The pianist also is a composer of great range and ability, from beautiful ballads such as "Precious Moments" and "Billet Doux" to the harmonically adventurous "Thinking of You," the 1998 performance of which I described as "reminiscent of McCoy Tyner's two-fisted keyboard style." Paduart embellished with lyrical flourishes and grand chords without sounding grandiose.
The Brussels native began classical piano training at age 10, made his first attempts at improvisation on trumpet a little later and discovered jazz at age 17. But it was a master class with Michel Herr (then pianist with harmonica virtuoso Toots Thielemans) that convinced him to pursue jazz full-time.
Since 1996, Paduart's focus has been almost exclusively on the trio format, resulting in the CD Clair Obscur, his tribute to pianist and composer Fred Hersch. His 1998 recording Belgian Suites features Malach, and the following recording, True Stories, features saxophonist Charlie Mariano. Last year, he returned to the trio format for Trio Live and toured Sweden, Denmark, Norway, Switzerland, France, Italy, Netherlands, Luxembourg, and Belgium with guest saxophonist Rick Margitza.
In addition to its Sept. 12 appearance at P.O. Pears in Lincoln, Paduart's trio also has booked engagements Sept. 13 at the Blue Room in Kansas City, Mo., Sept. 14 in Ottumwa, Iowa, and Sept. 15 in Topeka, Kan.
On Oct. 10, the Westport Art Ensemble of Kansas City appears at P.O. Pears with its unique and progressive jazz sound. It regular members are bassist Gerald Spaits, saxophonist Josh Sclar, guitarist Jake Blanton, keyboardist Roger Wilder and drummer Todd Strait.
As Butch Berman wrote in the last edition of Jazz, after catching the ensemble at the Blue Room in Kansas City: "Comprising a repertoire that extends from Ornette to the Byrds (a tremendous rendition of "Eight Miles High") plus originals, this truly is a band to watch-definitely the best new band in K.C." 'Nuff said.
On Dec. 5, Kansas City's Doug Talley Quartet will take the stage at P.O. Pears, performing selections from saxophonist Talley's latest release, Kansas City Suite, an ambitious project that takes the listener on an historic tour of the Midwest ìCity of Fountains.
The recording primarily pays tribute to the fabulous era of the 1920s and 1930s, when Kansas City was making music history and political boss Tom Pendergast was peddling influence with a vengeance.
Kansas City Suite begins with a geography lesson called "1600 E. 18th St.," where the Blue Room jazz club now occupies the famous corner of 18th and Vine. "City of Fountains" has a more pastoral mood, like a stroll through one of Kansas City's many parks on a warm, sunning afternoon. The beautiful ballad "The Sleeping Child" refers to one of the many sculptures in the Country Club Plaza, while the frantic-paced "The Buck Stops Here" refers to the famous pledge by favorite son Harry S. Truman.
The other members of Talley's working quartet are pianist Wayne Hawkins, bassist Tim Brewer and drummer Keith Kavanaugh.
---
top
Sons of Brasil brought exotic sounds from K.C.
By Tom Ineck
Lincoln's 2002 Jazz in June series, sponsored in part by the Berman Music Foundation, began June 4 with a high-spirited performance by the six-piece Sons of Brasil, who brought the exotic rhythms of Brazil via Kansas City, Mo., the group's hometown.
Trumpeter and leader Stan Kessler also is the band's most technically proficient and imaginative instrumentalist. Beginning on flugelhorn, he dominated the breezy opener, "Amazonas," from the Sons' CD of the same name. "Aquarela do Brasil (Watercolors of Brazil)," by Ary Barroso, is a melody familiar to fans of Brazilian music and was expertly handled by Kessler on trumpet.
Again switching to flugelhorn, Kessler caressed the samba "Home Alone," which also featured a nice guitar solo by Jake Blanton, sitting in for regular band member Danny Embrey. Kessler's wonderful technique was perhaps best displayed on Caetano Veloso's "Partido Alto," a rhythmically challenging piece on which he flawlessly negotiated a bravura trumpet solo with rapid fingering and excursions into the horn's upper range.
Hermeto Pascoal's "Cha de Panela" had a punchy, driving beat shared by percussionists Gary Helm and Doug Auwarter and punctuated with solos by Kessler on trumpet, Roger Wilder on piano and Blanton on guitar. "It Is," a samba with a political message about human rights, was beautifully stated by Kessler on flugelhorn and Wilder on piano, who recently joined the Sons of Brasil as a permanent member replacing keyboardist Wayne Hawkins.

Kessler's own "Demons" was written about the area known as Bahia. After Kessler stated the melody on trumpet, Wilder elaborated with some exotic synthesizer effects on the electronic keys. The trumpet solo that followed was hard-charging and strongly imbued with the blues.
The flugelhorn, guitar and piano all got solo statements on "Know It All." Kessler again shone on trumpet throughout "Casa Forte," an uptempo bossa nova composed by Edu Lobo and named for a Brazilian beach resort. Kessler swings with confidence at any speed.
The Sons revived the evergreen Jorge Ben composition "Mas Que Nada," best known for the '60s hit by Sergio Mendes and, more recently, the retro Austin Powers movie. This version was true to the original while avoiding the ever-present parody. Likewise with Jobim's overdone "The Girl From Ipanema." Kessler's imaginative arrangement created stark, contrasting harmonies between the guitar and flugelhorn in a unique approach.
Kessler added brassy, virtuosic flourishes to the catchy "Done Deal" before the band finished with the trumpeter's composition "Mountain Vista," an upbeat samba with a wonderful percussion section and, again, notable trumpet melody.
Jazz in June's 11th season opening concert drew a large and diverse audience, estimated at more than 2,000 in the large green spaces near Sheldon Memorial Art Gallery on the University of Nebraska-Lincoln city campus.
---
top
Cables concert is 2002 live jazz highlight
By Tom Ineck
There never was any doubt that the June 11 performance by the George Cables Trio would be Lincoln's live jazz highlight of the year, and the year wasn't even half over.
Accompanied by bassist Cameron Brown and drummer Victor Lewis, Cables appearance for the Jazz in June outdoor concert series was highly anticipated and lived up to the high expectations. The Berman Music Foundation sponsored the concert.
The trio mixed standards with originals, straight-ahead jazz with Latin numbers, and ballads with up-tempo barnburners for a totally satisfying evening of music.
Cables gave the Latin tinge to an up-tempo "All or Nothing at All," spinning off endless variations on the familiar theme. Lewis' drum breaks were sheer artistry in rhythm. "Spookarella," a Cables original, floated along at a mid-tempo, modified waltz time before lurching into a lumbering gait that indicated the composer's quirky sense of humor. Brown displayed his original voice on a powerful bass solo, and Lewis delivered a patented drum barrage.
Next up was Cables' most familiar composition, the bright, affectionate and loving "Helen's Song," which the composer modestly claimed was "written out of guilt." Embellishing the guilt theme, he introduced "Helen's Mother's Song" with a solo piano introduction, followed by complex changed and intricate harmonies.
Instead of its usual ballad tempo, "Autumn in New York" was given an uptempo treatment with an Afro-Cuban underpinning. Brown's solo was virtuosic - simultaneously daring, aggressive and lyrical. The soulful gospel-tinged ballad "Will You Still Love Me Tomorrow" received a gorgeous, sensitive reading by Cables and company.
Halfway through a mid-tempo version of "I Thought About You," Cables cleverly inserted a quote from Monk's "Little Rootie Tootie." His take on "I Should Care" was a contrapuntal tour de force.
For his solo piano interpretation of Monk's "Round Midnight," Cables displayed his broad knowledge and grasp of jazz piano history, even including an extended stride passage. His "Senorita de Aranjuez" was a lovely tribute with a Spanish flair.
"Doxy," a familiar jazz melody penned by Sonny Rollins, was followed by the capper, a very fast rendition of Freddie Hubbard's "Intrepid Fox," with a surging drum solo by Lewis.
With his self-effacing comments, gracious demeanor and astounding keyboard technique, Cables dazzled the audience of nearly 4,000 who turned out to fill the sculpture garden at the Sheldon Memorial Art Gallery.
For a pianist of such stature, accompanists of equal ability are hard to find, but Brown and Lewis more than fit the bill. Together, the trio operates as a unit and forms one of the great collaborations in jazz today.
---
top
Paris and San Francisco meet in Lincoln
By Butch Berman

It seemed like Paris in Lincoln via San Francisco June 18 at the third in a series of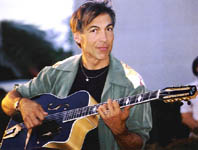 acts that the Berman Music Foundation brought in for the Jazz in June series this season.
We booked the sensational Hot Club of San Francisco at the Zoo Bar back in October 1995, when we had a few collaborations with Lincoln's famed blues bar. Paul Mehling, originator of these talented cats, made an indelible impression on a lot of folks, including me, back then-so it was a thrill for me to have the Jazz in June committee's approval for this group.
After more than a decade in the biz, Paul's concept of putting together a revolving band of players who dig Django Reinhardt, Stephane Grappelli and the premier Hot Club of France of the '40s has succeeded wildly with every configuration that I've caught between here and California. All the performances and CDs are A+ #1.
This year's participants were Paul Mehling, leader, guitar and vocals; Robert Thompson, violin; Ari Munkres and David Ricketts, rhythm guitars; and Louis Matthee, bass.
Paul, as always, was on top of his game with his off-center quips directed toward the bemused throng of folks, beautiful articulated vocalizing and of course, his outstanding chops on the guitar. The entire group smokes behind him, with all members doing their best to recreate the mammoth rhythm sound behind Django and with violinist Thompson hanging in all the way with Paul. Stephane Grappelli would have been proud. You never miss drums as the rhythm section churns behind the two soloists, swinging like crazy.
They performed nearly 20 tunes within two sets that gorgeous night, including their takes on "The Man I Love," "Djangology," Gerry Mulligan's "Limelight," Chick Corea's "Armandoís Rhumba," and several originals. Their new CD, Claire de Lune, is a gas, so check it out. (For a review of the CD, visit the BMF website.)
It was truly another night to remember. To Django Reinhardt and Stephane Grappelli, rest in peace.
---
top
Dave Pietro band delivers Wonderful concert
By Bill Wimmer
Saxophonist Dave Pietro brought his group to Lincoln for the Jazz in June series
June 25.

Pietro, a very talented musician, composer and arranger, came with an excellent group featuring David Berkman on piano; Pete McCann, guitar; John Hebert, bass; and Nasheet Waits on drums. Most of the music was from Pietro's latest recording, Standard Wonder: The Music of Stevie Wonder, and the music benefited from McCann and Berkman's presence from the recording and their comfort with Pietro's often tricky arrangements.

Opening with Wonder's "Another Star," the group fell into a "Nardis'-style vamp that set up a swinging and refreshing take on the tune. Pietro displayed complete authority on the horn with a fat tone, interesting lines and rythmic intensity. He will be one to watch in the next couple of years.

Berkman took off with a two-fisted keyboard foray and there was a nice exchange with drummer Waits at the end of the tune. "Smile, Please" was next, highlighted by McCann's interplay on the melody with Pietro and a very tasteful guitar solo for McCann, who was an excellent foil for Pietro all night long.

The group then launched into Wonder's "Go Home," replacing the original throbbing funk with a relaxed shuffle feel. The melody again featured McCann playing with Pietro, this time exploring the harmonies of the song and finding new textures in it. "The Seen between Two Unseens," a Pietro original, followed, featuring a hot groove from Waits and a very solid bass solo from Hebert.

"The Secret Life of Plants" opened with an intense, chordal rythmic solo by Berkman, fueled by drummer Waits. Pietro followed with one of his best solos of the evening-a probing, searching ride with a lot of turbulence. The song ended with an incredible fade-out vamp with great group interplay that prompted Petro's comment, "Miles Davis used to say that sometimes the best music is in the vamp." The band finished with "Happier than the Morning Sun," another Wonder song given a very interesting treatment, and a nice ending to a wonderful show, in spite of the less than ideal conditions of Jazz In June.

Without trying to sound like I have a complaint with the crowd in every review I do, I must say that a group like this that plays such intricate arrangements with such skill as these guys deserves a lot better than the very casual listeners at these concerts.

Jazz In June has become more of a social event than a music event, where it seems more important to speak above the rest of the crowd than it does to pay attention to the music on stage. A group like Pietro's or George Cables', playing really demanding music at these shows, needs to be heard by more than the 100 people directly in front of the stage, but at these shows it's hard to hear what's going on in the back with all of the crowd noise. There were even boomboxes spotted in the back this year!

That being said, there is so little major-league jazz at the Lied Center or anywhere else in Lincoln this year that any exposure to a group like Dave Pietro's is a special treat. I want to thank the Jazz in June committee for a strong series this year and a note of thanks to University of Nebraska-Lincoln trumpet instructor Darryl White for bringing in Dave Pietro's band, a very fine group featuring some of the best young players on the scene today.
---
top
Teen Djangirov continues to improve with "age"
By Tom Ineck
Eldar Djangirov, the 15-year-old jazz piano marvel from Kyrgyzstan, is aging with a combination of youthful grace and prodigious talent.
His appearance May 16 in Lincoln as guest soloist with the Nebraska Jazz Orchestra was sponsored in part by the Berman Music Foundation and marked the sixth Djangirov performance I've witnessed in the last five years (number seven was at the Topeka Jazz Festival, also reviewed in this issue of Jazz). He continues to impress this listener with his growing knowledge of jazz history and his astounding keyboard technique.
Before the young prodigy took the stage, the NJO blew the cobwebs out of the horns with a shot of "Double Barrel Blues," a Bob Florence tune with an odd blues pattern modulating between two keys. "Tiptoe," composed by Thad Jones, is another in the endless list of tunes based on the changes of Gershwin's "I Got Rhythm." Bob Krueger delivered a flawless solo on muted trumpet, and the trombone section and bassist Andy Hall expertly negotiated the difficult changes of a unison solo.
Mark Benson's nostalgic ballad "Sauk Valley Memories" featured the composer on soprano sax, pianist Tom Harvill and a lush brass arrangement that utilized four flutes. "Courage" is the second part of a three-part suite by longtime NJO contributor Rex Cadwallader. Krueger took off on some nice flights of fancy in the groove-heavy tune revolving around a trumpet-bass dialogue.
The first set ended with "There's the Rub," a funky number with ample solo spots for Ed Love on alto sax, Darren Pettit on tenor sax and Hall on a rapid-fire electric bass excursion.
As if to sneak up on his listeners, Djangirov began with an understated solo ballad rendition of the classic "All the Things You Are." Lush arpeggios segued to a very rhythmic section, which accelerated to bop tempo before returning to ballad time with classical flourishes.

Hall on bass and Greg Ahl on drums joined Djangirov for another familiar ballad, "Body and Soul." It was with "Lester Leaps In," however, that the pianist finally took off on a blazing keyboard showpiece, with echoes of Errol Garner, Oscar Peterson and, especially, the godlike Art Tatum - pretty heady company for a teenager from the former Soviet Union.
In the final set, Djangirov showed his familiarity with big-band blues on Neil Hefti's "The Kid From Red Bank," dedicated to Hefti's employer at the time, Count Basie. For a change of pace, the NJO launched into "Upa Neguinho," a breezy mid-tempo Brazilian tune by Edu Lobo. Djangirov contributed some amazing flourishes perfect for the lighthearted beat.
Another Thad Jones favorite, "A Child Is Born," received a lush treatment, building from solo piano, with Hall adding bass and Ahl adding brushes before the full band entered with a breathy, five-flute arrangement. "Swingin' For the Fences," based on "Sweet Georgia Brown," offered solo opportunities for trombonist Bryan Scott, tenor saxophonist Rich Burrows, guitarist Peter Bouffard and Djangirov, who took it out swinging furiously for his audience of 500 adoring fans.
---
top
Topeka Jazz Fest was a piano-lover's dream
By Tom Ineck
The 2002 Topeka Jazz Festival was a piano-lover's dream come true, with half a dozen world-class keyboard players on the bill. Much of the remainder of the 5th annual event, however, felt like deja vu--many of the same predictable tunes and many of the same artists from years past.

That doesn't necessarily mean the May 25-27 festival was a disappointment. But, with few exceptions, this year's edition didn't generate the level of excitement to which festival veterans had become accustomed.
Among the exceptions was the Bill Charlap Trio, which generated enough electricity in the crowd to power all of Topeka for the next year. Charlap clearly established himself as a pianist apart from all others, in a league of his own, despite the festival's overall strength in that area. Joined by his longtime bandmates - bassist Peter Washington and drummer Kenny Washington - Charlap turned the standards on their heads, executing them with precision and improvisational skill while remaining true to their mood and melody.
Other festival debuts worthy of note were those of trumpeter Terell Stafford, trombonist Wycliffe Gordon and bassist Jennifer Leitham. What follows are some of the highlights of the 2002 Topeka Jazz Festival, which was partially funded by the Berman Music Foundation.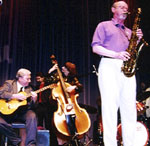 It all began with an impressive set fronted by returning artist Ken Peplowski on tenor sax and clarinet, joined by trumpeter Mike Bennett, trombonist Dan Barrett, pianist Joe Cartwright, bassist Gerald Spaits and drummer Todd Strait. In his Topeka debut, Bennett demonstrated an expressive and brassy style and a rapid-fire fingering technique on "Moten Swing" and an uptempo version of "My Buddy." He switched to flugelhorn for "In My Solitude."

Leitham was making one of her first appearances since she switched from John to Jennifer, but the flamboyantly dressed bassist soon dispelled any possible tension in the audience with her astounding technique and ingratiating good humor. Accompanied by pianist Russ Long and drummer Joe Ascione, she played a highly articulated lead on "I Thought About You," followed by a wonderful version of "Manha da Carnaval (A Day in the Life of a Fool)," from "Black Orpheus." Her bass solo was profound and virtuosic.

Thanking festival organizers, Leitham said she was "flattered to be asked to come even after my life changes." On posters for the festival that were printed last year, she was billed as John Leitham, a name familiar to fans of Mel Torme, with whom the bassist played and recorded extensively over the last decade of the singer's towering career.

But the nicest touch of all was Leitham's introduction to the next tune, a solo bass medley of "Out of This World" and the Joni Mitchell song "All I Want." Declaring herself a big Mitchell fan, she said, "I could do "Both Sides Now", but that would be a little too obvious." Her performance combined a free, lyrical improvisation with dark harmonies, powerful chords and percussive hand slapping.

After establishing her own abundant talents, Leitham allowed more space for her accompanists on "What Is This Thing Called Love" and "Isn't It Romantic?" on which she expertly stated the melody on bowed bass.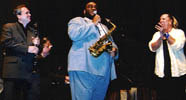 In her second visit to the Topeka fest, singer Rebecca Parris again proved herself an extraordinary vocal stylist and consummate show woman. She soared on "Autumn Leaves," delivered the ballad "Crazy He Calls Me" with dramatic flair and riffed hilariously on "When Sunny Gets Blue." Scolding the song's protagonist for her negative attitude, she inserted her own pointed commentary: "I'm bored with her blues. Change your name or get a life. Revoltingly blue. Boringly blue." She introduced "Don't Go to Strangers" as "a co-dependent's theme song, "and exhibited an impressive vocal range on "Do Nothing 'Til You Hear From Me."

This listener never tires of drummer Jeff Hamilton's festival spots. This time, he led a trio with pianist Tamir Hendelman and bassist Christoph Luty, but there never was any doubt who powers this threesome. Hamilton put them through the paces on ìI Love Being Here With You," "Lullaby of the Leaves" and "Too Close For Comfort." His brushes sizzled like rattlesnakes on Luty's arrangement of "C Jam Blues," and on "Felicidad" he ranged from hand drumming to wire brushes to sticks to knuckle raps and back to hands for a polyrhythmic effect.

Festival veterans John Clayton on bass and brother Jeff Clayton on sax led their quintet through a stunning set dedicated to Duke Ellington, including "Don't Get Around Much Anymore," "Love You Madly," "Caravan," "Take the 'A' Train" and "Perdido." The rest of this stellar group consists of trumpeter Terell Stafford, pianist Bill Cunliffe and drummer Jeff Hamilton, assuring that the unit runs with the precision of a well-oiled machine.

Trombonists Dan Barrett and Wycliffe Gordon squared off fronting a sextet that included Ken Peplowski, Joe Cartwright, bassist Jay Leonhart and Todd Strait. It soon became clear that Gordon's prodigious tone, triple-tonguing technique and skill with a plunger overshadowed even Barrett's considerable talents on "And the Angels Swing," "Mood Indigo" and "Cottontail."

Our first opportunity to hear the Charlap trio came at 11 p.m. the first night, when they opened with John Carisi's "Israel." Cole Porter's "All Through the Night" was an uptempo showcase for Charlap's powerful arpeggios, filigreed, lyrical lines and astonishing facility. On "Roundabout," he phrased the piano melody and dynamics like a first-class vocalist.

The trio proved itself a real band on "The Lady is a Tramp," stopping on a dime and restarting with flawless ease at a hot tempo. Charlap delivered an incredible impressionistic and explorative solo on "Where or When," and the fast-shifting keys and notes seemed to fall naturally - and magically - beneath his fingers on "My Shining Hour." The Charlap nightcap left the audience stunned, but supremely satisfied.

Charlap and pianist Ted Rosenthal paired up Sunday morning for a set that included Monk's "Let's Cool One" and Parker's "Au Privave," with help from Charlap's rhythm section. It was obvious that the two pianists have played piano duos before, and they are especially compatible in this challenging format.

Trumpeter Terrell Stafford stole the show in a set led by drummer Joe Ascione and also featuring trumpeter Mike Bennett, pianist Joe Cartwright, guitarist Bucky Pizzarelli and bassist Jay Leonhart. Cartwright was nicely showcased on a Latin-tinged "Body and Soul," but it was Stafford's bravura style on "Sweet Georgia Brown" and powerful, growling solo on "In A Mellotone" that set him apart from Bennett's stiffer, more academic approach.

In a Sunday evening set, Parris and a rhythm section of K.C. stalwarts put some nice spins on the familiar standards "If You Could See Me Now," "Day In, Day Out" and "Angel Eyes," which was taken at a very fast tempo after the singer explained that the mood is different today than when the ballad of lost love was written in 1940. "In 2002, I'm pissed off," she bellowed.

Parris has near-perfect intonation, as she proved on "You Don't Know What Love Is," done with a samba beat. For the ballad "What Can I Say?" she invited pianist Bill Charlap to join her in a duet that perfectly married their sense of confidence, their care in enunciating every note and word and their flair for dramatic effect. Scatting from the get-go, Parris finished with a full-tilt take on "Billie's Bounce."

The Clayton Brothers Quintet returned with a set leaning heavily on original tunes, including the funky John Clayton composition "Choose Me," and Jeff Clayton's uptempo "Runway" and his lovely ballad "Entre Vous." They also did justice to a couple of standards, "I've Never Been in Love Before" and Johnny Mandelís ballad "Emily." Pianist Bill Cunliffe's playing was especially tasteful on the slower tunes.

Pianist Eldar Djangirov's appearance on the final day of the festival has become a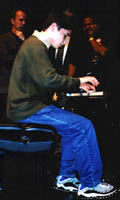 much-anticipated tradition, since he first performed a short solo set at age 11 in 1998. At 15, joined by bassist Gerald Spaits and drummer Todd Strait, he continues to amaze with his fluency in a variety of styles and tempos.

A very slow version of "You Don't Know What Love Is" was followed by a wildly uptempo "Lester Leaps In." Mulgrew Miller's "Song For Darnell" seemed an unusual choice for a set that was otherwise filled with jazz evergreens, but it was a beautiful take on the mid-tempo waltz. The trio finished with "You and the Night and the Music" and Dizzy Gillespie's "Con Alma" featuring Strait moving from sticks to brushes, adding all the right rhythmic colors to the musical canvas.

Strait's move from Kansas City to the Northwest was announced during the festival, a loss that will certainly be felt throughout the K.C. area and in booking next year's Topeka fest. Strait's power and versatility have been incalculable assets in the event's five-year history.

One of the chief disappointments of the 2002 festival was the dated, sappy Monday afternoon performance by vocalist Lynn Roberts. In a flashy, show-biz style that has more in common with vaudeville and Vegas than with jazz, she belted out "Til the Sun Comes Out," "Let's Get Away From It All," "East of the Sun (West of the Moon)," "Sunny Side of the Street" and the Mickey Mouse tune "Music Is My Best Friend."

Roberts may be a symptom of a festival in artistic decline. Event organizers bemoan the absence of local residents, yet they ignore booking options that might entice them. There is plenty of fertile ground for growth without pandering to an aging audience or surrendering to artless pop trends.

After the Roberts fiasco, the Jeff Hamilton Trio restored our faith with a strong dose of straight-ahead jazz. Milt Jackson's bluesy "Yano" was followed by Hamilton's arrangement of the medley "Isn't It Romantic" / "Serenade for Strings," on which the drummer phrased the melody with brushes. His dancing hands, effortless timekeeping and strategically placed kicks to the bass drum created a rhythmic minefield on "I Didn't Know What Time It Was."

Luty recreated the droning sound of a Scottish bagpipe while Hamilton's fingers rapped out a tattoo on the snare drum to lend authenticity to "Hamilton House," a Scottish folk tune. The trio took a fast-paced, convoluted path through Monkís difficult "Rhythm-n-ning." Tamir Hendelman hammered out single-not piano runs and deftly shifted directions, then Hamilton abruptly changed tempos during a furious solo on brushes.

In a moving tribute to the tragic events of Sept. 11, 2001, the trio played an original, unnamed ballad that quoted the melody to "we are poor little sheep who have lost our way."

The Clayton Brothers Quintet again highlighted its own compositions and arrangements, in contrast to the festival's unwritten policy that artists play familiar tunes. It's too bad that John Clayton felt it necessary to explain the importance of continuing the jazz tradition with new music for a new millennium. Music that is as good as the Claytons' music justifies itself.

Jeff Clayton contributed "Back in the Swing of Things" and a wonderful arrangement of Horace Silver's "Song For My Father," while John Clayton penned the impressionistic ballad "Next Time" and the uptempo trumpet feature "Blow Your Horn."

In a novelty set that often sounded like a swarm of killer bees, seven bass players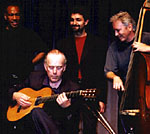 gathered on stage. The specially selected music ranged from Gerald Spaits' arrangement of "Don't Get Around Much Anymore" to the Andy Simpkins tribute "Walkin'" to Bob Bowman's "Basses in the Belfry" to John Clayton's moving arrangement of a Chopin prelude.

For the final appearance by the Bill Charlap Trio, most of the other pianists were in attendance, aware that it was a set not to be missed. Charlap began with George Wallington's "Godchild," then segued into "In the Still of the Night," showing incredible dexterity at the super-fast tempo.

His rendition of "Blues Skies" displayed an advanced concept that was - at the same time - accessible, lyrical and imaginative. "Blue Room" was taken at a caressingly slow tempo. On the other hand, "Slow Boat to China" was anything but slow. In Charlap's hands, it was a hydrofoil skimming across the water and taking listeners on an exhilarating ride.

Pianist Bill Cunliffe followed Charlap in a final solo piano set, not an enviable position to be in. Cunliffe handled it with humor and class, playing "If I Only Had a Brain," Jobim's "How Insensitive" and a movement from a piano concerto he wrote for his mother, which contained echoes of Copland and folk melodies like "Shenandoah." He then combined "Satin Doll," "Eleanor Rigby" and "The 1812 Overture" for a hilarious fusion of vastly different styles.

While sponsorships for the fifth annual festival were up, the number of people in the audience did not grow as much as organizers had hoped. Also, next year's lineup is weak by comparison, with only a few new notables such as pianist Joanne Brackeen, vibraphonist Peter Appleyard, baritone saxophonist Claire Daly and singers Tierney Sutton and Banu Gibson.

---
top
Tomfoolery
Project Object carries on Zappa tradition
By Tom Ineck
PETALUMA, Calif. - It is no surprise that there is great music happening in classic, restored movie theaters all over America.

Boulder, Colo., has the Fox Theater and the Boulder Theater. Even in Lincoln, Neb., the recent reopening of the former Stuart Theater as The Rococo already has yielded hopeful signs for a music demographic that usually gets short shrift.
I mean the audiences with more discerning tastes, audiences too small for the stadium shows and too big for the average club.
I mean those folks with a more adventurous spirit, willing and anxious to mix their rock with rhythm 'n' blues, folk, classical and even jazz music, perhaps all in the same evening.
Such was the case at the quaint and beautiful Mystic Theater in this northern California town of 52,000 when Project Object came to play the evening of June 23. I was half a continent from home, and the prospect of hearing a Frank Zappa cover band was intriguing. So, I headed north from San Francisco as two dear friends headed south from their home in Occidental to meet me at the Mystic.
My expectations rose to unrealistic heights as I imagined a group of accomplished musicians who could do justice to the complex, hilarious, sleazy, profound, political, exasperating, dark, puzzling, challenging, lyrical music of the master. Zappa (1940-1993) was somewhat of a human conundrum, and it was difficult to imagine anyone capable of capturing his many moods and contradictions.
I hoped for the best and feared the worst. What we got was the best imaginable.
No mere cover band, Project Object captured the man, the myth and the music without taking itself too seriously. There was never any doubt that the seven band members were having a blast playing and singing this confounded music, and the mood was contagious. The time signature changes alone would have stymied most musicians, but their execution was flawless.
I didn't take written notes that night, but I did purchase the band's CD "Absolutely Live" as a near-document of the performance. Recorded live at Wetlands Preserve in New York City on Aug. 5, 2000, it includes nearly all the same players and many of the same tunes we heard.

First, let's talk guitars. Zappa's fuzzy, wah wah-drenched, rock-style noodling was idiosyncratic in the extreme. Project Object's three crack guitarists - Andre Cholmondeley, Robbie "Seahag" Mangano and Ike Willis - managed to echo his quirky approach without copping his licks. When you get the CD, check out Cholmondeley on "More Trouble Every Day," Willis on "Filthy Habits" and Mangano on "The Evil Prince."
Jordan Shapiro added Zappa-like touches on Fender Rhodes piano and synthesizers, while electric bassist Rick Bartow held down the constantly shifting foundation and inserted occasional sly solo statements. Drummer Wes Paich did the impossible - keeping the devilishly difficult time changes while adding his own polyrhythmic flourishes.
In Project Object, singing is a group activity with everyone joining in along the way. But it was guitarist Ike Willis and the great Napoleon Murphy Brock - doubling on saxophone - who carried most of the considerable vocal burden. Zappa's lyrics are dense, cascading in outrageous riffs and keeping pace with changing tempos. Willis and Brock were downright playful as they met the vocal challenge, whether singing about raising dental floss in "Montana," the crazy world of Washington politics or that old "Cosmik Debris."
---
top