JOE CARTWRIGHT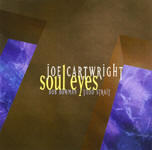 Soul Eyes
Lafayette Music
By Tom Ineck
"Soul Eyes" is the definitive recording for which longtime Joe Cartwright fans have been waiting, a live trio project that exemplifies the Kansas City pianist's power and virtuosity in extended performances over a range of material.
It is hard to imagine a threesome more compatible than this one, as Cartwright is joined by KC stalwarts Bob Bowman on bass and Todd Strait on drums. Bowman's fleet fingers, adventurous solo excursions and innate sense of time are perfectly matched to Strait's percussive genius and sensitivity. Of course, it is Cartwright's playing that shines most brightly. Lush arpeggios, crisp, clean single-note lines (at any tempo), soulful blues inflections and stunning dynamics are just a few of his trademark qualities.
The Topeka Performing Arts Center is the setting for three tunes, including Henry Mancini's classic "Dreamsville," Cedar Walton's keyboard workout "Ojos de Rojo" and Bowman's lively "Hebgan Happy Hour." The Oak Bar of the Fairmont Kansas City hotel is the scene for Pat Metheny's lovely "Always and Forever," Gershwin's "Love Walked In" and Wayne Shorter's "Fall," and Kansas Public Radio captured the trio's rendition of the title track by Mal Waldron.
"Ojo de Rojo" is a case in point, with Cartwright building the intensity before handing it off to Bowman for an inspired solo. Strait then makes an inventive solo statement on cymbals and toms. In like manner, Bowman begins the 15-minute "Love Walked In" with a bluesy bass blast, setting the stage for a lengthy and soulful exploration by Cartwright, followed by briefer, but equally splendid bass and drum solos.
The three ballad selections, "Dreamsville," "Always and Forever" and "Soul Eyes," capture the trio in its most sensitive interplay. Metheny's gentle tune is especially affecting in its honest, unabashed romanticism. Bowman and Strait show admirable restraint on the title track, clearly a showcase for Cartwright's astonishing keyboard prowess.
Recorded at three different venues last March, the sound throughout is well engineered and amazingly unified. With just seven tracks totaling more than 70 minutes, "Soul Eyes" is a generous package perfect for the gift-giving season. To order the CD, visit Joe Cartwright's website at http://www.joe-cartwright.com/.
---
BILL CARROTHERS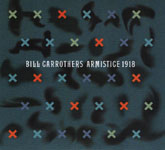 Armistice 1918
Bridge Boy Music
By Tom Ineck
Since his audacious performance in Lincoln, Neb., in April 1998 with drummer Bill Stewart and saxophonist Anton Denner as part of the trio A Band in All Hope, pianist Bill Carrothers of the Twin Cities has become one of our favorites here at the Berman Music Foundation.
Carrothers' latest and most ambitious project, the two-disc, 30-track "Armistice 1918," seems to take up where his Civil War homage left off a few years ago. But where "The Blues and the Greys" was a solo piano recording, this is a larger, collaborative effort featuring the haunting voice of Carrothers' wife, Peg, and tasteful instrumental contributions by Matt Turner, cello; Drew Gress, bass; Stewart, drums, Jay Epstein, percussion and sound effects; and Mark Henderson, bass clarinet.
Similarly to the Civil War collection, the first half of "Armistice 1918" revisits familiar tunes from the World War I period, re-imagining them in unconventional—sometimes frightening—ways. Starting things off, Bill and Peg Carrothers sing a wistful duet on "There's a Long Long Trail a Winding." Then Bill improvises on a swinging trio rendition of "Hello Ma Baby." His solo stride piano on "Cuddle Up a Little Closer" is light and breezy.
But "Armistice 1918" does not glamorize or mythologize war. Rather, it dramatically contrasts jingoism, popular myth and naïve sentimentality with the real horrors of overwhelming death and destruction. Stewart seems to be dropping "bombs" in the middle of "Let Me Call You Sweetheart." The sad irony is palpable in Peg Carrothers' poignant reading of "Say Au Revoir," as it is in the ominous march tempo of "A Call to Arms (On Moonlight Bay)."
"I'm Always Chasing Rainbows," taken at a funereal tempo, is followed by a melancholic "And the Band Played On" and a downright creepy "Christmas 1914 (Silent Night)," its choral voices straining against discordant piano and cello. "There's a Long Long Trail a Winding" returns in an instrumental version, with a brief half-hearted vocalization of "Over There," the predominant World War I flag-waver. It is a powerful statement of war's futility and collective amnesia. Saddest of all is "I'm Afraid to Come Home in the Dark," with its tolling bells and thunder claps, and the bittersweet finale, "Till We Meet Again."
The 2-CD package includes a 36-page booklet with period photos, poems and liner notes by Carrothers and Thomas Compere-Morel, curator of the Historial de la Grande Guerre, a WWI museum in Peronne, France, that contributed financially to the project. Carrothers toured France with this music Oct. 8-Nov. 15.
We also recommend Carrothers' recordings "After Hours," "Duets with Bill Stewart" and "Ye Who Enter Here," by A Band in All Hope. All of these and more are available through Bridge Boy Music at http://www.bridgeboymusic.com/.
---
EDWARD RATLIFF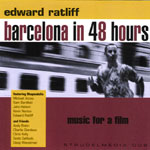 Barcelona in 48 Hours
Strudelmedia
By Tom Ineck
Despite its rather ambiguous title, "Barcelona in 48 Hours" reaches far beyond the city limits of Spain's principal seaport. Composer and multi-instrumentalist Edward Ratliff has drawn inspiration from the music of North Africa and Latin America, with occasional flashes of Argentine tango, hip-hop rhythm and surf guitar.
The result, which was recorded, mixed and mastered in Brooklyn and New York City, is a fascinating journey through the wonderful world of movement and music. Its thematic cohesion comes from the fact that it was composed for a short film portrait of choreographer, teacher and dancer David Zambrano. Made by photographer Anja Hitzenberger and Ratliff, the film is made almost entirely from black-and-white still photographs.
Having not yet seen the film, I can only imagine that it is this evocative music that breathes life into its otherwise static images. With the able assistance of his band—the aptly named Rhapsodalia—Ratliff moves swiftly through the paces, never allowing his colleagues or the listener to become complacent.
In many cases, Ratliff relies on his own virtuosity on cornet, trombone, accordion, celeste and the Fender Rhodes piano to provide the broad palette of sounds. Also essential to the mix are bandmates Michael Attias on alto and baritone saxes, Sam Bardfeld on violin, John Hebert on bass and Kevin Norton on drums. Additional support comes from Andy Biskin, bass clarinet; Charlie Giordano, accordion; Chris Kelly, programming, guitar and drums; Seido Salifoski, dumbek; and Doug Wieselman, guitar.
When coupled with Ratliff's background in free improvisation and his offbeat esthetic approach, this instrumental mélange gives a startlingly original sound to "Barcelona in 48 Hours." It begins with a full five-piece band version of the central theme, "Barcelona," which is later restated on accordion and bass, later still by a quarrelsome quartet and finally on solo accordion.
Between these thematic variations, we hear the gentle waltz on solo celeste entitled "Glass," the eerie theme called "Horsey," the Eastern-tinged "Estacio de Franca" for accordion and dumbek and the sensuous bolero "Night Dance," highlighted by Ratliff's muted cornet and Wieselman's sinuous guitar lines. "Sintuba" brings the soundtrack to a rousing, rhythmic climax with a seven-piece ensemble propelled by an irresistibly pulsating beat.
Liz Jeans, a freelance choreographer, teacher and performing co-founder and artistic director of Rite of Danse in Kansas City, Mo., also has given this project her enthusiastic endorsement. Jeans' own Latin dance presentation, "Sierra Latina: A Latin Evening of Dance," was staged a year ago at the Kansas City Music Hall and was reviewed in Jazz. For that story click here.
The impressionistic film for which this music was composed has been screened at film and dance festivals in Italy, Spain, France, Austria, Germany, Hungary and Venezuela, as well as on both U.S. coasts and in Minneapolis. A live, multimedia version performed by Ratliff debuted in February to sold-out houses and critical acclaim at Dance Theater Workshop in New York City.
Here's hoping that "Barcelona in 48 Hours" will come soon to a theater near us. Meanwhile, the CD is available at www.strudel.net and at www.amazon.com.
---
TERAESA VINSON
Opportunity Please Knock
Amplified Records
By Tom Ineck
Teraesa Vinson's voice is not huge, but what it lacks in sheer power and authority, she more than makes up with a sure sense of dynamics, rhythmic nuance and the kind of emotional connection that transcends mere technique.
Vinson's impressive debut as a recording artist, the double entendre "Opportunity Please Knock," is a coming-out that demands attention, not for in-your-face audacity but rather for its subtle romanticism and impeccable taste. She understands the power of understatement and the allure of vulnerability. With very few missteps, she also uses her superb instrumental accompaniment to get the message across.
Her bandmates are truly a band, with pianist Carlton Holmes, bassist Nicki Parrott and drummer Dion Parson augmented by guitarist Tom Dempsey and tenor saxophonist Ron Blake.
Take the opener. The easy-swinging "What a Difference a Day Makes" begins with bass and voice only, gradually adding guitar and drums and finally tenor sax. "The Night Has a Thousand Eyes" picks up the tempo a bit, but Vinson still reins herself in, comfortably riding the crest of the piano wave created by Holmes. Sheila Jordan gets credit for the unconventionally slow duo arrangement of "I've Got the World on a String," for voice and guitar only. "The Song is You," on the other hand, leaps along at a brisk tempo that has the band at full steam, challenging Vinson's vocal pyrotechnics.
She recovers her poise for a wonderful rendition of "Young and Foolish," with some exemplary tenor sax work by Blake. Likewise, the old favorites "A Beautiful Friendship" and "The Way You Look Tonight" receive stellar support. The latter is credited as another Jordan arrangement for voice and guitar duo.
It is the more obscure tunes, however, that seem the most effective. Artie Shaw's "Moon Ray" gets a suitably enchanting, heart-felt treatment highlighted by Vinson's sensuous vocal and Parrott's walking bass line and yearning solo. "While We're Young," one of those luminous Alec Wilder melodies, shines with a swinging mid-tempo shuffle, and Vinson's endearing take on the lyric recalls the fancies of fleeting youth.
The title track is a 1960s plea for racial equality by Oscar Brown Jr., a tune covered in 1961 by Chris Connor, but seldom heard since. In Vinson's hands, it also serves as a wake-up call for her growing fan base and her future employers.
"I Can't Make You Love Me" is Vinson's greatest achievement here, a faithful rendition of the Bonnie Raitt hit that stands on its own alongside covers by Nancy Wilson, Kevin Mahogany and Freddy Cole. She caresses the haunting lyrics with sparse backing by Parson using brushes and mallets, Parrott on bass, Dempsey on guitar and Holmes on piano. As it builds in intensity, Blake enters with a powerful but restrained tenor solo, echoing Coltrane's spiritual flights. A group arrangement, it is a gem in the collaborative art of jazz.
When opportunity comes knocking, Teraesa Vinson is ready to answer the call.
---
JIM McNEELY TENTET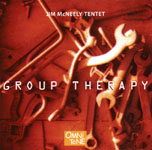 Group Therapy
OmniTone Records
By Tom Ineck
With "Group Therapy," OmniTone Records continues its exciting tightrope walk along the cutting edge, the outer fringe of the mainstream, where deconstructed standards and bold new compositions meet on common ground.
The Jim McNeely Tentet draws its exceptional players from the ranks of the Vanguard and Carnegie Hall jazz orchestras and includes Tony Kadleck, Greg Gisbert and Scott Wendholt, trumpets; Tom Varner, French horn; Ed Neumeister, trombone; Dick Oatts, Billy Drewes and Scott Robinson, saxes; Cameron Brown, bass; and John Hollenbeck, drums. Pianist McNeely wrote half of the eight tunes here, and arranged all of them.
However, it is their reinterpretation of the four "cover" tunes that give McNeely and the Tentet their unique identity. Bud Powell's "The Fruit" opens the CD with a dramatic transformation of the original composition. Like a deck of cards, the discrete themes are shuffled, cut and dealt in innovative ways, and literally everyone in the band gets a solo.
"Silent Night" is revelatory, with the familiar theme only hinted as until late in the game. Like a ghost of Christmas past, the haunting refrain slowly emerges and is repeated and echoed in the brass section, with especially poignant playing by Wendholt on muted trumpet.
Coltrane's "Village Blues" gets a more traditional treatment, with Neumeister delivering a growling, plunger-muted tailgate solo. A repetitive brass motif, a lovely brass chorale and the gorgeous alto saxophone playing of Oatts elevate "Body and Soul" far above the mundane treatments that this old warhorse usually receives.
"Lost" exhibits McNeely's composing and arranging genius in the counter-balancing of written section parts and improvisation, especially during Oatts' inspired alto saxophone excursion. Like the therapeutic session for which it is named, "Group Therapy" evolves from individual "voices" to overlapping statements and even angry outbursts that are eventually brought under control by the soothing melody, representing the mediating therapist.
These extended pieces range from six minutes ("Body and Soul") to over 11 minutes for the title track, creating plenty of "breathing" room in the arrangements and plenty of solo space. But McNeely's leadership never allows the individual statements to become gratuitous blowing. It is a marvelous accomplishment.
---
BRENT JENSEN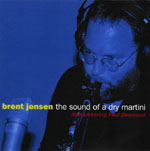 The Sound of a Dry Martini: Remembering Paul Desmond
Origin Records
By Tom Ineck
We have mentioned before the similarity between the alto sax sound of Brent Jensen and the late Paul Desmond, composer of "Take Five" and long a member of the Dave Brubeck Quartet.
It was especially evident throughout Jensen's weekend performances at the 2004 Topeka Jazz Festival. All the elements are there—the phrasing, the fleet fingering, and the tone. Perhaps it's the tone more than anything, a tone that Desmond himself described thusly: "I think I had it in the back of my mind that I wanted to sound like a dry martini."
Known for his sly and witty observations, Desmond had put his finger on it. It is a cool and refreshing sound—light, bubbly, seemingly transparent, but nonetheless intoxicating. Jensen has tapped into it on this tribute CD, with a collection of tunes largely associated with Desmond.
Rather than be compared with the Brubeck group, he has assembled an excellent pianoless quartet also featuring guitarist Jamie Findlay, bassist Zac Matthews and drummer Dean Koba.
Desmond's lovely "Wendy" starts things off in a subtle swing tempo. "Tangerine" picks up the pace slightly, and "Black Orpheus" introduces the Latin tinge for which Desmond was so admired. The quartet gently swings the blues on "Things Ain't What They Used to Be."
The obligatory "Take Five" appears here, but Jensen takes a new approach while remaining true to Desmond's spirited, lilting style. Koba's outstanding percussion work also is prominently featured. Matthews' walking bass sets the mood for "Audrey," co-written by Desmond and Brubeck. Echoes of the Brubeck group return with Gerry Mulligan's "Line for Lyons."
Over its eight minutes, "Body and Soul" is painted on a broad canvas with a minimalist brush and long, sinuous lines receding to the horizon, Jensen exploring every nuance of the classic changes. "Out of Nowhere" is taken at a lively tempo, but Jensen still maintains that "cool" Desmond-style control. With its sweet nostalgic melody and waltz tempo, "Alice in Wonderland" is the perfect closer to this fine set.
---
ZACH BROCK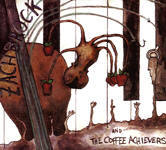 Zach Brock and the Coffee Achievers
Secret Fort Records
By Tom Ineck
Its surreal, whimsical multifold dreamscape packaging is indicative of what lies within "Zach Brock and the Coffee Achievers." Indeed, this magical music is at times surreal, at times whimsical, and at all times wonderful.
We know Brock best for his dual appearances in Lincoln, co-leading the Rob Scheps-Zach Brock Quintet at P.O. Pears in January and October 2004. In that context, his consummate skill as a violinist is indisputable, though his leadership qualities are somewhat overshadowed by saxophonist Scheps. On this 2002 release, he takes the helm with the same confidence and imagination that he brings to his playing.
Brock's violin take center stage, but it is only the foremost voice in a well-blended ensemble that also includes the multiple keyboards of Sam Bar-sheshet, the acoustic bass of Matt Wigton and the drums of Nori Tanaka. All eight tunes herein are originals.
"Now I Know" is a caffeinated opener that has the rhythm section percolating steadily under Brock's audacious fiddling. On "Common Ground" Bar-sheshet injects edgy organ lines into the percussive mix. Wigton's "Turn" is a lovely, lilting waltz with a folk flavor that allows nice contributions by all.
Bar-sheshet composed the brief, atmospheric "Winter Transition," with piano and violin stating the theme and Tanaka on brushes. Brock plucks the violin on "The Coffee Achiever," creating the impression of a hot and heady brew. "Solitary Candle" has violin, bass and piano weaving tentative, fragile lines, while Tanaka deftly uses sticks and mallets to create the perfect rhythmic setting. The leaping, cascading mid-tempo "Low Sco" is a showcase for composer Bar-sheshet, while Brock shows his stuff on the closer, "Mister Shaw," gradually building the intensity with help from the inspired pianistics of Bar-sheshet.
Oddly, the bulk of "Zach Brock and the Coffee Achievers" comes off as a much more relaxed affair than a performance by the Scheps-Brock ensemble. Sometimes, decaf is better.
---
NEW STORIES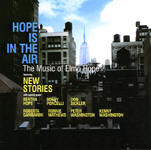 Hope Is in the Air: The Music of Elmo Hope
Origin Records
By Tom Ineck
Another drug casualty of the post-bop era, pianist Elmo Hope died in 1967 at age 43, seemingly putting an end to his potential influence on other musicians. But he left behind a wealth of little-known compositions that trumpeter-producer Don Sickler has now turned to good purpose on this collaborative project.
With the help of Hope's widow, pianist Bertha Hope, Sickler compiled a collection of Hope's music, wrote lead sheets and turned it over to New Stories, the excellent Seattle-based trio of pianist Marc Seales, bassist Doug Miller and drummer John Bishop. The result is "Hope Is in the Air," a loving tribute to a too-long-forgotten piano legend.
Sickler and Bertha Hope also make appearances, and alto saxophonist Bobby Porcelli plays a prominent role on four of the 14 tracks. Finally, "This Sweet Sorrow" is a haunting vocal rendering of Hope's ballad "Barfly," sung by lyricist Roberta Gambarini and accompanied by pianist Ronnie Mathews, bassist Peter Washington and drummer Kenny Washington. In its varied settings, this sumptuous CD shows the full scope of Hope's original music.
To open the proceedings, Porcelli deftly wends his way through the stop-and-go changes of "Sims a Plenty," a mid-tempo bopper. He also graces the frenetic "One Second Please," the gently swaying "Roll On" and the hard-charging "Carving the Rock" (co-written by Sonny Rollins) with his exuberant, imaginative playing.
The Latin-tinged "Dee-Dah," the lilting "Nieta" and the aptly spicy "Hot Sauce" alert listeners to the similarity between Hope's music and that of his contemporaries Bud Powell and Thelonious Monk. Seales acquits himself well in this challenging role, attacking the keyboard with flair. The solid support of Miller and Bishop also is evident on tunes like "A Kiss for My Love," the gorgeous ballad "Eyes So Beautiful as Yours" and the exotic "Stars Over Marrakech."
Bertha Hope and Sickler duet on the ballads "Monique" and "Three Silver Quarters," and Hope is featured with Miller and Bishop on "Low Tide." In her expressive and sensitive playing, she shows a natural affinity for her husband's music.
---
JEFF BAKER
Baker Sings Chet
OA2 Records
By Butch Berman
You can't deny that perks still play a big roll in the entertainment biz. The once revered 45 rpm record gave way to LPs and then CDs. Now CDs are almost the calling/business card of today. The Web, home CD burners and the whole music-buying scene is such a different ballgame that the once traditional is now merely passé.
Thank God, still occasionally tucked away in this marketing maze of hopes and dreams are some very talented people that just wanna start something, somewhere.
Being on the OriginArts and OA2 Records catalog mailing list is a major perk for me. They've become an extremely tasteful, prolific pair of record companies that just keep expanding in size, without shrinking in quality. It's the Northwest's main music machine around, and you just can't beat the incredible player-production staff trio known as New Stories.
Hence, this product at hand. Mr. Baker's fine vocal performance on "Baker Sings Chet" sat around on the usual huge stack of CDs and vinyl to be cleaned, sorted, reviewed and hopefully enjoyed before retiring to my vast foundation music library. As the new artistic director of the Topeka Jazz Festival in Kansas, I've been keeping an ear out for more male jazz vocalists, remembered this CD, and decided to give it a spin. Always a big fan of trumpeter Chet Baker—both his horn and singing—I was curious what this seemingly very young fellow had for chops.
Well, he processed a mega-dose of ability in many directions—decent timing, timbre and choice of material backed by a wonderful swinging band to make this lovely, yet fairly predicable collection of tunes a winner. Everybody cooks aplenty—mostly all killer, no filler—and if you value my opinion on who's hot besides Baker, alto saxophonist Brent Jensen simply simmers throughout. I've dug his stuff from the first note of his beautiful tribute CD to Paul Desmond. By the way, Jeff's vocalizing interplay with all the cats on this ultra-romantic, yet cookin' creation shows his musical gifts and wisdom beyond his years.
Funny, just days after I first heard this I got a call from his mum/manager out of the blue, just checking out me and my Berman Music Foundation for possible venues for her talented offspring. Here you go, mom. You've got a kid to be proud of, and I'm telling everyone to pick up on this splendid piece of work.
Direct inquiries to www.oar2records.com and dig it, daddy-o.
---
TIM GREEN
Catching Yourself Gracefully
OA2 Records
By Butch Berman
Before I can say anything nice about pianist Tim Green, I must tell you first about my encounters with his bass player, Jim Cox. Without first meeting Jim, no Tim.
I first met Mr. Cox when involved with bringing jazz mandolinist Don Stiernberg to Lincoln for Jazz in June a couple of years ago. Jim was his bassist. Move ahead to now. While waiting for a call from the Rob Scheps-Zach Brock Quintet, who were a little late getting into town for a BMF gig at P.O. Pears, the phone rings. Hi Rob…no… who? It's Jim Cox, also in Lincoln as part of the Marian McPartland Trio playing at the Lied Center for Performing Arts.
Well, Jim came to our show, stayed for the late-night hang, and was ever-so-decent to arrange an intermission meeting with Ms. McPartland for myself and wife, Grace. Another late-nighter and Jim glances at this rather towering pile of CDs to be checked out for reviews in this newsletter and says, "Hey, ya know I'm on that one? I think it's pretty good." With that, Tim Green's lovely "Catching Yourself Gracefully" made it to the top of the heap.
Jim was true to his word too. This piano trio recording is another OriginArts catalog diamond deserving mucho attention. With the addition of drummer Phil Gratteau (also a Stiernberg alumnus), this trio takes you there, from Green's own catchy and clever opener, "Coyote Samba," to a gorgeous rendition of Cedar Walton's "Bolivia." More perfectly penned Green tunes weave through memorable arrangements of Cole Porter's "Love For Sale," Duke's "Don't You Know I Care?" and totally funkin' you out in a take on "Back At the Chicken Shack" that would have turned Jimmy Smith's head around for the rousing album closer.
Tim's keyboard stylings swing at times very delicately, but can romp and stomp with the best of 'em, yet still stay true to the jazz idioms with enough panache to make him ever so New York ready. It was great to really hear (and see with Marian) the jazz brilliance contained in the mind and hands of Cox. Chicago's always been known for killer bass players, and he's no exception. Phil's ingenious, tasteful and propelling drum work round out this trio to a T.
I'm glad I didn't have to wait until much later to discover this music that seems to stay fresh with repeated listening. Order at www.oa2records.com.
---
RICHARD HART QUARTET
Fearless Shores
Schepora IRL Records
By Butch Berman
I'm still trying to connect what alerted a Kathleen Hutson to send the Berman Music Foundation a promo package containing this CD, which—from among countless others—was picked to review. I knew none of the cats in the group, but the cover was beautiful…who knows? Nevertheless, this 30-minute excursion containing nine catchy tunes penned by guitarist-leader Richard Hart just caught on immediately.
A variety of grooves and rhythms that cover all the jazz bases seem to lock you in, and the ride is most enjoyable. Like the great Jerry Seinfeld series, a show about "nothing" that said something, "Fearless Shores" conveys simple tunes played flawlessly with beauty, truth and spirit throughout, with an almost addictive infectiousness that returns this CD to your player on a regular basis. These players are saying a mouthful without having to yell.
You could dig these sounds for a wide assortment of practicalities, such as learning how to dance, housekeeping, Ping-Pong, making love, or just enjoying a nice cabernet, sittin' back and diggin' it, man.
The quintet consists of Mr. Hart on guitar, Ron Munn on sax, Dorothy Soto on bass and, holding down the big beat behind it all, drummer Mark Winkel—truly your complete, tight unit. It's the perfect bar band, but jazzy enough for the purists. Solid production work from Sonic Wings Recording Services' Mark S. Miller, too.
Go out and find this lil' gem pronto or order direct from schepora@yahoo.com.
---
KARRIN ALLYSON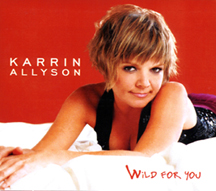 Wild for You
Concord Records
By Tom Ineck
As Karrin Allyson notes in her personal message to listeners contained herein, her penchant for pop tunes is nothing new to fans who have been paying attention to her recording career, dating back to her first Concord release in 1992. Here, however, it comes to fruition with a complete collection of songs more often linked with folk, rock and soul artists than with an accomplished jazz stylist like Allyson.
The concept of "Wild for You" works only if you free your mind long enough to abandon preconceptions of what constitutes jazz and jazz interpretation. Like Allyson, my musical interests have extensive roots in the popular music of my youth and adolescence, so while I don't think "Wild for You" ranks with her two previous masterpieces, 2001's "Ballads: Remembering John Coltrane" and 2002's "In Blue," it works for me.
Thanks to Allyson's adventurous spirit and the imaginative arrangements of Gil Goldstein, many of these tunes transcend their non-jazz origins. Joni Mitchell's "All I Want" gets a lively Jamaican treatment and "Wild World" swings with a jazz sensibility missing from the Cat Stevens recording of 1970. Rod Fleeman's moaning guitar fills and Todd Strait's "death march" snare drumming build in intensity on "(Goin') Wild For You Baby," which Allyson executes with bluesy desperation in her voice.
Allyson's voice floats freely over and around the rising and falling lines of Mitchell's "Help Me," which is further aided by Goldstein's piano solo and Fleeman's on electric guitar, a revelation for listeners used to hearing him on an acoustic instrument only. Goldstein on accordion, Danny Embrey on guitar and Bob Bowman on bass elevate Elton John's "Sorry Seems to be the Hardest Word," as does Embrey's guitar solo on Melissa Manchester's "I Got Eyes," which gets a spirited interpretation by Allyson.
I must confess to a soft spot in my heart for Jimmy Webb's poetic ballad "The Moon is a Harsh Mistress." Allyson has a true gift for walking that thin line between the richly romantic and the merely maudlin, a balancing act she also accomplished with aplomb on her rendition of "That Day," based on the love theme from the film "Cinema Paradiso," on her 1999 release "From Paris to Rio."
Fleeman's inspired guitar solo drives Carole King's "It's Too Late," as does Embrey's on the funky "Feel Like Makin' Love." Allyson's yearning voice blends beautifully with her own piano playing and Embrey's sinuous guitar lines on the closer, the "The First Time Ever I Saw Your Face."
---
GIACOMO GATES

Centerpiece
Origin Records
By Tom Ineck
Giacomo Gates didn't decide to make a career of music until 1990, at age 40, and his debut recording appeared five years later. Since then he has established himself as a member in excellent standing of the ever-so-exclusive club of male jazz singers. With "Centerpiece," Gates takes another leap forward, with a wide-ranging repertoire demonstrating his many vocal skills and the natural appeal of his deeply resonant baritone instrument.
On Gershwin's "Summertime," he playfully expands on the staid DuBose Heyward lyric and improvises a whistling "flute" solo with solid support from bassist Ray Drummond. A born storyteller, he introduces "I Told You I Love You, Now Get Out" by relating a personal experience, and later responds with a horn-like scat solo as pianist Harold Danko expertly comps. Guitarist Vic Juris comps and solos through the bluesy title track, as Gates impressively stretches the Jon Hendricks lyric a few beats ahead.
"How High the Moon/Ornithology" gets a mid-tempo bop workout featuring an undulating scat solo and an alto sax statement by Vincent Herring. Gates shows his romantic inclinations and delivers a convincing "trombone" solo on the ballad "You'd Be So Nice to Come Home To." His brilliant take on "All of Me" is actually a King Pleasure lyric inspired by an Illinois Jacquet tenor sax solo.
Herring and Danko shine in their solo spots on the swinging Tadd Dameron tune "Ladybird." The great lyric by Stanley Cornfield is given a breezy, rubato rendering by Gates. The storyteller returns with a narrative introduction that sets the ideal mood for his very hip rendition of Bobby Troup's classic "Route 66." The mood is languorous and loungey, wistful and warm on "Scotch & Soda."
The tempo accelerates again on "Lester Leaps In/I Got the Blues," with a lyric by Eddie Jefferson based on a James Moody tenor solo and incorporating a verse from "I Got Rhythm." Gates own lyrical skills come into play on Miles Davis' "Milestones," which he imagines as a commentary on living in the moment:
"Yardsticks, meters, inches, liters…
Can you measure life?
Pain and sorrow, love tomorrow…
Happiness and strife."
Gates bids a bluesy farewell with "Hittin' the Jug/Swan Song," emphasizing the Gene "Jug" Ammons tenor solo over the King Pleasure lyric. Here's hoping that Gates and his musical contributions won't be away too long.
---
THE FRANK AND JOE SHOW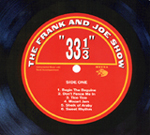 "33 1/3"
Hyena Records
By Tom Ineck
As the name implies, The Frank and Joe Show is a flashy entertainment package chockfull of musical thrills and chills, courtesy of guitarist Frank Vignola and drummer Joe Ascione. The energy is irrepressible, the virtuosity mind-boggling. Come one, come all! This is no sideshow; it's the main attraction—with jugglers, fire-eaters, tight-rope walkers and a little clowning around.
Vignola and Ascione, well-known for their neo-swing tendencies and monster technique, are perfectly compatible as they romp through this recording of largely retro compositions that is also forward-looking in its imaginative arrangements and performances.
Many of the tunes are brief and taken at a furious clip. Cole Porter's "Begin the Beguine" starts things off swinging at mid-tempo before segueing into "Caravan," with Vignola doubling on lead and rhythm guitars, harkening back to the heady days of Django Reinhardt and the Hot Club of Paris. The first of three guest vocalists, Janis Siegel, steps up with Porter's stodgy "Don't Fence Me In," but it has never sounded so hip as when Vignola and Ascione multiply the tempo and everyone races home.
Even "Tico Tico" sounds fresh, with violin accompaniment and assorted percussion undergirding Vignola's sprightly fretwork. Mozart's "Turkish Dance" is transformed into the "Mozart Jam" at a frantic tempo. Dr. John lends his sassy N'awlins drawl to a seductive "Sheik of Araby." The original "Sweet Rhythm" creates a churning rhythm mix for Vignola's soaring guitar lines.
Jane Monheit's overdubbed vocals harmonize romantically on "Besame Mucho," which contains another Djangoesque Vignola solo. A locomotive motif jump-starts the "Spiderman" theme, with Ascione displaying high-speed brushwork behind Vignola's runaway-train guitar licks. Of course, the brief "Flight of the Bumblebee" also gets the barn-burning treatment at an incredible tempo.
The big surprise is a funky take on the Doobie Brothers' "Long Train Runnin'." One of the set's few weak tracks is the straight interpretation of the mediocre ballad "Alone Again Naturally." On the other hand, the ballad treatment of "Stardust" is exquisite.
Despite the fact that many of these tunes date from the era of the 78 rpm recording, the CD purposely evokes the era of the LP, from its title to the cover art to the pretense of Side One and Side Two listings and its total length, which is less than 40 minutes.
---
HERBIE MANN/PHIL WOODS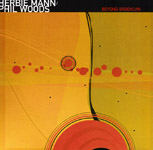 Beyond Brooklyn
MCG Jazz
By Tom Ineck
Herbie Mann's final recording is a lasting testament to his individuality and his ability to adapt to different musical settings. For the first time in nearly 50 years, he is rejoined with fellow Brooklyn native alto saxophone giant Phil Woods for a collection of tunes running the gamut from blues and ballads to bebop classics and Mann's beloved Brazilian melodies. It is "Beyond Brooklyn," indeed.
Recorded a few months before his death at age 73 on July 1, 2003, "Beyond Brooklyn" begins with Mann's Latin treatment of the lovely Bill Evans ballad "We Will Meet Again," also featuring the sensitive guitar work of Marty Ashby. Woods enters briefly, and only after Mann has established the gently swinging mood to perfection. Throughout this set, Woods is in peak form.
Woods' composition "Alvin G." is arranged for a three-horn front line, adding Jay Ashby on trombone to great effect. He returns for a Latin take on Duke Ellington's "Azure." Bop makes a dramatic entrance on the lively Oscar Pettiford tune "Bohemia After Dark," on which Mann and Woods cut their teeth in the early 1950s, while playing together in a Brooklyn "joint" named Tony's.
Woods sits out Mann's arrangement of Jobim's "Caminhos Cruzados," performed on the deeply resonant alto flute. A short interpretation of Charlie Parker's "Au Privave" gets things moving briskly again. Woods switches to clarinet and Gill Goldstein enters on accordion for Mann's wistful composition "Another Shade of Blues." Woods and Mann, again on alto flute, both shine on Mann's Latin-tinged "Sir Charles Duke."
Woods' profound rendering of Billy Strayhorn's funereal "Blood Count" might almost be considered a personal tribute to the terminally ill Mann, who sits this one out. But most poignant of all is the bonus track, a moving version of "Time After Time" recorded in Phoenix just weeks before Mann's death, on which the flutist is accompanied only by guitarist Ashby and trombonist Ashby.
It must be mentioned that all of the supporting musicians show exemplary restraint and compatibility with their co-leaders, not surprising considering their wealth of experience and past associations. Bassist Paul Socolow, drummer Ricky Sebastian and accordion master Gil Goldstein all worked extensively with Mann, and pianist Alain Mallet, bassist Dwayne Dolphin and drummer Roger Humphries also make valuable contributions.
---
MOACIR SANTOS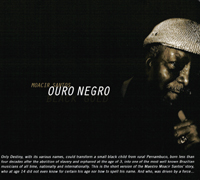 Ouro Negro
Adventure Music
By Tom Ineck
"Ouro Negro," or "Black Gold," is a generous double disc that amounts to a long-overdue monument to Brazilian composer Moacir Santos, one of his country's leading composers and arrangers for nearly 50 years, although he was largely forgotten there after moving to the United States in 1967.
Beginning as a saxophone player in the style of Ben Webster and Coleman Hawkins, Santos quickly progressed as conductor, arranger and composer. In 1967, he wrote the soundtrack of the film "Love in the Pacific."
For this tribute to the master, the original Santos compositions—many of them dating to his classic 1965 solo debut "Coisas (Things)," as well as 1972's "Maestro" and 1974's "Saudade" —were transcribed and re-recorded in Rio de Janeiro in 2001. The result is a rich treasure trove of 28 pieces lovingly performed by great musicians. Among the featured Brazilian artists are Milton Nascimento, João Bosco, Joyce, João Donato, Djavan, Gilberto Gil, Ed Motta and Santos himself.
While adhering pretty closely to the traditional Brazilian music forms of samba and bossa nova, the music here is a jazzier, more complex amalgam with arrangements emphasizing lush harmonies and unusual time signatures. The orchestral palette is broad, with significant contributions from the lower-pitched horns (trombone and bass trombone, tenor and baritone saxes, flugelhorn) often in contrast with such instruments as flute, clarinet, alto sax, trumpet, vibraphone, electric and acoustic guitars, organ, piano, and, of course, drums, congas and other percussion.
For example, the opener ("Coisa No. 5—Nana") begins with congas and pulsing saxes, then trumpets and trombones enter in contrapuntal opposition. There are solo statements by flute and baritone sax before the full ensemble returns. "Coisa No. 6" is a brassy workout with brief solos on tenor sax, baritone sax, trumpet and piano, all accompanied by various percussion and hand claps.
These moments, and so many more, make "Ouro Negro" a joy to listen to time and again. "Black Gold," indeed.
The 40-page booklet enclosed contains session photos, background on the music and personal notes on each tune by Santos. With this mammoth project and other impressive recent releases, Adventure Music is helping to document the irresistible and influential sound of Brazil.
---
DON STIERNBERG & JOHN CARLINI

Angel Eyes
Blue Night Records
By Ted Eschliman
From the new master of mandolin swing, Don Stiernberg and East Coast ace architect of the new acoustic, guitarist John Carlini, comes Blue Night Records release, "Angel Eyes," a collection of some of the 20th century's inarguably greatest jazz standards. From their strings to your ears, this is one of the most refreshing acoustic "string jazz" releases of the year.
Known already to the local area from last year's Jazz in June appearance, Lincoln had the fortune of a repeat performance of Don Stiernberg in the 2004 J in J series with the John Carlini Quartet. Backed by two of Chicago's hottest rhythm players, bassist Jim Cox and drummer Phillip Gratteau (stalwart sidemen with Marian McPartland) and recorded in all its acoustic purity in the studio of Chicago ace producer Steve Rashid, this project breaks new ground in string swing. Familiar music that never overstays its welcome, these 11 songs are performed in refreshing new radiance.
Carlini, having earned his stripes touring eight seasons with the Ice Capades as musical director and conductor, is no stranger to a good recognizable tune. Combine his composing skills with the working "tuxedo musician" sensibilities of mandolinist Stiernberg, you get such familiar tunes as a toe-tapping "The Way You Look Tonight," a soul-stirring ballad, "My One and Only Love," and a bossa-inflected version of Hammerstein/Kern's "All the Things You Are."
The magic of these two is the way they banter these standards on two entirely different levels—the clever alternate changes of late 20th century harmony that engage the "musician's musician" without betraying an audience that just wants to hear a recognizable song. "How About You" introduces the listener from free cadenza solo guitar right into a finger-snapping statement of the tune, and the two proceed through a complementary thematic journey, volleying clever licks, seamlessly trading solo and supporting roles like two instruments, one brain. One would never know their physical homes are geographically separated by a thousand plus miles.
Balance the light-hearted "They Can't Take That Away from Me" with some slow ballad versions of Thelonious Monk's "Round Midnight" and the enduring "Tenderly," and we get the full range of an acoustic string's potential. Texturally easy on the ears, but tickling to the brain, the two melody instruments make just enough notes to fool us into thinking there are more players. This aural illusion still manages to fill the sonic plate, or should I say "palate."
Like a final spoon of delicious dessert, we leave the CD spinning with the timeless classic "Secret Love," and we know we are satiated. Talk from the two about a future collaboration, perhaps an all-Gershwin collection, is all too much to anticipate. For fans, this is like a five-year-old on Christmas Eve.
Get back in the studio, boys. The world could use more acoustic string jazz like this!
---
<![if !vml]>
<![endif]>
RICK TROLSEN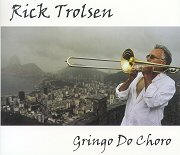 Gringo Do Choro
Lort Records
By Ted Eschliman
You don't often think of the trombone in South American musical literature, let alone the distinctively spirited but simple genre of Brazilian choro. Perhaps the strum of the bandolim (Brazilian mandolin), the intense breath of a blazing accordion, or a percussive pandeiro, but certainly not the trombone. Yet, the instrument's fiery intensity and soulful ballad propensity becomes the perfect vehicle for some of Brazil's best music, coming from lip and lung of New Orleans jazz trombonist Rick Trolsen, as demonstrated in his most recent release, "Gringo do Choro."
Berklee trained and a veteran of the U.S. Navy Band, stationed in the "Big Easy," Trolsen became a permanent part of the local jazz culture in the '90s after his discharge, tackling a number of the local New Orleans opportunities in its world-class music scene, from traditional blues and jazz to more avant-garde exploits in reggae and club music. Never one to be satisfied with the status quo, his heart (and ear) became enthralled by the unique passion and sophistication of traditional choro music while visiting Rio de Janeiro. Soon after, he returned to the city to realize his dream to record his own supercharged version of this traditional treasure.
Recorded in a matter of days with some of Brazil's best musicians, the highly skilled trombonist captured an energy and spontaneity with no less polish in this 13-song collection. For those uninitiated into the charm of early choro, it's a unique blend of early 20th century Portuguese dance music, primal native percussion, within an almost ragtime form and structure. Inject the more sophisticated later jazz harmonies, as evident in South American composers like Jobim, and you get the picture.
Kicking off the CD with his own version of the popular song "Tico Tico," we are immediately and convincingly transported south of the equator into a world of rhythm and pyrotechnic adventure. Never lost in the signature percussion, Trolsen's melodic phrasing delivers a fiery but forward-moving intensity. Even with the stark contrasts within the shimmering ballad "Pensativa," his playing is radiant and pure.
His music is serious, yet remains playful. In the traditional track "Gostosino," melody and counter-melody wrangle among trombone, seven-string guitar and bandolim, yet the trio never clash. Ever dramatic, his "Cheguei De Saudade" and its haunting familiarity, allow his improvisation to dance between simple and "strut."
Ever the consummate composer, his final track "Tristez/Aquarela Do Brasil" reveals his writing chops, and how he fully incorporated the idioms and experiences of his Brazilian adventure as he caps the collection.
This music is a refreshing retreat into the world of Choro with a few sambas and bossas thrown in. I highly recommend this little jazz "vacation" into Rio, without the expense of leaving the country, and of course, no passport required...
---
FRANK KIMBROUGH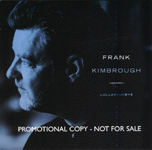 Lullabluebye
Palmetto Records
Live: A Time, a Place, a Journey
Origin Records
By Butch Berman
I'm a pretty good rock 'n' roll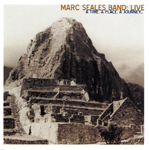 piano thumper, an OK rhythm 'n' blues stylist, and an average blues shuffler, but when it comes to my current fave genre—jazz—unfortunately, I'm just a hack with good ears, style and panache.
Oh yeah, I enrolled in Jamie Aebersold's Jazz Summer Workshops outside of Chicago a few years ago thinking, "I've been in the rockin' trenches for years. This should be a snap." Well, I was in for a major-league ego deflation experience as my years of 1-4-5s didn't translate overnight to 2-5-1, and here were dozens of 14-year-old, junior Bill Evanses already knowing Herbie Hancock's "Maiden Voyage" by heart, and they didn't give a damn about Jerry Lee Lewis or Fats Domino.
I drove back home realizing what a long, hard self-sacrificing road of constant study and practice, practice, practice it takes to become a professional jazz musician and, in the case of this article, a piano player. Compared to what I'd observed at jazz camp, getting good at r 'n' r was a snap, and it renewed my respect for the true masters of the field such as Marc Seales and Frank Kimbrough, to name two and preamble the reviews of their fine, recently recorded efforts.
Based in New York City is my new friend Frank Kimbrough, well-schooled in a wide variety of techniques as a bebop practitioner who reintroduced us all to the brilliance of Herbie Nichols. He is an astute accompanist currently backing another dear compadre of mine, songstress Kendra Shank, who turned me on to Frank several years ago. Palmetto has a lot to be proud of signing Frank, and putting out his gorgeous current endeavor entitled "Lullabluebye."
Marc Seales, with Origin as the "house" pianist with the wonderful group New Stories, is also a very heavy cat I first discovered backing a dear friend who passed recently, the late, great sax man Don Lanphere. Marc, whose versatile style can hush a room with a lush ballad, then take off on an interstellar New Age-like epic jazz adventure, is vastly gaining more deserved national recognition as the Origin catalogue grows and grows. This live CD, "A Time, a Place, a Journey," is no exception...
These two geniuses from different backgrounds have sent me their newest creations within the past few months. They both are repeatedly played on my stereo system and I recommend them all as remarkable pieces of work guaranteed to catch your ear and turn your head.
My foundation and the Jazz Collective that Frank and partner bassist Ben Allison have put together have been around for about the same amount of time (approaching a decade). Obviously, I've compiled a large collection of his recorded works—all killer, no filler. I'm a bone fide purveyor of his art. However, I feel "Lullabluebye" may be his definitive masterpiece. Backed to perfection by Allison on bass and drummer Matt Wilson, they're as tight as if they were born Siamese triplets (no disrespect intended).
Marc's band, too, is an awesome, powerful unit. He is augmented by the electric guitar prowess of Fred Hamilton; the rugged, but snappy, tight rhythm section consisting of Steve Korn on drums and bassist Phil Sparks; and percussion man Lary Barilleau adding to the mix with flair and gusto as Mark Taylor rounds out this unit nicely with his inventive reed work on alto and soprano saxes. Whether Weather Report was an inspiration or not, their majestic aura and deep groove frame similarities and keep the listener locked in for the entire ride. It's very expansive and moving at the same time.
Equally compelling, but in a more subtle, acoustic trio performance, Frank gets to the zone in a flash, enticing his bandmates and audience to step inside his amazing brain and feel the same spirits that transcend his energy to music in such a high level of delivery. The clever choice of "You Only Live Twice" makes you yearn for more Bondish jazzy excursions. "Ben's Tune," penned by Allison, is the only other number not written by Kimbrough, who proves his mettle as a songwriter of contention.
Pick up these two new creations by a couple of cats who make the "job" of jazz reviewing a sublime pleasure.
---
ELDAR DJANGIROV TRIO
Handprints
D&D Music
By Tom Ineck
For those of us fortunate enough to have witnessed keyboard whiz Eldar Djangirov perform live more than half a dozen times over the years, his recordings only confirm what we already know.
The nice thing about recorded documents is that we can listen to them again and again, each time discovering something we missed the first time around. While that is true of many jazz artists, Djangirov's blazing single-note runs, inventive phrasing and endless ideas never fail to surprise and reward the patient, repeat listener.
"Handprints" is a case in point. Djangirov's second trio CD begins with a careening solo piano intro to Juan Tizol's "Caravan" that nearly jumps the track before the rhythm section consisting of bassist Gerald Spaits and drummer Todd Strait reins it in with a funky contrapuntal anchor. Like Oscar Peterson or Art Tatum, the 16-year-old Djangirov dazzles, leaving us breathless and wondering, "How does he do that?"
In effect, "Handprints" is a tribute recording to some of the young disciple's favorite jazz composers and players, especially the genre's keyboard giants. Thelonious Monk's "Bemsha Swing" gets an imaginative, virtuosic reading. Djangirov flashes the funk factor on Herbie Hancock's "Cantaloupe Island" before settling down to a more conventional ballad rendition of "Body and Soul."
Benny Carter's "When the Lights Are Low" gets a loving and witty treatment, and Billy Taylor's "Capricious" is a joyful, but highly disciplined romp. The bluesy "Freddie Freeloader" is a nod to composer Miles Davis, while Chick Corea's "Matrix" pays homage to that pianist's complexity and genius. Djangirov's own "Perplexity" is a surging, stately tango-like dance, expressing a range of emotions.
Djangirov's astounding keyboard technique is given free rein on the CD's two solo piano performances. The title track, Djangirov's "Handprints," is clearly inspired by Wayne Shorter's classic modal workout "Footprints." The lyricism of Bill Evans is evoked on Evans' sad and achingly beautiful composition "We Will Meet Again." The two pieces serve as bookends for Djangirov's immense stylistic range.
Djangirov, who recently moved from the Kansas City area to San Diego, Calif., will appear in Lincoln with his trio (Spaits and drummer Tommy Ruskin) for a performance June 1 at the Jazz in June concert series in the sculpture garden at the Sheldon Art Gallery on the University of Nebraska-Lincoln downtown campus.
---
TIM JENSEN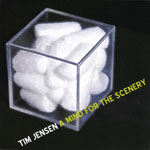 A Mind for the Scenery
Origin Records
By Tom Ineck
Like much of the bountiful fruit harvested at Origin Records in Portland, Ore., Tim Jensen's "A Mind for the Scenery" challenges the listener from the get-go.
Jensen is a composer and reed player of eclectic tastes, versatility, technique and audacious creativity. He also is an arranger and a bandleader who knows how to surround himself with like-minded musicians capable of equal audacity. Take for example the opener, "Sausage," a squiggly tune pushed through all sorts of musical permutations by Jensen on tenor, Rob Scheps on soprano sax, Paul Mazzio on flugelhorn and Jeff Uusitalo on trombone.
The band is enlarged to nine horns for "Rusty Rayburn and Piggy Lee," a nightmarish parody of the worst of Big Band excess. The only jazz standard here, "Green Dolphin Street," gets a very percussive treatment with Jensen soloing on piccolo.
Bob Dylan's "My Back Pages," on the other hand, begins with a lush, but dissonant brass chorale and leads into a gorgeous statement of the melody by pianist Randy Porter. Scheps follows with a soaring tenor sax solo. The brass section also opens "Lament for Larry," which is notable for its eerie, mock-operatic vocalizing by Brenda Baker. Horns are front and center again for the ballad "Felpham's Vale," where tenor, alto and soprano saxes combine with flugelhorn and trombone.
Jensen's versatility is most evident on "Mambrino Flats," a slow Latin tune that features the leader on both soprano sax and bass clarinet. He also is a capable player on flute and on alto and baritone saxes, as well as tenor sax and piccolo.
Horns dominate most of the arrangements, which is not to say that pianist Porter, bassists Phil Baker and Dave Captein, drummer Gary Hobbs and percussionist Reinhardt Melz are buried in the mix. On the contrary, the rhythm section is essential to this exciting, propulsive music. They are especially prominent—and effective—on the loping "Carson City" and the up-tempo bopper "Fiasco."
It is no surprise to find Scheps in this company. As we heard when he brought his adventurous young band to Lincoln a few months ago, he is always pushing the envelope of group improvisation, just as Jensen does here.
---
KELLY ROSSUM QUINTET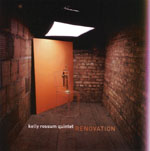 Renovation
612 Sides
By Tom Ineck
On "Renovation," former Lincoln resident Kelly Rossum fronts a Twin Cities-based, crack quintet with enduring echoes of electric-era Miles Davis. The tricky, contrapuntal rhythm lines and interweaving solo statements immediately signal a bold and unconventional approach that, nevertheless, sounds somehow comfortably familiar.
Trumpeter Rossum knows his way around the horn, but like Davis, he respects the poetic weight of silence, the judicious use of pause and stutter and even the occasional fluffed note. It's what sets them apart from the merely proficient.
Keyboardist Chris Lomheim is equally capable on acoustic piano and the Rhodes electric keyboard, a nearly forgotten instrument that still creates a sound unlike any other. Similarly, bassist Michael O'Brien doubles on acoustic and electric instruments. Tenor saxophonist Chris Thomson lends a beefy foundation to the quintet with his soulful convolutions. Drummer J.T. Bates (formerly of the Motion Poets) holds it all together.
For the best examples of innovation and imagination, check out "Cheap Cigars," "Lead Soldiers" and "Life on Mars." The titles tell the story. The quintet, however, is most engaging on the more introspective tunes, such as "Fly Away," a lovely rendition of the Jimi Hendrix composition "Little Wing," the brief "Hennepin Bridge" and the 10-minute "The Two of Us."
Unusual for a jazz recording, four tunes run under 2½ minutes each. These inspired nuggets seem to rise out of nowhere only to return there when the burst of inspiration has dissipated, like an irresistible force of nature.
---
KATHLEEN HOLEMAN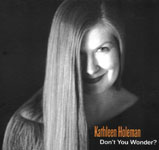 Don't You Wonder?
By Tom Ineck
Singer Kathleen Holeman makes in impressive recording debut with "Don't You Wonder?" Holeman, who calls St. Joseph, Mo., her home, has chosen a compatible group of accompanists, including such familiar Kansas City musicians as pianist Paul Smith, guitarist Rod Fleeman, bassist Bob Branstetter and drummer Al Wiley.
You can't fault her choice of material, a strong list of pop standards old and new. Tempos for the 14 tracks vary enough to keep things interesting from the opening swinger "That's All," on which Holeman's voice is overdubbed, allowing her to scat with herself. The title track is a Holeman original and a tale of lost love with a very personal slant.
"Blues Skies" gets the full swing treatment, while "Ev'ry Time We Say Goodbye" is exquisitely essayed by voice and acoustic guitar in an ultra-slow version of this ballad. It's no surprise that Holeman names Judy Garland as one of her influences. She belts "Get Happy" with full-throated gusto, but swings more convincingly than Garland ever did. "How Sweet It Is (To Be Loved by You)" shows Holeman's soul-shouting ability.
Swinging is Holeman's forte. Her straight version of the ballad "What Are You Doing the Rest of Your Life?" leaves something to be desired, but when she attacks Van Morrison's "Moondance," she enlivens every line and ignites Fleeman's solo statement. She gives "Mood Indigo" a sultry, bluesy feel and finally soars effortlessly into the soprano range. It seems just right for the tune.
Holeman is most endearing on three consecutive tunes, beginning with the old-timey "I Don't Want to Set the World on Fire," on which she takes a trombone solo! Her tongue-in-cheek style seems only half in jest, as it does on "Take Me Out to the Ballgame," another tune from simpler days. Finally, she plays piano and romps through the old favorite "Exactly Like You."
Holeman approaches some songs with cabaret flair, sometime exaggerating the lyrics with a vocal lilt, a trick card that can get annoying if overplayed. Holeman usually avoids that trap. She is a superb scat singer with a gift for exact intonation, as we hear on "This Masquerade," among others.
With credentials that include work in jazz, country, gospel and salsa bands, Holeman is capable of great things. "Don't You Wonder?" is a debut on which to build a long career.
---
THE MARK KLEINHAUT TRIO with BOBBY WATSON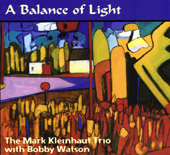 A Balance of Light
Invisible Music
By Tom Ineck
Mark Kleinhaut is a composer and guitarist deserving of more recognition. With "A Balance of Light," ingeniously integrating the virtuosic alto saxophone of Bobby Watson, he should begin to achieve some belated acclaim.
A native New Yorker, Kleinhaut resides in New England, where he is adjunct faculty member at the University of Southern Maine. This is his fourth CD on Invisible Music since 1999. Along with Watson as special guest, his trio is rounded out by bassist Jim Lyden and drummer Les Harris Jr.
Kleinhaut says he wrote much of the music herein with Watson in mind, obviously aware of the saxophonist's melodic sensibility and technical facility. "Ferdinand and Isabelle" leaps from the grooves, with Watson spinning his trademark nimble-fingered lines. "Long Look Back," on the other hand, is a wistful ballad that draws soulful performances from Watson and Kleinhaut.
Watson and Kleinhaut lock lead lines in effortless unison on "Four Lane Clover," which has a cleverly shifting structure. "South of Mason" is a breezy swinger with Harris switching from brushes to sticks and Watson making an inspired melodic statement at the outset. Kleinhaut and Lyden also contribute imaginative solos.
The 10-minute, aptly titled "Start it Up" accelerates quickly, opening up to allow a blazing guitar solo reminiscent of the transcendent playing of Mahavishnu John McLaughlin, one of Kleinhaut's most evident influences. Watson seems equally inspired, following with a whirling dervish of a saxophone solo before rejoining Kleinhaut in a beautifully executed unison ending. "Erikita" is a gorgeous Latin-tinged ballad that Kleinhaut introduces on guitar, and then hands over to Watson, who caresses each turn of phrase with deep sonority in an extended solo statement.
"Summers" is, by turns, bright and cheerful, meditative and melancholic, blustery and ominous, sort of like summer, that most fickle of seasons. It is a fitting finale to a very diversified, unpredictable and satisfying disk by a much underrated composer-guitarist. I can't wait to hear more from Mark Kleinhaut.
---
HARVIE S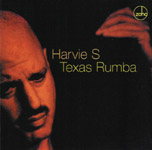 Texas Rumba
Zoho Music
By Tom Ineck
Bassist Harvie S leads his band with authority and energy, just what you need to keep these muscular Latin rhythms moving. "Texas Rumba" is a live recording at Sweet Rhythm in New York City, lending the immediate excitement that is essential to the music.
The title track and the following "Good News" set the pace with gusto. Harvie S takes of the bow for "From Now On," but soon switches to a pizzicato flourish with saxophonist Scott Robert Avidon, one of a team of very capable but relatively unknown band members, who also feature trumpeter Gregory Rivkin, pianist Daniel Kelly, drummer Adam Weber and percussionist Renato Thoms.
"Curved Corners" illustrates the band's affinity for a powerful, bluesy style. Avidon tears it up on a blustery tenor sax solo before handing it over to Kelly for a fist-pounding keyboard attack that has the crowd shouting like a revival meeting. It's back to the irresistible rumba rhythms for "Blindside," with a duo lead statement by Avidon on soprano sax and Rivkin on trumpet. Harvie S follows with a deft bass solo against Kelly's percussive piano pulse.
Harvie S wrote nine of the 11 tracks, in addition to Thelonious Monk's "Monk's Mood" and Kelly's "Momentano," an opening solo piano statement to Harvie S's "Before." It is a masterful, evocative performance by the duo. The band returns for "Facil," another Latin foot-tapper. Harvie S gives the familiar Monk tune a twist with a two-minute solo bass rendition, leading into "Underneath it All," a complex, 10-minute tour de force.
---
EDDIE LANDSBERG
Remembering Eddie Jefferson
Berghen Records
By Butch Berman
There is an interesting story surrounding my first encounter with the amazing man and jazz singer named Giacomo Gates that I want to share with all of you before I continue my original plan to review this wonderful new CD on the Swedish label, Berghen, entitled "Remembering Eddie Jefferson."
I'm embarking on a new position with the Topeka Jazz Festival as the new artistic director, beginning with me booking the entire 2005 season by this year's Memorial Day annual event. In search of a male vocalist, I asked my friend, BMF consultant and KC bass player Gerald Spaits who he would recommend. He immediately named Giacomo, and said he wowed them at last year's festival, which I didn't attend. I call and introduced myself to Mr. Gates and told him of my interest in his appearance in 2005. We had a little discussion over dough and, because I hadn't heard of him and wanted my first year with the TJF's budget to go smoothly, I declined his offer until I could check him out.
Well, let me tell ya, after getting on his website and just hearing barely one minute of his sound bytes, I was hooked. This cat's a monster. I rung him back up, gave him the money he needed, and ensured he'd also handle the festival's master class for young people in the vocal division of our workshops.
Since then, after many entertaining phone calls and e-mails, Giacomo and I have become new pals of sorts, and I can't wait to meet him and hear his incredible talent in person. (You can catch him at this year's TJF in Topeka, Kan., as well as the next, FYI).
There you go jazz fans. Another serendipitous tale of the ever-so-small jazz world we live in. Now on to this CD you must add to your collection as soon as you finish reading this review.
Giacomo's promo arrived with this newest jewel, "Remembering Eddie Jefferson," neatly intact.
My first experience listening to vocalese (vocally improvising jazz solos) was Lambert, Hendricks and Ross, and then King Pleasure. Eddie Jefferson pioneered this hip, swinging technique during the early 40's. Twas the same dude who penned James Moody's famed variation on "I'm in the Mood for Love."
Eddie Landsberg's tribute to Mr. J. is a powerhouse from start to finish. I'm on my third spin, and I hardly ever have the time or usually the desire to keep something on my player for this long. It's just that good.
Gates' own "Mr. Jefferson" kicks off the CD in grand style. Some outta sight B-3 organ grooves by Landsberg grabs your attention from the get-go. The whole band swings like hell with one of my faves, James Spaulding blowing his ass off on alto, and Ben Dixon driving the group HARD on drums. Still, it's Giacomo who takes you to the races tune after tune simply blowing your mind throughout. Not a clunker on board, with Mary Lou Williams' "The Land of Ooh Blah Dee" and "I Just Got Back In Town," with Moody's solo over "I Cover The Waterfront" and lyrics by Jefferson, as my standouts. Gates' timing, phrasing and gorgeous timbre shine track after track. He even lets the band blow their brains out on two separate instrumentals. Truly a great, great endeavor.
Mr. Giacomo Gates…you have arrived, man…BIG TIME! I just envy the kids you get to teach back in Connecticut, who get to dig your hipster persona daily.
---
DION PARSON, FEATURING THE 21st CENTURY BAND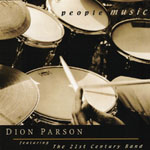 People Music
Tahmun Records
By Butch Berman
While in New York City last month, my wife Grace, Norman Hedman and I decided to drop in on our old friend recording wizard Lou Holtzman and check out his "digs" at his newly relocated Eastside Sounds in Manhattan's Lower East side.
Lou just happened to be conducting a recording session for a new, and very talented young lady named Teraesa Vinson who by coincidence had three members of drummer Dion Parson's 21st Century Band as her back-up ensemble.
We were greeted warmly by all, and Dion made sure I had his new released CD, "People Music" on Tahmun Records, safely tucked away within my belongings for future perusal.
Well, it's "People Music" all right and totally top-flight jazz. You could almost call it "world music," as it combines sights, sounds, swirls, textures and deep grooves from around the globe, coast to coast with a touch of a New Orleans shuffle thrown into this mighty mix. Truly one of the most diverse efforts drawn towards any music I've heard for awhile that appears to work well on all genres displayed. I was eagerly looking forward to hearing this fine CD for the third time since my return home in preparation to writing this review.
Even though I've not caught Parson "live" yet, you can tell by his command of the proceedings and sheer power and energy set forth on this CD that he's a virtual drum machine. Hard-driving, intense, yet subtle when called for with the ability to soothe the listener as on his lovely creation "Lullaby For Belle," one of the warmest and heartfelt instrumentals I've heard captured on disc in ages.
Saxophonist Ron Blake, who's been deservingly making his way up the ladder as of late, just melts you with his lush, languid tone.
I dug the whole CD, and their rendition of one of my fave Monty Alexander compositions "The River Rolls On" in its own way nearly equals the perfection of the original as the magical beauty of it all takes you out. Percussionist Robert Thomas Jr. leaves his indelible mark on this track among others as the whole band cooks behind Parson's leadership.
Keyboardist Carlton Holmes continually weaves a soulful web of enchantment throughout including some funky down-home organ playing. Reuben Rogers skillfully shifts between acoustic and electric bass like a champ—tight, punchy with a great fat sound. Ron Jackson on guitar has an unexplainably different approach to his axe work. It cleverly draws your attention towards the fluid chops he displays from cut to cut without ever overplaying.
Special guests Jeremy Pelt on trumpet and Denise Jannah on voice and additional percussion round out this solid deal dealt by Mr. P. Kudos to Michael Carvin for his deft production work on this Tahmun Records release of merit.
If this review helps Dion Parson's "People Music" get into more people's homes and deejays' playlists …I've done my thing right.
---
ROY HAYNES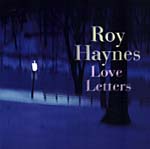 Love Letters
Columbia Records
By Tom Ineck
"Love Letters" is among the most exciting jazz CDs of the last year. Actually released in late 2002, it features a sterling group of musicians in various combinations fronted by bebop-era master Roy Haynes on drums. Unlike so many overly hyped "all-star" recordings that turn out dull as dirt, this session virtually leaps with joy and camaraderie. Let there be no mistake, Haynes is in charge here, but he readily acknowledges the top-drawer musicianship of his younger comrades-in-arms.
Blazing from the get-go, "The Best Thing for You" places tenor saxophonist Joshua Redman front and center. Guitarist John Scofield gets the spotlight on "That Old Feeling," with bassist Dave Holland and pianist David Kikoski taking short solos and Haynes comping tastefully on brushes.
The trio of Haynes, Scofield and Holland create a brilliant new interpretation of "Afro Blue." Pianist Kenny Barron lends haunting harmonies to Redman's lead tenor line on "Que Pasa," as Haynes and bassist Christian McBride keep a furious tempo. Haynes, Barron and McBride skip lightly through a mid-tempo version of "How Deep is the Ocean," with Haynes again showing his consummate skill on brushes.
Scofield takes up the torch again on the title track, urged on by Holland and Haynes, whose virtuosic drum work is submerged just enough to give Scofield the spotlight while remaining a powerful element in the mix. An up-tempo rendition of "My Shining Hour" is barely out of the gate before McBride turns in a stunning solo, followed by Redman and Barron trading fours and Haynes going into his bottomless bag of tricks for some pure percussion magic.
The Benny Goodman rave-up "Stompin' at the Savoy" gets a subdued treatment by Scofield with Kikoski and Holland comping. The final statement is the percussion solo "Shades of Senegal 2," in which Haynes slowly builds the polyrhythmic structure.
It's good to hear a venerable master of Haynes' stature back on a major label, with sidemen and material worthy of him.
---
top
MIKE METHENY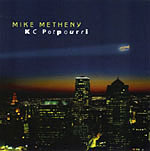 KC Potpourri
3 Valve Music

By Tom Ineck

As editor of Kansas City's Jazz Ambassadors Magazine (JAM) for the last decade, Mike Metheny already has established himself as a skilled and insightful journalist. Even before that, the trumpeter had several recordings under his belt, including a pair in the late 1980s on the MCA/Impulse label.

Suffice it to say that the Lee's Summit, Mo., native has proven himself well beyond the blood relationship with brother Pat, the wildly popular jazz and fusion fretmeister who virtually defined the direction of jazz guitar over the last 25 years.

And now trumpeter Metheny returns with "KC Potpourri," a showcase not only for his own playing (on cornet, flugelhorn and electronic wind instrument) but the world-class musicianship of more than a score of Kansas City area players, in small-group and big-band settings. In its embarrassment of riches and in Metheny's generosity with his esteemed fellow sidemen, this CD amounts to a KC love fest.

It kicks off with a killer rendition of "The Flintstones Theme," featuring the swinging Soundtrek Big Band, named for the KC studio where this CD was "waxed." It serves as a paean to the classic Basie riffs on which the legend of Kansas City jazz was founded. On muted cornet, Metheny cleverly punctuates the powerful brass and reed onslaught.

But it is Metheny's beautiful phrasing and tone on the flugelhorn, especially on brother Pat's ballad "Always and Forever" that most impresses this listener. He brings new warmth to this familiar romantic refrain, and the big band tastefully paints a shimmering backdrop for Metheny's solo statements. The flugelhorn also figures prominently on the classic closer, "We'll be Together Again."

The well-chosen play list includes John Lewis' "Two Degrees East, Three Degrees West," which gets a bluesy mid-tempo reading by Metheny on flugelhorn, Paul Smith on piano, Bob Bowman on bass and Todd Strait on drums. Danny Embrey's wonderful "Tell Me Now" features the composer on guitar, as well as pianist Roger Wilder, bassist Gerald Spaits and drummer Tommy Ruskin.

Guitarist Rod Fleeman sits in on Jobim's "How Insensitive," and Metheny returns to cornet on Benny Golson's jumping "Are You Real?" Kim Park delivers a fiery alto sax solo on "Hey Man!" as the big band stokes the flames with brassy bursts.

Wisely, flugelhorn is the instrument of choice here, with six of the nine tracks featuring the larger, warmer brass instrument. Muted cornet appears on two tracks, and the EVI is plugged in only once. This is a blessing to those of us who have always thought of the instrument as a poorly synthesized equivalent of the real thing.

---
top
STAN KESSLER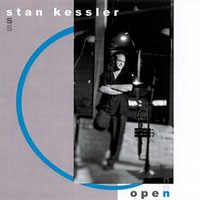 Open

By Tom Ineck
Fans of Kansas City jazz trumpeter Stan Kessler who yearn for a straight-ahead recording, apart from his more tropical Sons of Brasil project, are advised to check out his new release, "Open." It is Kessler in his most adventurous and creative mood, on a set of standards and originals designed to captivate the most jaded listener.
There is no doubt about his intentions, from the unique arrangement of the evergreen opener "It Could Happen to You" to the bluesy grit of Sonny Clark's "Cool Struttin'" to the more conventional reading of "Detour Ahead." Kessler is flexing his chops and proving his versatility with every lick.
To help make his point, Kessler has chosen a stellar crew to round out his sextet, and all but one of the musicians hails from KC. Cincinnati pianist Phil DeGreg is the ringer, a powerful addition to an already potent musical brew consisting of guitarist Danny Embrey, bassist Bob Bowman, drummer Todd Strait and percussionist Gary Helm.
"Open" certainly exhibits an occasional Latin tinge, such as the lilt of "Journey," featuring some nice guitar work by Embrey and a whole battery of percussion by Strait and Helm. Their version of "Close Your Eyes" has Kessler soaring on trumpeter over a pulsing hotbed of Afro-Cuban polyrhythm. But the lion's share of "Open" remains close to the jazz mainstream.
On Wayne Shorter's ballad "Infant Eyes," Kessler tastefully demonstrates the deep warmth and tonal beauty that the flugelhorn is capable of expressing in the right hands. With the same horn, he goes uptempo for "I Hear a Rhapsody," with some inventive counterpoint by DeGreg. The pianist is featured front and center on the aptly titled shuffle "Blue Man," which also gives Bowman a chance to show his stuff in a well-constructed bass solo.
Kessler and company get funky on "Sacred Cow," Strait popping the snare drum and Embrey digging it with riffing rhythm guitar lines and a slithering solo statement. "Squall Line" pits Kessler and Strait in feisty head-to-head combat, intricate trumpet lines weaving boldly around snare, tom-toms and cymbals.
The jazz waltz "Berlin November" is another showcase for the flugelhorn. Kessler hands it off to DeGreg for a spirited piano solo, which gives way to Bowman's bass before returning to Kessler's exquisite melody line. It perfectly symbolizes the sustained sense of camaraderie and musical rapport of "Open."
---
top
SANDY GRAHAM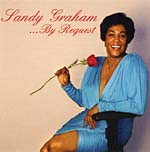 ...By Request
Jazz Link Enterprises

By Tom Ineck

Singer Sandy Graham justifiably gets the star treatment here, backed by a team of veterans that includes pianist Gerald Wiggins, guitarist Ron Anthony and drummer Ralph Penland. On three tracks, a six-piece string section creates a lush backdrop for Graham's vocals. She also acquired the liner note-writing skills of the prolific Scott Yanow.

Graham has a swinging, lilting voice with a strong vibrato, a great combination for tunes like the clever opening title track, which also benefits from the tenor sax work of Herman Riley and Richard Simon's walking bass line. Her expressive phrasing works well on "Here's that Rainy Day/It's Nice Weather for Ducks," "My Heart Tells Me," "Close Enough for Love," "Love for Sale" and "Good Morning Heartache/Lover Man."

The standard song list is wisely balanced with lesser-known tunes like Alec Wilder's "Trouble is a Man," the beautiful but obscure Melba Liston composition "Coat of Laughter," Teri Thornton's "Los Angeles," and Ellington's "The Brown Skin Gal in the Calico Dress."

The strings warmly wrap Graham's voice in a blanket of sound on the romantic ballads "Something I Dreamed Last Night," "Love Story" and "Through a Long and Sleepless Night."

Only Graham's occasional tendency to waver slightly off key prevents this from being a great recording.

To purchase CDs, write Graham & Associates, P.O. Box 241725, Los Angeles, CA 90024, or visit Jazz Link Enterprises at www.jazzlinkenterprises.com.

---
top
GEORGE CABLES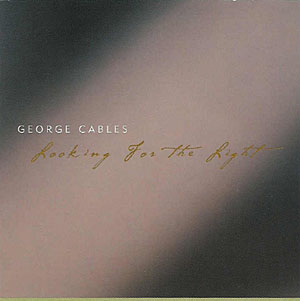 Looking for the Light
Muse Records

By Butch Berman

I got chills the first time I heard George Cables with Dexter Gordon. I got fever the first time I heard George Cables with Art Pepper. I got goose bumps when George played my piano for nearly an hour, rearranging and arrangement of "Body and Soul" prior to a Lincoln, Neb., Jazz In June concert.

I didn't even know "Looking for the Light" existed until my wife, Grace, heard something about a new George Cables release on NPR. I'm thinking to myself, "I know I haven't spoken with George for awhile, but how did I miss out on one of the loveliest and swinging releases of 2003?"

Nevertheless, "Looking for the Light" evoked all the aforementioned emotions…and then some!

I first met George at a recording session for a CD I helped put out on a Seattle, Wash., songstress named Andrienne Wilson. This project was produced by my true "soul brother," Norman Hedman, about seven or eight years ago. I've been most fortunate to have experienced mucho quality hang time with Mr. C. and have drunk in his exquisite, magical musical expressions from coast to coast.

Reading George's poignant liner notes regarding his noble struggles with health problems touched me deeply and inspired me to realize that even though our bodies age and become more unpredictable, our eternal spirits and creative juices still remain intact, vital and evolving. It's all 'bout faith, passion and surrender.

Even if George had left the inner pages blank, these eight magnificent creations would still spread the message. As far as "covers" go, his spellbinding rendition of the Goffin/King tune "Will You Still Love Me Tomorrow?" tells all you'll ever need to know on the lessons of love, loving, sometimes losing and simple living. Bravo, George. You really tore me up on this one.

George is backed by the crème de la crème of today's jazz world, saxophonist Gary Bartz, bassist Peter Washington and another dear old friend of mine whose career I've followed since our University of Nebraska-Lincoln days back in the early '70s, the Monet of jazz drumming, Victor Lewis.
"Looking for the Light" is one of George Cables' most personal endeavors. Dash out and find it soon to make it one of yours too. God bless you, George.

---
top
DAN THOMAS QUINTET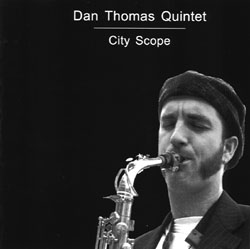 City Scope

By Butch Berman
I get a lotta mail, and I'm getting older (maybe wiser, too), so it's not like I forget… but sometimes I just can't remember. So…that what haps yesterday when I received "City Scope," the debut of Dan Thomas and his quintet.
It all came back to me after the first spin, and again today when I shared by first steamin' cup of joe with this mighty fine piece of work. I will now always remember Dan Thomas.
Yea, I get stuff sent to me daily, and I probably wouldn't have gotten to it so soon if I hadn't noticed that the liner notes were written by one of my very favorite musicians… let alone his saxual magic, I'm talkin' 'bout Bobby Watson, of course.
I couldn't help draw parallels in recognizing a similar projection of fluidity within their hallowed tones, shapes and phrases, but this story is about Dan Thomas. Of Canadian origin, Dan displays ample chops and composing skills on both the alto and soprano saxes. His spirit, his obvious driving leadership and his passion surge to the forefront throughout this solid effort.
Thomas or drummer Jim Erikson penned all the selections. His ballad numbers are as lovely in their romantic leanings as the upbeat tunes reflect their infectious stylings. This CD represents a showcase of some classic jazz, and superlative playing.
My friend Roger Wilder plays his piano parts as creatively and smartly as I've ever heard him live, and he's always on the money. Pianist Bram Wijnands is no slouch on the bass either, in blending comfortably with Erikson and in his "bright moments" solos, as well. Trumpeter and University of Missouri-Kansas City educator Joe Parisi, along with Thomas, demonstrates some great front-line excursions and blows most admirably.
"City Scope" is both hot and cool in the right places, and should be received well and played in EVERY city. Check this one out, and spread the word. Dan Thomas is on the move.
For all you may need, contact Dan Thomas on the web at www.danthomas.info.

---
top
---