Concert Review
Marillac gathers KC's finest for jazz benefit

By Tom Ineck

KANSAS CITY, Mo.—September 28 marked a rare occasional, a milestone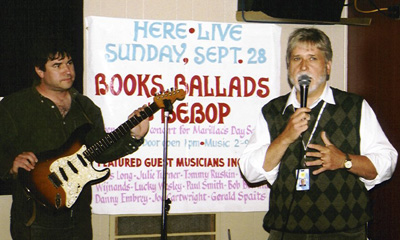 in the long and storied history of Kansas City jazz. Nearly 30 of KC's finest musicians gathered to perform a daylong benefit at The Piano Room, a small club at 8410 Wornall Road in the city's Waldo district.

The players donated their talents for the cause, to help raise a needed $21,000 to replace obsolete textbooks for Marillac Center's therapeutic day school. "Books, Ballads and Bebop" was expertly organized by Steve Irwin, Marillac's community relations director and the former co-director of the late, lamented Kansas City International Jazz Festival. Also playing important roles at the benefit were Irwin's jazz fest co-directors, the witty emcee John Jessup and the effervescent Jo Boehr, Irwin's wife.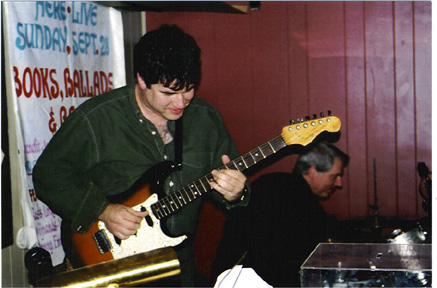 Festivities began modestly at 2 p.m. with vocalist Julie Turner and Turner's son, Brian Ruskin, on guitar. As the day progressed, musicians wandered in to take the stage, reaching a crescendo of formidable jazz expertise by the early evening and continuing until the final jam had played out at 10 p.m.

For this avid fan of Kansas City jazz, Ruskin was the first of several surprises throughout the day. I suspect that many listeners had similar feelings of good fortune, as an embarrassment of riches revealed the talents of musicians not often heard together.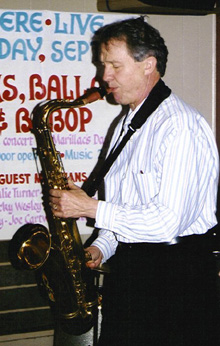 Ruskin is an outstanding guitarist, in both jazz and blues styles, and a sensitive accompanist to his mom on such tunes as "Out of Nowhere," "Alone Together" and the samba "How Insensitive," which was an excellent vehicle for Turner's throaty vibrato.

Pianist Russ Long joined the duo for "All the Things You Are," and drummer Tommy Ruskin (Brian's dad and Julie's husband) later added the shaded rhythmic pulse to "One Note Samba." Long regaled the crowd with his hilarious take on "My Old Kentucky Home." Mike White, another pleasant surprise, added his soulful tenor saxophone to a fast blues shuffle. Turner capped the performance with "I Love Being Here with You."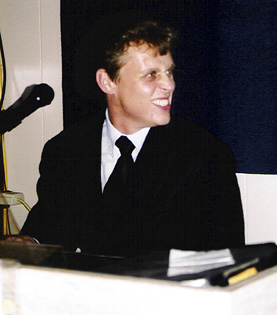 Even before he took the stage to perform, traditional jazz pianist-singer Bram Wijnands was enthusiastically documenting the historic event on his video camera. His duo set with Scamps drummer Rusty Tucker was a joy, pitting the young Dutch marvel with one of the elder statesmen of Kansas City jazz. It was a hoot to hear Wijnands deliver a Dutch-inflected "She's my ding dong baby and she knows how to ring my bell," then join Tucker for some raunchy, blues tinged scat singing.

Tucker turned in a pair of warm vocals on "All of You" and "What a Wonderful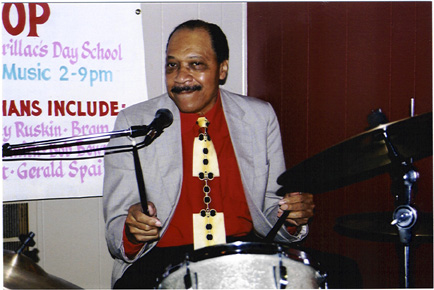 World," but it was Wijnands' Fats Waller-inspired playing and singing on Waller's "Honeysuckle Rose" that was most impressive. His rollicking, wide-open keyboard attack had feet tapping and fingers snapping. The duo also dedicated a sensitive version of "Sentimental Journey" to club owner Dean Weiss, who generously contributed the day's profits to Marillac.

Pianist Paul Smith fronted a marvelous quartet also featuring guitarist Danny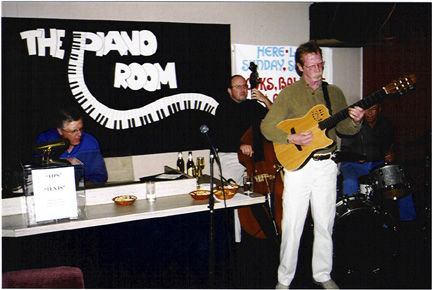 Embrey, bassist Bob Bowman and drummer John Doubleday. Tunes included an uptempo "Yesterdays," "O Pato (The Duck)," and a reprise of "All the Things You Are." Embrey was loath to leave early, but he was due to board a flight the next morning to join singer Karrin Allyson for a European tour that included stops in Rome and Paris.

The momentum continued to build with the arrival of pianist Joe Cartwright,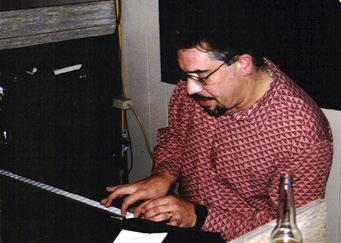 bassist Gerald Spaits and drummer Ray DeMarchi, a very compatible trio of veterans. Never satisfied with conventional interpretations, Cartwright and company chose a samba by trumpeter Claudio Roditi and the underappreciated standard "Whisper Not," before putting a definitive blues tinge to the timeless ballad "September Song," building to the astonishing piano crescendo and the soulful climax for which Cartwright has become known.

Kansas City legend Pete Eye replaced Cartwright at the piano for a stunning rendition of Paul Desmond's "Take Five." Eye's affinity for Dave Brubeck was immediately evident in his classical constructions and syncopated phrases.

Backed by Cartwright, Spaits and DeMarchi, Ahmad Alaadeen delivered one of the highlights of the day, a set that included a spirited romp through Juan Tizol's "Caravan," featuring Alaadeen on soprano sax.

Trumpeter Stan Kessler, alto saxophonist Kim Park and drummer Doug Auwarter joined the fray with Cartwright and Spaits on a special request from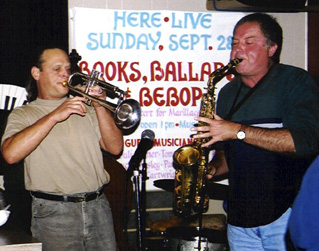 Irwin, the lively "Lester Leaps In." The classic bop changes received a round of exemplary solos by Kessler, Park and Cartwright, each one building in intensity and innovation and ending with Park mimicking Lester Young's famous sideways stance and Kessler valving the trumpet upside down!

Joe Zawinul's funky anthem, "Mercy, Mercy Me," was taken at a slow and soulful tempo, punctuated by moving solos by Park and Kessler. Park closed the set with "Centerpiece," taking the vocal chores as well as delivering a bluesy alto solo, segueing into stop time and an exhilarating double-time finale.

In the wake of this electrifying performance, Jessup took the microphone to remind us again that this was "a singular day in Kansas City jazz." No one could argue with that assessment.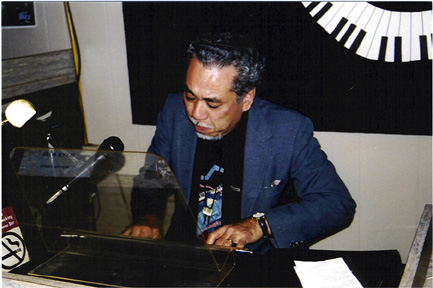 As the evening began to wind down, pianist and singer Mike Ning took the stage with bassist Tim Brewer and drummer Mike Shanks for yet another version of "All the Things You Are," followed by "Everything Happens to Me." Sherry Jones capably vocalized on the uptempo "Ornithology/How High the Moon," on which Ning's solo cleverly referred to "Surrey with The Fringe on Top." Young aspiring drummer Timothy Ning made it a family affair when he joined dad Mike and mom Sherry for a rhythmic run through the Herbie Hancock favorite "Watermelon Man."

It was a hipster's holiday when David Basse joined vocals with pianist Greg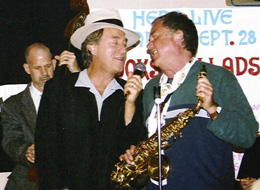 Richter and bassist Brian Hicks for Bobby Timmons' "Moanin'" and another rendition of "Centerpiece," which also featured Park on alto sax.

The distinguished and gentle presence of pianist and singer Luqman Hamza brought the proceedings to a close. The local legend caressed the keys as he gave new life to the lyrics of "Falling Love with Love," "My One and Only Love" and, best of all, "I Will Understand." It was a display of grace and class that could serve as a lesson to all jazz musicians.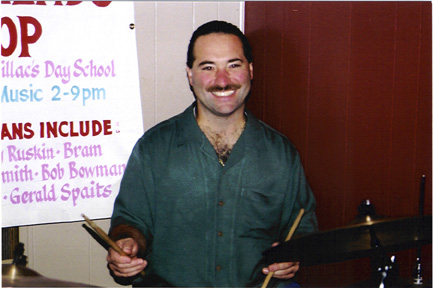 The day's events stand as a remarkable example of artistic camaraderie and might serve as a model for Marillac's vision statement: "To see at-risk children and families become contributing members in their communities by modeling a caring, nurturing and learning environment and by providing innovative, professional treatment and support."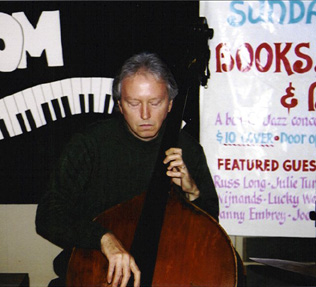 "Books, Ballads and Bebop" certainly created a caring, nurturing and learning environment for the hundreds of jazz fans who turned out to support a very worthy cause.

To learn more about Marillac Center and how you can help the cause, call Steve Irwin at (816) 508-3311 or write to Marillac at 2826 Main St., Kansas City, Mo. 64108.
---

By Tom Ineck

KANSAS CITY, Mo.—Latin dance, by its nature, is a colorful, sensual and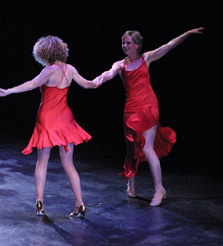 exhilarating expression of emotions. At its best, it is poetry in motion and a panoramic parade of life's joys and sorrows.

Latin dance was at its best Sept. 27 at the Kansas City Music Hall for "Sierra Latina: A Latin Evening of Dance." The performance was presented by Rite of Danse, a local non-profit arts organization whose goal is to create and present dance productions that utilize multiple art forms and honor cultural differences.

Artistic Director Liz Jeans of Rite of Danse organized the event, bringing together various groups to perform dance and music from Mexico, Brazil, Argentina, Spain and the United States. Cultural differences were most obvious as the medley of costumed dancers, in turn, took the stage to the music of salsa, samba, flamenco, folkloric dance, tango, Latin jazz dance and modern dance.

Fiesta Mexicana took the lead with "Nayarit," a traditional folkloric presentation with choreography by the group's director, Rose Marie Mendez. The flair of colorful skirts and the flash of machetes in a sort of "sword dance" combined to create a stunning opener.

"Hoy Es Adios," by the Signature Dance Company with choreography by Loren Whittaker, was a typically sensual display with lacy scarves serving as enticing props. "Sevillanas to Bulerias" was a multimedia flamenco tour de force by Ole Music and Dance of Spain, choreographed by Tamara McIntosh, artistic director of Ole. The colorful music of guitarist Raul Gomez accompanied dancers, some in stark black-and-white costumes and others in bright dresses. Castanets and double-time flamenco clapping added to the excitement.

Jeans and her partner, Michelle Powers, choreographed and danced the interpretative "Nuestra Contribucion Con Carina," with a passionate and impressionistic flair. With legs that seem to go on forever, Jeans seems to project her body in several directions simultaneously, reacting instantly and dramatically to unseen rhythmic impulses.

The American influence on Latin dance was most apparent in the "Latin Ballroom Suite," performed by a passing array of male-and-female partners, from Louis Barr and Rebecca Rodriguez doing "Paso Doble" to Frank Gillitzer and Mallee Morris illustrating the "Cha Cha" to Rafael Labrado and Anya Berdichevskaya with "Rhumba."

Barr returned with Laura Cantu for "Tango," followed by Labrado and Berdichevskaya with "Samba," Gillitzer and Morris with "Rhumba" and, finally, three couples dancing a jive version of "Fever."

"Neo Tango" was a bravura display of modern dance by the Wylliams/Henry Danse Theatre Company. Inspired by the music of Argentine tango composer Astor Piazzolla and choreographed by Dee Anna Hiett and Dwight Rhoden, it was a breathtakingly acrobatic performance.

The Latin Rhythm Dance Company, with choreography by Denisse Elise and Josue Hernandez, danced "Where's the Salsa?" a dazzling exhibition of style and technique. Lighting designer Jim Primm created the appropriate dramatic and atmospheric settings for each performance, and stage manager Beth Byrd overcame the daunting logistical challenges of segueing from one dance group to another.

The evening's irresistible capper was a public dance across town at the beautifully restored, Spanish-style Madrid Theatre, where we amateur hoofers were allowed to share the floor with the professionals, to the spirited music of jazz trumpeter Stan Kessler and the Sons of Brasil.

"Sierra Latina: A Latin Evening of Dance" was billed as a tribute to Jose Gonzalez, founder of the annual Hispanic Fiesta at the Barney Allis Plaza, started in 1985, and creator of "Sierra Latina." Gonzalez recently died, but his huge influence on Kansas City dance and the city's Hispanic culture remains obvious.

"Sierra Latina" also is a tribute to Jeans' dedication and organizing skills. She gathered together some of the best Latin dance ensembles available, and the sheer volume and degree of talent was remarkable, even for a metropolis of Kansas City's size. Bravo!

See story below for more on Liz Jeans and "Sierra Latina."

---
Artist Interview
Liz Jeans a mover and shaker in KC dance

By Tom Ineck

Liz Jeans is a mover and a shaker—on the dance floor, in her community and around the world.

Her Kansas City-based, non-profit Rite of Danse organization—through the magic of dance—attempts to break down the barriers that separate people of different ethnic groups, while celebrating their diverse cultural heritage. Productions have combined fashion and dance at an exhibit of photographs by Herb Rits, blended social dancing and staged choreography to the Latin jazz sounds of Sons of Brasil and performed poetry and dance for a "Victory over Violence" festival.

Rite of Danse also is the umbrella organization for Signature Dance Company, a youth jazz dance company for dancers ages 12 to 21.

Very early in life, Jeans was inspired by Latin culture, and it left a lasting impression on her dance styles, her choreography and her whole philosophy of life.

"I was always drawn to that, and no one else in my family was. It was probably from the time I was 12 or 13. It was just part of me," she said in a recent phone interview. "I enjoy being outside of my culture. I have no Latin blood. I'm as Caucasian as it gets. I'm a white girl who appreciates other cultures a lot. I feel our limitations and our fear of expressing passion, that I find much more a part of Latin culture."

Her Latin love affair extends well beyond the confines of the dance floor.

"I appreciate the passion and rhythms that you hear in Latin music and all Latin art. I like Latin movies. I like Latin literature. I like Latin music, and I like Latin dance."

Latin dance, she found, helps to express emotions that are usually kept hidden in the more reserved traditions of northern Europe. It also honors life's mysteries without trying to reduce everything to a scientific equation.

"We have every emotion, and we have things we can't explain," she said. "We have things that aren't concrete, and you've got to learn how to integrate all of that."

Raised in St. Louis and Kansas City, Jeans has a master's degree in dance from the University of Oregon. In Eugene, she developed a community center for the performing arts program and co-directed Powers & Jeans Dance Ensemble.

After a debut in Los Angeles, she began an international dance sojourn in Baghdad, during the Iran/Iraq war. She moved to Paris, where she danced at the historic Moulin Rouge. Based in Paris, she danced with Soho productions in Tokyo and at the Friedreichstadt Palast in East Berlin before the fall of the Wall.

In 1988, Jeans returned to Kansas City and taught dance in the KCMO Visual and Performing Arts School for seven years. She remains a freelance choreographer, teacher and performer as the founder and artistic director of Rite of Danse.

Jeans' colleagues in Rite of Danse are out-of-town consultant Michelle Powers and Loren Whittaker.

Powers and Jeans have a long history of working together. They met as colleagues, directing separate community dance programs, and later formed and directed Powers & Jeans Dance Ensemble. Their adventures took the Eugene, Ore.,-based company to Los Angeles and Baghdad. Years later, they ran a spa in Cabo San Lucas, Mexico, under Powers' direction.

Powers recently moved back to Oregon after living in California for the last 10 years. Despite the distance, Powers and Jeans still consult and support each other on projects such as "Sierra Latina."

Loren Whittaker is director of Signature Dance Company, sponsored by Rite of Danse. Her choreography and support was a major part of "Sierra Latina." Now an adjunct professor of jazz dance in the UMKC dance department, she has been a lead dancer in Las Vegas, Nev., and assisted with choreography and direction of two TV programs in Rome.

top

---
By Tom Ineck

As jazz combos come and go, few are allowed the longevity to form a cohesive group dynamic. One of the rare exceptions is the Kansas City-based quartet Interstring, whose compatibility and chemistry is increasingly evident as they approach nearly a decade together.

That group dynamic was in full play during an Oct. 16 performance at P.O. Pears in downtown Lincoln, funded by the Berman Music Foundation. It was their sixth and final gig in a brief series of Midwestern appearances, occasioned by the return visit of essential drummer Todd Strait from his home in Oregon.

The other essentials in this fearsome foursome are guitarists Danny Embrey and Rod Fleeman and bassist Bob Bowman. Over the past decade, they have created and maintained a totally unique sound, whether playing as a quartet or in support of singer Karrin Allyson, who appeared frequently with them during her formative years in KC.

It didn't take long for the band to start cooking at its recent Lincoln show. Taking the first solo in the opener "You Stepped Out of a Dream," Embrey left the starting gate running with a dazzling display of fretwork. Bowman followed with an authoritative and imaginative solo before handing it off to the fleet-fingered Fleeman. Strait employed the full range of his extensive percussion vocabulary, including a brief press roll.

Embrey's composition "Samba 88" is always a joy to hear, but seemed especially inspired and inspiring on this evening. It had the open, breezy resonance of a Pat Metheny tune, with Strait's polyrhythmic mastery of the drums establishing an irresistible groove over which Fleeman, Bowman and Embrey soloed with increasing intensity. Strait's hand-drumming interlude gave the piece the appropriate Latin tinge.

Even "One Finger Snap," the dauntingly up-tempo Herbie Hancock composition, seemed to flow with ease in Interstring's polished rendition. The guitars made the opening statement in unison, and Strait followed with another astounding drum solo and continued to push the beat during alternate solos by Embrey and Fleeman.

Jimmy Rowles' lovely ballad "The Peacocks" seemed to gradually emanate from the musicians with impressionistic flourishes as they constructed the tune from Fleeman's initial statement of the haunting melody. Embrey entered with a solo combining single-string runs and unusual chords. Finally, Bowman and Strait—on brushes—completed the group rapport. Bowman's subsequent bass solo was especially impressive.

Ending the set was the bassist's own good-time tune, "The Hebgen Happy Hour," inspired by a lakefront bar in the wilds of Montana. With elements of funk, blues and country twang, anchored by Strait's brush-stroked backbeat, it conjured an appropriately laid-back ambiance.

The popular Jean "Toots" Thielemans samba "Bluesette" was highlighted by an adventuresome Fleeman solo. Bowman announced the debut performance of a tune called "Notes and Chords," featuring solos by Embrey, Fleeman and the bassist. "Willow Weep for Me" was given an unconventional, funky treatment that included some imaginative Fleeman variations and a brilliant guitar exchange.

Bowman's pen also yielded the night's final piece. Named for the family pet, the tune's Spanish title is translated "Dog of the Devil." The opening bass solo was ominous, setting up intricate, weaving guitar lines and a marvelous Latin rumble of a drum solo.

Despite the small audience turnout, Interstring performed at the highest level of art, never failing to deliver on its many years of promise and hard work.
---
By Tom Ineck
In the jazz world, only a handful of artists have the drawing power to fill the 2,200-seat Lied Center for Performing Arts with an enthusiastic and multigenerational audience.

Wynton Marsalis, fronting the Lincoln Center Jazz Orchestra, did just that on the evening of Oct. 14, and the 15-piece ensemble did not disappoint.

In its 10-year tradition of keeping alive some of the important works of jazz history, as well as performing and recording its own compositions, the Lincoln Center band began with the Charles Mingus bopper called "Dizzy Moods." It has a typically intricate, polyrhythmic construction, with shifting tempos reinforced by the masterful drumming of Herlin Riley.

Turning to John Coltrane, the orchestra played the "Resolution" section of the suite "A Love Supreme." After a beautifully organic bass statement by Carlos Henriquez, Wess Anderson delivered an alto sax solo that aspired to profound musical expression in the same way that Coltrane's version aspired to spiritual expression. Pianist Eric Lewis followed with a powerful solo reminiscent of McCoy Tyner, with left-handed block chords and blazing right-hand runs.

They returned to the Mingus songbook for "Los Mariachis (Street Musicians)," a showcase for trumpeters Seneca Black and Ryan Kisor, who delivered an astounding solo. Kisor, at 30, has come a long way since his teenage years as guest soloist with the Nebraska Jazz Orchestra.

Ending the first half of the two-hour program was Thelonious Monk's "Four In One," arranged for the orchestra by Chuck Israels. Marsalis made a bravura opening trumpet statement with the rhythm section only. Suddenly, the rest of the band launched into a rousing New Orleans street-parade version of "Happy Birthday."

Their leader's 42nd birthday is Oct. 18, but this was the final stop on the current tour, so they paid their respects a few days early. Marsalis good-naturedly responded by soloing in grand style.

For the second half, eight members of the ensemble took the stage for a piece constructed around a lilting phrase repeated in a circular motion and featuring brilliant solo statements by Marsalis, Victor Goines on tenor sax, Walter Blanding Jr. on tenor sax and Lewis on piano.

The full orchestra played a piece from "Victoria Suite," commissioned by a festival in the Basque region of Spain. Trombonists Ron Westray, Andre Hayward and Vincent Gardner each took solos, but it was Riley's constant rhythmic underpinning that most impressed.

George Gershwin's "Rhapsody in Blue," as arranged by Billy Strayhorn for the Duke Ellington Orchestra, was perhaps the evening's highlight. As just six minutes, it was less than half the length of Gershwin's original, but it packed a wallop from the opening passage by Joe Temperley on baritone sax to Kisor's plunger-muted melody line. Near the end, Goines on clarinet played the famous slurred run that usually opens the Gershwiin classic.

"Big 12" was an original composition with elements of both the blues and flamenco structure.
This review initially appeared in the Lincoln Journal Star.

top
---
By Tom Ineck

"Standards, Scat and Soul" was the theme of the program, and the Nebraska Jazz Orchestra with special guest vocalist Kevin Mahogany, provided plenty of each Oct. 1 at the Lied Center for Performing Arts.

A Kansas City, Mo., native with a sonorous, full-bodied tone in the tradition of Joe Williams and Billy Eckstine, Mahogany wraps his deep-throated voice around a lyric with warmth and blues-drenched emotion.
He was in his element, working his way through a set of charts he brought along just for the occasion. Performing for an audience of 350, the NJO showed its quick-study skills with capable accompaniment and on-the-spot solos.
Before Mahogany took the stage, the band shifted into high gear for Toshiko Akiyoshi's fast blues shuffle "Tuning Up," a favorite warm-up piece that puts the brass through the paces.
At a similar up-tempo, Mahogany began his set with "There Will Never Be Another You," launching into a heated scat interlude after the first verse. In the same spirit, Darren Pettit contributed a fiery tenor sax solo.
Best known for its association with Frank Sinatra, the ballad "One for My Baby" received a sensitive reading by Mahogany in a Frank Mantooth arrangement that also featured muted trumpet statements by Brad Obbink and a baritone sax solo by Scott Vicroy.
With just the rhythm section, Mahogany turned his attention to the Ellington songbook, with a mid-tempo rendition of "Don't Get Around Much Anymore" and a rollicking "Take the A Train." On the former, he displayed his vocal pyrotechnics over a several-octave range, and the latter featured more amazing scat-singing and some percussive trades between the singer and drummer Greg Ahl.
The orchestra closed the first half of the program with "Lester Jumps Out," a swinging variation on Lester Young's classic "Lester Leaps In."
Dizzy Gillespie's "Tanga" got the second half off to a rousing start, and guitarist Peter Bouffard's imaginative arrangement of "Danny Boy" received another fine reading by the orchestra.
Mahogany paid homage to Joe Williams with "In the Evening," a bluesy swinger highlighted by the singer's swooping upward flight from the bottom to the top range without a fault. "Fools Rush In," a nod to Billy Eckstine, got a Latin treatment.
Once again fronting the rhythm section, Mahogany deftly motored through an uptempo version of "Route 66," followed by the ballad "When I Fall in Love," and the Miles Davis burner "Four."
After the full orchestra returned to the stage, Mahogany's lyrics were put to the music of Paul Hoffman for the lovely, Latin-tinged "Three Little Words."
Finally, Mahogany and company barreled through Charlie Parker's "Yardbird Suite," with Ed Love taking Bird's role on alto saxophone.
This review initially appeared in the Lincoln Journal Star.
---
Concert Review
Capers and companions keep tradition alive
By Bill Wimmer
Valerie Capers performed with her jazz quartet Sept. 21 at Doane College's Heckman Auditorium. Capers, who's played at Doane before, was capping off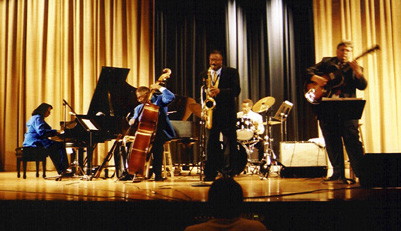 a short residency and workshops with students with a concert for a very enthusiastic crowd.

Her quartet included Alan Givens on tenor sax; John Robinson, bass; Earl Williams, drums; and Mark Marino, guitar. This veteran group, sans Marino, has been together for years and it showed from the first note. While Capers is a really fine pianist, she spends much time promoting and featuring her excellent companions.
Opening with "Take the 'A' Train," Givens led off, quoting "Exactly Like You" and displaying a great sound and wealth of ideas. Guitarist Marino followed with a Wes Montgomery-inspired, octave-building flight of his own. The leader showed her command of the jazz piano lexicon by incorporating bop, boogie woogie and much in between, all anchored by her tasteful chords from a very solid left hand. The bassist and drummer Williams each made their own statements as the song was brought to a rousing end.
Horace Silver's "Sister Sadie" was taken at a slower, funkier tempo than the original. Givens soloed first, followed by bluesy Marino, Capers and Robinson. The song ended with an interesting arrangement that showcased Givens at the finale.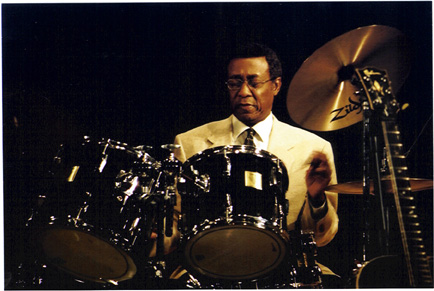 The trio of Capers, Robinson and Williams then played "Everything Must Change." Although I was a little hesitant at the announcement of this really overworked number, it took on a whole new life with Caper's great version. Moving from a Bill Evans feel on the theme, she took it into an up-tempo modal section interlude after the bridge that was really refreshing.
Paying tribute to Ellington most of the evening, "Caravan" was up next, with drummer Williams taking the spotlight. He started on high hat and then snare, using space and dynamics to great effect, without losing the feel of the tune. Building up to a great climax, he worked the solo and the student-heavy crowd into a frenzy.
Next up was seldom heard Ellington's "Circle of Fourths," which featured a whirling Givens on tenor and culminated with a nice cadenza. Givens, who received a standing ovation, is a real entertainer who seems to have a bit of Sammy Davis Jr. to him.
Guitarist Marino was given the honors on "Prelude to A Kiss," and he made the most of it with a finger-picking intro and melody. Switching back to a pick for his solo and going back to a beautiful chordal ending and a pretty ending and cadenza, Marino is a welcome addition to this group.
More Ellingtonia commenced with a medley of "C-Jam Blues," "Cottontail" and "It Don't Mean a Thing." "Cottontail" featured a two-beat stride piano section, taking off up-tempo at the bridge. "It Don't Mean a Thing" ended the first set with great statements from Marino and Givens.
The second set started with Capers, seated on a stool out front, singing an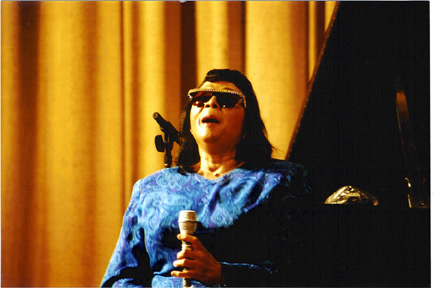 up-tempo "From This Moment On." She then sang Strayhorn's melancholy "Lush Life," followed by "Nature Boy," two ballads that picked up slightly during a rich Given's solo on the latter.
The combination of Caper's relatively small voice, the slower tempos and the lack of her fine piano playing made this a really slow part of the evening after such an energetic first set. I think three numbers from someone of her vocal ability is a bit self-indulgent.
She settled back in the piano chair for a breakneck ride on "Oh, What a Beautiful Morning." This one was so fast that Marino, a chopsmeister, still turned the time around playing himself into a corner on his second chorus.
Bassist Robinson was featured on "Mood Indigo," and he wasted no time displaying his complete mastery of the instrument. Bowing, picking, slapping, playing chords and double stops to great advantage-not just for technical effect. This guy is solid as a rock.
Finishing with "I Got Rhythm," Givens quoted Blue Mitchell's "Funghi Mama" and it was good naturedly picked up by the rest of the band. It wasn't the first time they'd played it this way, but the group responded to each other so naturally that it could have been. A quote from the "Flintstones" theme brought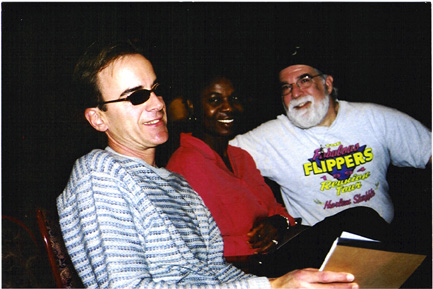 down the house again, and only my fatigue kept me from sticking around for the encore.
Valerie Capers presents a world-class jazz group that achieves its goal of keeping the tradition alive. Not having seen the group before I was very impressed by all members and by the nice crowd at Doane. The addition of Marino has added a lot to an already fine group, and it's not every day that Butch Berman gets blown away by a jazz guitarist. This was a very enjoyable show and I would recommend seeing this group if you get a chance.
---
Concert Review

Tropique launches 2003 Jazz in June series
By Tom Ineck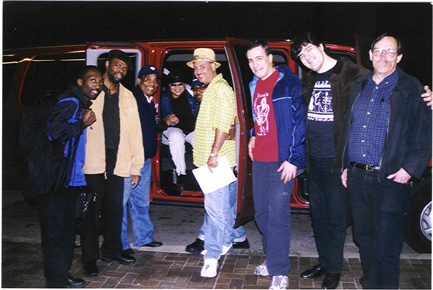 Since the mid-1990s, the Jamaica-born composer, bandleader and percussionist Norman Hedman has been captivating audiences with the warmth and insistent rhythms of his tropical jazz juggernaut, Tropique.

This summer, the New York City-based ensemble again ventured out to America's heartland for a Jazz in June performance sponsored by the Berman Music Foundation. The June 3 show was the first in this year's series of outdoor concerts at the Sheldon Art Gallery's sculpture garden on the University of Nebraska-Lincoln's city campus. It drew an estimated 2,200 people on an unseasonably cool evening.


Tropique's sound remains consistent, despite the departure of a couple of its longtime members, a tribute to Hedman's vision and leadership.

From the BMF-funded 2000 release "Taken By Surprise" came the concert opener, the irresistible "Pa' Bailar," with strong solos by Sam Furnace on alto sax and Craig Rivers on piccolo. Hedman led the percussion tour de force on congas, and music director Willie Martinez poured on the heat with an exciting workout on timbales.

"Rudy's Mambo" was a showpiece for new vibes sensation Alexei Tsyganov, brother of longtime Tropique pianist Misha Tsyganov. The young vibraphonist contributed a lightning display of melodic improvisation. "It's Just Not the Same" began with a repeated piano vamp, leading to a combined alto sax and flute lead line and a stunning flute solo by Rivers. With strong support by bassist Ron Monroe, pianist Tsyganov dug deeply into the theme for some exemplary keyboard variations.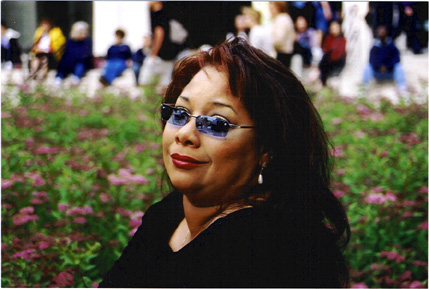 From the 1996 CD "Healing Hands," the ballad "Forever" proved its timeless quality. Again, it utilized a doubled melody line of alto sax and flute, providing the basis for solos by both Tsyganov brothers. Special guest vocalist Ada Dyer joined the group for "Closer." Renowned for her work with pop artist Sting and in the musical "The Wiz," Dyer brings a huge voice—with soul and gospel influences—to the stage, a nice contrast to Tropique's lighter approach.

Dipping again into his lengthy songbook, Hedman pulled out "Shades of Magenta" from his 1999 BMF-funded CD "One Step Closer." After a remarkable piano solo, Rivers sounded especially inspired on a flute solo and cadenza before turning it over to Furnace on alto sax.

Among the new material that Hedman unveiled was a piece of his inspired by a "food frenzy," a festive gathering of gourmands. Entitled "Feeling My Way," it exemplified the group sound that defines Tropique and sets them apart from the often self-indulgent ramblings of other Latin jazz groups.

"Flight of the Spirit," also from "One Step Closer," featured bassist Monroe on the African kalimba, or "thumb piano," and introducing Nigerian dancer Ruth Sankey, sister of Grace Sankey Berman, Butch Berman's new wife. With the newlyweds in the audience, it was a lovely tribute by a very talented member of the Sankey family. Congas, timbales and vibes added to the percussive nature of the tune and the dance.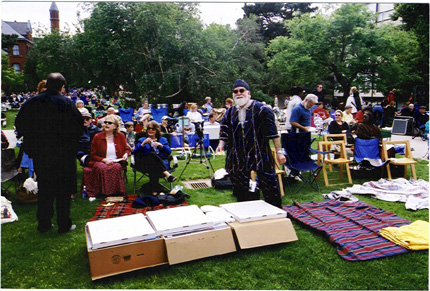 But the tribute to Butch and Grace had only begun. Dyer returned to sing the beautiful "Angel of the Night," written by Hedman in honor of the Berman nuptials. Hedman announced that it will be included on his next CD, to be called "Because I Can."

Tropique brought things to a close with "Hed-Theme," the band's infectious theme song from "One Step Closer," with an especially fiery display of timbales pyrotechnics.
---
Concert Review
Abate Quartet puts the edge on hard bop



By Tom Ineck

Saxophonist Greg Abate brings a sharp edge to his hard-bop style, with biting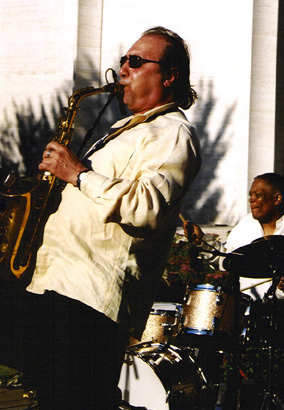 upper-range flights that stretch the limits of improvisation. For his complex compositions and intense performances, he requires a group of like-minded players, capable of listening closely and performing at the upper reaches of technique.

Such was the trio of musicians who accompanied Abate for a June 10 Jazz in June appearance in Lincoln—versatile pianist Phil DeGreg, bassist Harvie S and drummer Billy Hart. Several thousand listeners turned out to hear the fireworks.

Hart set the tone with a drum introduction to Abate's burner "Evolution," the title track from his most recent CD. Abate's alto, soaring into the stratosphere during his solo, was brought to earth by DeGreg's lyrical keyboard work and an inventive bass solo. Hart returned with explosive statements from his drum kit.

DeGreg kicked off the next tune, "K.T. Blues," with a powerful rubato. Abate and Hart traded licks, with Hart establishing his trademark with unconventional phrasing and percussive accents.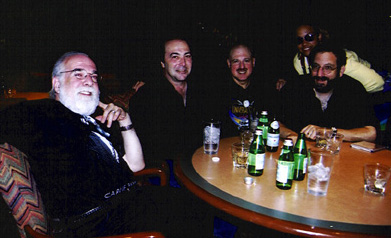 The tempo slowed for the evergreen "I Can't Get Started," most memorable for DeGreg's flowing and imaginative piano lines. "Kerry's Bossa" led off with a bass cadenza and ended with a series of exhilarating double-time alto sax runs by Abate. Ratcheting up the intensity even higher, the quartet launched into "Bebop." Abate set the fierce pace on alto as Hart added sizzling cymbals and crackling rim shots. DeGreg's propulsive piano solo segued into a final series of drum breaks.

From the book of standards came a mid-tempo version of "Joy Spring." After a lilting alto sax lead statement, DeGreg and Harvie S took energetic solos, as if to illustrate the title's irrepressible mood. Abate dedicated the romantic ballad "The Nearness of You" to newlyweds Butch and Grace Berman.

Abate shifted into waltz tempo for his composition "Angelic," a tribute to his daughter, Jessica. In his sensitive piano solo, DeGreg deftly interpolated a quote from "Softly, As in a Morning Sunrise." Closing the performance in fine fashion was the very fast "The Little Men," dedicated to Abate's sons, Gregory and Anthony. Again, the alto sax and the piano took the spotlight and the accolades.
---
Concert Review
Darryl White Sextet features special guests


By Tom Ineck

The June 17 appearance of the Darryl White Sextet for a performance at Jazz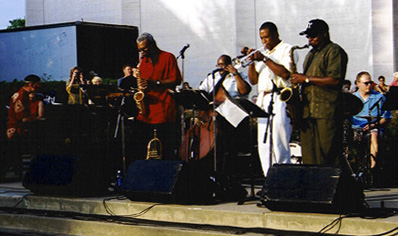 in June had been long anticipated for the inclusion of some very special guests.

Professor of trumpet at the University of Nebraska-Lincoln, White brings a considerable reputation to the table with his distinguished Denver-based group of sidemen. But add Kansas City sax masters Bobby Watson and Gerald Dunn, and you know you're in for a treat.

White's long-time associates included Denver pianist (and Nebraska native) Jeff Jenkins, bassist Kenny Walker and drummer Matt Houston. Those who have been listening to White's CDs and performances over the last few years are familiar with their talents, but Watson and Dunn changed that equation.

With a respectful nod to his deceased father, White began with a solo trumpet introduction of "The Tree Has Fallen," segueing into "A Cord of Three Strands." Watson demonstrated his unerring, powerful phrasing in an alto sax solo utilizing a circular breathing technique to create a long, intense passage. White's own solo was followed by a very progressive keyboard excursion by Jenkins.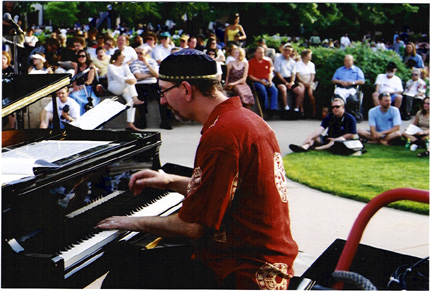 John McNeil's composition "Abercrombie" featured White on flugelhorn in a restful, meditative mood. Sensitive to that mood, Watson followed with a moving alto solo and Jenkins delivered a searching piano foray. Gerald Dunn's brawny tenor solo contrasted nicely with Watson's lighter, lyrical touch.

The title track from White's latest CD, "In the Fullness of Time," had the ensemble stating the melody, leading to solo statements by White on trumpet, Watson on alto, Jenkins on piano (who came up with some ingenious variations) and Dunn on tenor. Wayne Shorter's "United" had White back on flugelhorn, Dunn delivering another big-toned solo and the three horns combining on a climactic coda.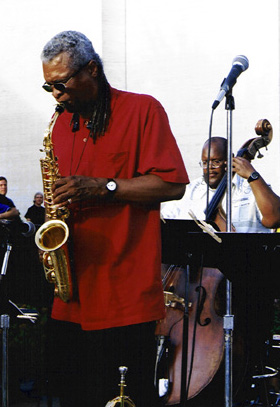 Watson was placed directly in the performance spotlight for a stunning rendition of "Easy Living," backed only by the rhythm section. After taking the first solo, Watson was visibly impressed by Jenkins piano solo, returning for an alto cadenza that reached inspired heights of creativity.

The sextet returned to earth and some very earthy sounds with Eddie Harris' funky "Cold Duck Time." Its simple riffing structure and good-time feel makes it a perennial crowd-pleaser.

White's composition "Nanpet (The Called of God)" is a platform for legato phrasing by the ensemble and another notable piano solo. The funk returned with the Mingus classic "Nostalgia in Times Square." White, on flugelhorn, joined with Watson and Dunn for a series of three-way trades.

From his debut CD "Ancient Memories" came the title track, which has the timeless sound of a future standard. As is his wont, White ended with a powerful performance of "When the Saints Go Marching In."

top

---
Concert Review

Don Stiernberg delivers mandolin swing
By Tom Ineck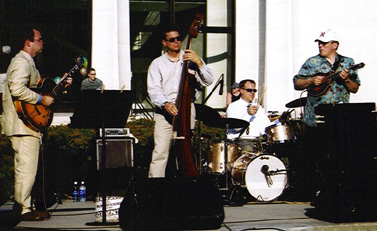 Backed by a superb jazz trio for his June 24 Jazz in June performance in Lincoln, mandolinist extraordinaire Don Stiernberg proved once and for all that his instrument is not just designed for bluegrass music.

Of course, that was never in doubt after hearing his CD "About Time," reviewed in the last issue of Jazz. But the message came across loud and clear in live performance. Never straying too far from the standard jazz repertoire, the Don Stiernberg Quartet was as comfortable with the changes as any conventional bebop combo fronted by a saxophonist or trumpeter.

"Where or When" got things off to a flying start at a fleet tempo, with sparkling solos by Stiernberg on mandolin and Kirk Morrison on guitar. The Windy City-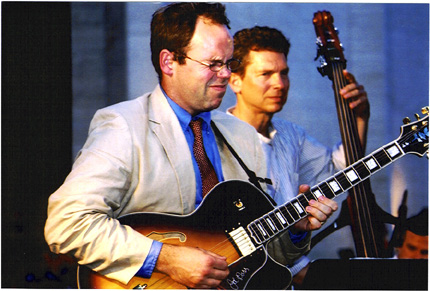 based group even interpolated a quote from "Chicago" in the coda just to remind the audience where they are from.

"It Might as Well Be Spring," taken at a medium tempo with a Latin tinge, took Stiernberg and Morrison through the paces, and they displayed marvelous dexterity. Bassist Jim Cox and drummer Kevin Connelly maintained a bedrock rhythm for the Brazilian ballad "Estate (Summer)."

They drove the band on "Take Me Out to the Ballgame," described by Stiernberg as a "blues" number, especially for Chicago Cubs fans (nearly every year). Stiernberg deftly traded fours with Cox, proving that rapid, single-note runs on an instrument ordinarily used for percussive chording are no problem for someone who knows his way around the mandolin this well.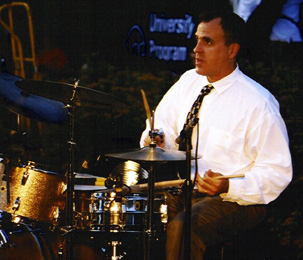 Hoagy Carmichael's "New Orleans," with vocal by Stiernberg, got a reading as languid, lazy and luscious as the city for which it is named. The band returned to the Latin tinge for a very sprightly version of "Brazil," complete with mandolin and guitar solos and imaginative drum breaks. The standards kept coming with a mid-tempo "Let's Get Lost" and a ballad take on "Polka Dots and Moonbeams."

The unlikely "Theme from Mannix" actually made a perfect vehicle for mandolin and guitar improvisation. Even the hip-hop beat imaginatively applied to the obscure Django Reinhardt tune "Sweet Atmosphere (Doux Ambiance)" failed to do irreparable harm, and the band's version of Harold Arlen's "My Shining Hour" was flawless.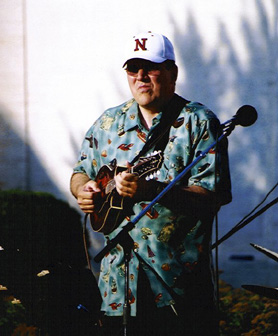 A serious musician, Stiernberg is not without a sense of humor, listing some of his favorite foods while singing "I Don't Want Love," as though gorging one's appetite could distract the mind from more romantic endeavors. On the other hand, "Beautiful Love" was interpreted as pure romance.

Nearing the end of the well-received performance, Stiernberg turned to Ellington for "Happy Reunion" and "Perdido" before returning to Reinhardt's songbook for the bopper "Belleville."

top

---
Editor's Note: At your request, we will mail a printed version of the newsletter. The online newsletter also is available at this website in pdf format for printing. Just click here: Newsletter
---