By Tom Ineck
Greg Abate remains a resident of the Providence, R.I., area where he was reared, a lifestyle choice that might have meant obscurity for a lesser artist. The intrepid saxophonist, however, has achieved a body of work and a level of recognition that ensures his livelihood, in Europe as well as the United States.

His lyrical flights, biting tone and rhythmic sophistication draw comparisons to Charlie Parker, but Abate also echoes the more tranquil ruminations of Paul Desmond. He has a broad repertoire of standards at his nimble fingertips, but he also is a first-class composer. His most recent release, "Evolution," is a showcase for his writing talents, containing nine original tunes.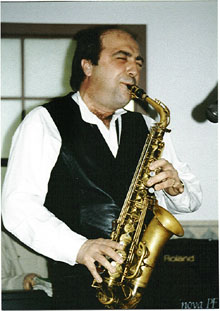 Abate brings all of this, and an all-star quartet, to Lincoln for a June 10 performance at Jazz in June in the sculpture garden of the Sheldon Art Gallery on the University of Nebraska-Lincoln downtown campus. Accompanying Abate on that trip are pianist Phil DeGreg, bassist Harvie S and drummer Billy Hart.
In a phone interview from St. Paul, Minn., where he was performing a two-night stand at the Artists' Quarter, Abate speculated about his choice to live in Rhode Island rather than the Big Apple.
"Living in New York may have brought me to other areas," he said. "Maybe I would be better known now, if I did live there. I've always wondered about that. I really don't know if it has hindered me, at all."
One thing is sure. Whether Abate plays in St. Paul or Duluth, Minn.; Moscow, Idaho; a small town on Cape Cod or Lincoln, Neb., audiences are enthusiastic and perhaps more appreciative than jaded jazz aficionados in New York City, San Francisco or Boston.
"I've had a very good response. People like my stuff, and I'm really glad to be able to play." Abate himself listens to his own playing with a critical ear.
"I was listening to one of my CDs, "Straight Ahead" (from 1992), and I could really hear how much I've evolved since then. I've still got these recordings, and people are buying my old stuff and I don't sound anything like that. My playing is really starting to fall into place, where I can really have more control over what I want to do."
Artistic control is especially evident in his last several recordings, where Abate has been moving from standards to a more personal expression. Never one to rely solely on the melodies most familiar to his audience, he has either chosen more obscure compositions (Hank Mobley's "This I Dig of You," Monk's "Ask Me Now") or written them all himself, as with "Evolution."
That 2002 recording features the same lineup that will be in Lincoln, with the exception of DeGreg, who subs for pianist James Williams. The fact that Abate wrote all nine tunes in the year preceding the sessions gives the recording an immediacy often missing in CDs that are cobbled together from many different sources and different time frames. The fact that Abate first put pen to paper on Sept. 11, 2001, for the ballad "Dearly Departed," gives the recording an especially timely poignancy. The tune is jointed dedicated to those who lost their lives in the terrorist attack and to Abate's parents, who died in 1998 and 1999.
Adding to the personal touch on "Evolution," Abate doubled the alto with tenor sax or flute on several tracks.
"The overdubs were easy to play," he said. "The solos were all live, in sequence. I didn't do overdubbed solos." He had first attempted the effect while practicing with a four-track recorder at home—overdubbing piano and three saxes—but this was the first time he applied the technique for commercial release.
"You can do that because you know how you play, you know your feeling and your habits. When you play with the other track, you can most likely hit the same type of rhythm and the same type of articulation."
His own agent, road manager and paymaster, Abate negotiates occasional solo jobs at festivals and clubs in Europe. His trips to France, England, Germany, Switzerland, Spain and Russia have taken him far from home, allowing jazz fans worldwide to experience his incredible talents. When at home, he teaches in the jazz program at Rhode Island College.
Thirty years ago, Abate gathered valuable experience in the Ray Charles Orchestra (succeeding David "Fathead" Newman). He finally took the helm as a leader in the 1990s, recording several fine releases on various small labels since 1991. A multi-instrumentalist, Abate plays tenor, flute, and soprano, but it is the alto horn for which he is known.
Abate's sidemen on his trip to Nebraska also deserve wider attention. DeGreg is a wonderful straight-ahead pianist who is on the faculty of the University of Cincinnati Conservatory of Music. He has at least three recordings as a leader.
Another native New Englander, Harvie S is perhaps best known for his series of duet recordings and performances with singer Sheila Jordan. His experience ranges from gigs with Al Cohn and Zoot Sims, Mose Allison and Chris Connor in Boston to work with Jackie & Roy, Jackie Paris, Thad Jones, Gil Evans, Lee Konitz, David Friedman, and Steve Kuhn since he moved to New York City in 1972. He also has headed his own groups, including the fusion band Urban Earth.
Hart, a Washington, D.C., native, is a much-in-demand drummer who is capable of playing in a variety of settings. While still in the nation's capital, he worked with saxophonist Buck Hill and singer Shirley Horn. He later traveled with the Montgomery Brothers, Jimmy Smith and Wes Montgomery. He was a member of Herbie Hancock's sextet in the late 1960s and early '70s, and played regularly with McCoy Tyner and Stan Getz throughout the '70s, in addition to extensive freelancing.
---
By Tom Ineck

Again the Berman Music Foundation has provided the consulting expertise and financial support to help produce another top-flight Jazz in June concert series, featuring artists with varying styles and broad audience appeal.

The free outdoor concerts are held every Tuesday in June beginning at 7 p.m. in the Sculpture Garden just west of the Sheldon Art Gallery on the University of Nebraska-Lincoln downtown campus. The concerts routinely draw audiences of more than 1,000 people and often several thousand.

The BMF has worked extensively in the past with the first two artists, and Jazz has carried CD reviews of all four. The series begins June 3 with the return of Norman Hedman's Tropique. Saxophonist Greg Abate will front a bop quartet June 10. UNL trumpet professor Darryl White will head a sextet also featuring alto saxophonist Bobby Watson on June 17, and mandolin virtuoso Don Stiernberg will appear with his quartet June 24.

Percussionist Norman Hedman, a longtime friend, consultant and associate of the BMF, has appeared in the Jazz in June lineup before, but this time his New York City-based tropical jazz group, Tropique, will feature a slightly different lineup of players. Hedman's combo plays an engaging blend of warm-climate dance rhythms, including salsa, Latin jazz, bomba and samba. A world-class conguero, Hedman has a percussion style influenced by Cal Tjader and Armando Peraza. The BMF is the chief sponsor of this concert.

New Englander Greg Abate returns to Lincoln with an all-star group including pianist Phil DeGreg, bassist Harvie S. and drummer Billy Hart. Except for the keyboard chair that James Williams usually fills, it is the same band that accompanied the hard-edged saxophonist on his most recent release, "Evolution." An interview with Abate appears on the cover.

Trumpeter Darryl White has developed a local and regional reputation on trumpet and flugelhorn, both in performances and with two recordings, the latest of which, "In the Fullness of Time," was reviewed in the winter 2003 edition of Jazz.
White's sextet will feature some of the best players in the Midwest, including Denver pianist and Nebraska native Jeff Jenkins, bassist Kenny Walker and drummer Matt Houston.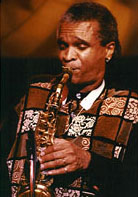 But the big news is the Kansas City sax "section" of Gerald Dunn and Bobby Watson. Watson's addition to the program makes this a must-see. The world-class alto saxophonist has appeared in Lincoln with his group Horizon and as a guest soloist with the Nebraska Jazz Orchestra.

At least in this neck of the woods, little was known of mandolin player Don Stiernberg until his 2001 Blue Night release, "Unseasonably Cool," landed on the desk of Butch Berman, who gives it a rave review in this edition of Jazz.

Though he plays an instrument usually associated with bluegrass music, the Chicago-based Stiernberg and his sidemen (playing guitar, bass and drums) prefer a repertoire consisting of such jazz standards as "Where or When," "Easy Living," "Lover, Come Back to Me" and "I Cover the Waterfront."
---
By Tom Ineck
Sheila Jordan, 74 years young, proved herself a bold, ever-searching improviser when she and bassist Cameron Brown took the stage March 8 at Kimball Recital Hall in Lincoln. She also established an immediate rapport with her listeners that lasted throughout the concert.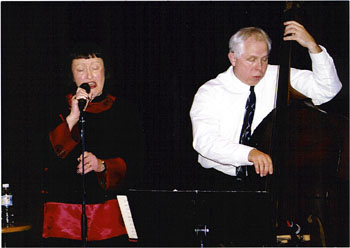 Her off-the-cuff vocal intro was a timely rap on the air-travel blues, as she and Brown had just experienced them in their snow-delayed sojourn from NYC to Lincoln, via Chicago. Most in the audience could empathize with the unexpected hassles that can create fear and loathing for frequent flyers.

Having made the connection that is essential for an intimate artist-audience experience, Jordan launched into the Oscar Brown Jr. classic "Hum Drum Blues." By ending her phrases with rising notes, she gave the otherwise depressing lyric a sense of uplift, hope and optimism. In "Better Than Anything," her joyful delivery convinced the listener of her sincerity, especially when she improvised "better than anything except singing in Lincoln."

Brown, ever the sensitive accompanist, joined the scatting Jordan in a voice-bass dialogue during "The Very Thought of You." The two master musicians have a rare compatibility, honed in the studio on such recordings as "I've Grown Accustomed to the Bass" and allowed full flight in live performance.

Jordan displayed an incredible range of material, moving deftly from the evocative Scottish folk ballad "The Water is Wide" to Bobby Timmons' composition "Dat Dere," with whimsical lyrics by Oscar Brown Jr. and dedicated by Jordan to children and grandchildren. She handled the tough time changes with ease.

Turning to her latest CD, she chanted the title track, a moving Jordan creation called "Little Song," which flowed naturally into a stunning rendition of Lennon-McCartney's "Blackbird" and back to the chant. The story behind her composition—her Cherokee grandfather called her Little Song—gave the tune a poignant and soulful depth.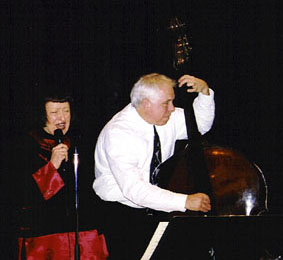 Next, the duo pulled out the obscure "Real Time" by a Portland, Ore., vibes player, then paid tribute to the immortal dance team of Astaire and Rogers with "Freddie and Ginger," a medley of dance tunes ranging from "Let's Face the Music and Dance" and "Cheek to Cheek" to "I Won't Dance," and "I Could Have Danced All Night." Jordan again exhibited her refreshing optimism with a bright reading of "Pick Yourself Up (Dust Yourself Off and Start All Over Again)."

Despite her basically sweet nature, Jordan is not without some stinging criticism of our president, his aggressive foreign policy and his reckless disregard for international opinion. After noting how embarrassing it was to be an American on a recent European tour, she dedicated a ballad rendition of "On a Slow Boat to China" to George Bush Jr.

Inextricably bound to Charlie "Bird" Parker and his bop legacy, Jordan tackled the difficult "Confirmation," a Parker tune with lyrics by Leroy Mitchell. Brown launched the affair with a bass solo before Jordan entered the fray, singing, swinging and soaring like the alto horn of "Bird" himself. The mood was light, lilting and playful.

Jordan chose Mal Waldron's lovely "You" as a memorial to the late pianist. As Brown provided the bass background, the singer told a dark Waldron joke about a man who had just returned from the doctor under instructions to take pills for the rest of his life. The man expressed some doubt over the prognosis, saying, "He only gave me seven pills."

Their rendition of "Blues Skies" demonstrated Jordan and Brown's understanding of the importance of silence and well-chosen spaces between phrases. Brown was especially imaginative as he provided bass fills. Miles Davis was given his due with "All Blues," "Freddie Freeloader" and "Now's the Time," which included a scatted vocal recreation of the Miles trumpet solo on a classic Parker recording.

"Art Deco," with lyrics by Jordan, was the duo's homage to another late, great trumpeter, the under-appreciated Don Cherry. As she moved through these loving tributes to fallen jazz artists, Jordan showed an unmistakable emotional connection. With touching honesty, she said that "keeping the music alive is all I've really ever wanted to do."

Jordan and Brown didn't neglect the classics of the great American songbook, faithfully interpreting "Honeysuckle Rose," "Ain't Misbehavin'," "Mood Indigo" and "I Got Rhythm," as well as Thelonious Monk's "Rhythm-a-ning," Charles Mingus' tribute to Lester Young entitled "Goodbye Pork Pie Hat," and "Good Morning Heartache," dedicated to Billie Holiday. Jordan invited members of the audience to scat along with her bop rendition of "Embraceable You," which she dedicated to the film "Bird" and director Clint Eastwood.

Completing the astoundingly varied concert were the voice-and-bass masterpieces "I've Grown Accustomed to the Bass," "Sheila's Blues" and Jordan's own take on Michel Legrand's "You Must Believe in Spring," as she added, "You must believe in love, in you, in jazz."

Jordan's evident passion for the music is infectious, and makes believers of everyone within earshot.
---
By Tom Ineck
KANSAS CITY, MO.-Dave Brubeck, at age 82, possesses all the skill and range of experience needed to embody the history of the jazz piano, and in his March 8 quartet performance at The Folly Theater he recited that history in elegant detail.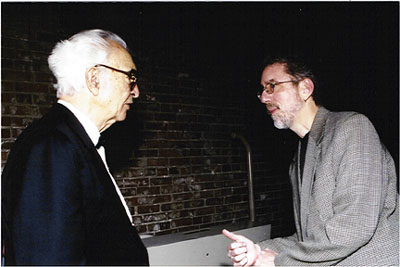 The current Brubeck quartet, also featuring alto saxophonist Bobby Militello, bassist Michael Moore and drummer Randy Jones, is the best since the classic foursome that included Paul Desmond, Eugene Wright and Joe Morello. Their compatibility allows each soloist complete confidence in his compatriots and creates a level of sophistication that never falters. Though considerably older than his sidemen, Brubeck treats them as equals and never dominates.
Brubeck and company began with "On the Sunny Side of the Street," the same tune that launches its current CD, "Park Avenue South," recorded live last summer at a Starbucks coffee shop in New York City. Militello's sax warmed quickly to the mid-tempo swing and sway of the melody, doubling the time in short, boppish bursts.
Moore, best known for his tenure with pianist Bill Evans, delivered a lyrical solo. Brubeck's solo contained several chapters from the history of the piano, including a two-fisted stride technique deftly accelerating in tempo and venturing briefly into the realm of the avant garde.
"The Nearness of You" received a beautiful reading from Militello, switching from alto sax to flute. Moore also offered a lovely arco solo.
Brubeck, feeling comfortable in the recently restored grandeur of the historic Folly Theater, told his audience that the quartet would be trying out some new material with them. On what the leader described as a traveling blues, Militello burst forth with a hot alto solo, bending notes and traversing the scales with effortless skill. Moore again followed with a bowed bass statement on the mid-tempo number.
From a symphonic suite written for (and recorded with) the Cincinnati Symphony and director Erich Kunzel, the Brubeck quartet introduced a fast waltz that included some marvelous alto sax-piano trades. Brubeck proved his versatility by moving on to a Latin tune, with some spicy flute work by Militello, followed by the master in a remarkable piano solo that reached to the very heart of the music.
Militello was the focus in a powerful, free alto performance on an unnamed piece, which segued into an exchange between the alto and drums, then to an astounding drum solo by Jones. Brubeck was in his element with a lighting quick rendition of the Gershwin warhorse "I Got Rhythm," again featuring Militello's hard-blowing, inventive improvisations.
Brubeck's lovely dirge, "Elegy," was a moving duo for piano and bass. The piece was written for Randi Hultin, a Norwegian journalist who recently died of cancer. Paying tribute to the music of New Orleans, Brubeck introduced his composition "Crescent City Stomp," with Mardi gras-style march rhythm and a tour de force alto solo.
Perhaps the showcase piece of the evening was Brubeck's lengthy "Don't Forget Me," beginning with a tender classical piano introduction and moving into a mid-tempo waltz featuring Militello with a lilting sax statement. Moore followed with a breath-taking bass solo, taken up by Brubeck with supreme elegance as his fingers skittered gently over the keys in fugue style. The tune eventually returned to the ballad tempo and a scintillating summation by the composer.
To a spontaneous roar from the audience, the quartet kicked off the Desmond-penned Brubeck standard "Take Five. Militello, never one to mimic his predecessor, deconstructed the well-worn melody, quoting from other Brubeck compositions and, at one point, reproducing the sound of a siren, as though to call in the fire units to bring his blazing performance under control. Jones' drum solo tastefully recreated and rhapsodized on the familiar 5/4 time signature, superimposing his own alternative rhythm patterns on the classic structure.
With good-natured humor, Brubeck announced the finale, "Show Me the Way to Go Home," which also closes the live CD. Militello on alto, Moore on bass and Brubeck on piano contributed soulful solos, anchored by the solid drumming of Jones, to send everyone home with a warm feeling.

---
By Tom Ineck
KANSAS CITY, Mo.-Organizers of the 5th Annual Charlie Parker Memorial Concert on March 22 in Kansas City could not have asked for a more appropriate group of musicians to celebrate the occasion than the Frank Morgan-Sonny Fortune Quintet.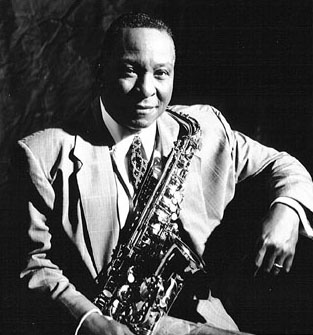 Although the two alto saxophonists bring much different influences to their playing styles, they decided to assemble and co-lead a quintet in homage to the legendary bop innovator for a two-week tour in March. The tour included dates in Oakland and Santa Cruz, Calif., and St. Paul, Minn., before the stop in Kansas City. The quintet completed its brief run with performances in Albuquerque, N.M., and Hollywood.

Even more apt was the KC venue, the Gem Theater Cultural & Performing Arts Center at 1601 E. 18th St., a recently restored 500-seat performance hall. Along with the nearby American Jazz Museum, Negro Leagues Baseball Museum and The Blue Room jazz club, it has been instrumental in the revival of the historic 18th and Vine Street area, which spawned Kansas City jazz in the 1920s and 1930s but had fallen into disrepair in recent times.

The 69-year-old Morgan is a light and lyrical player in the classic Parker mold, and despite a stroke that left him partially paralyzed a few years ago, he still can sustain a strong melodic line through the chord changes. The younger Fortune, 64, draws his sound from the beefier, bluesy sound of John Coltrane, a reputation he earned during his tenure with pianist McCoy Tyner in the early 1970s. Like Coltrane, he's also a Philadelphia native. The contrasting styles of the two horn men created an exciting study in dynamics.

Bolstering the performances of Morgan and Fortune were the combined harmonic and rhythmic instincts of pianist George Cables, bassist Henry Franklin and drummer Steve Johns. Cables, especially, was more collaborator than accompanist.

Parker's "Confirmation" opened the proceedings with flair. Morgan and Fortune played a unison lead line before taking separate solos, leaving plenty of space for solos by Cables and Franklin. The bassist's searching, experimental phrasing was closer to Fortune's style than Morgan's.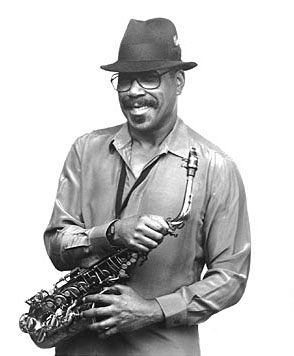 Paying tribute to another influential saxophonist, Fortune dominated Wayne Shorter's "Footprints" with his brawny, hard-edged sound, circular breathing and powerful Trane-like phrasing. Morgan's solo, by comparison, was constructed from short staccato bursts, rather than Fortune's long, flowing lines. As though following Morgan's lead, Cables' brilliant solo was both melodic and percussive. Finally, Morgan and Fortune traded four-bar breaks in a fantastic display of virtuosity.

Slowing the pace for a ballad medley, Fortune turned his attention to the standard "What's New?" He gave it a lush reading, comparatively faithful to its familiar melody. Cables got the spotlight for his rendition of "Body and Soul," which he concluded with a beautiful keyboard coda. For his ballad feature, Morgan chose Cables' "Helen's Song," with he performed with the composer, adding a soaring alto sax solo.

The two saxophonists reunited for "A Night in Tunisia," with Morgan stating the melody and Fortune taking the first solo, a swirling, exhilarating improvisational journey. Morgan took the lead-off solo on "All Blues," delving deeply into the modal changes. Fortune proved the more powerful soloist, taking 10 choruses of sustained brilliance.

top
---
Concert Review
Tenor titans ignite hall with concert sizzler
By Tom Ineck
In the grand tradition of the jazz tenor saxophone battles of yore, tenor giants Don Menza and Pete Christlieb went head-to-head March 25 as guest soloists with the Nebraska Jazz Orchestra.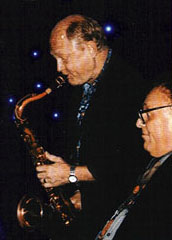 Menza and Christlieb, longtime friends and two of the most popular studio musicians of the past 40 years, joined their horns in immortal combat, raising the temperature level considerably for the 400 listeners at The Cornhusker hotel ballroom.

Before the two guests took the stage, the NJO sax section warmed up with a couple of tunes, including "Play It Again, Sammy," a feature for the saxophone section written for famed big-band composer-arranger Sammy Nestico, and "Coastin'," a mid-tempo swinger by Paul Baker that featured brief, but effective statements by baritone saxophonist Scott Vicroy, trumpeter Brad Obbink and bassist Andy Hall.

Menza and Christlieb hit the ground running with a brilliant, blazing Menza arrangement of Ray Noble's venerable flag-waver "Cherokee." After each of the tenor masters took a solo, they traded 4s, working variations on the familiar theme from every angle and from the lower registers to the upper range of their horns. Despite a sudden, offensive electrical short in guitarist Pete Bouffard's amp, the two kept focused at breakneck speed.

"Nina Never Knew," a ballad written for the Sauter-Finegan band as a feature for trombonist Carl Fontana some 50 years ago, featured Menza in his most romantic mood, playing a hard-edged tenor in contrast with the light sound of clarinets, flutes and muted trombones.

From the extensive Menza songbook came "Groovin' Hard," an irresistible, hard-charging tune first performed for a Munich radio broadcast in the mid-1950s and later recorded by the Doc Severinsen, Buddy Rich and Louis Bellson bands.

Christlieb's solo was bluesy and imaginative, while Menza's began cautiously, building to a slow burn and finally igniting in tenor pyrotechnics. Again the two brought the tune to a fiery climax with extended trades. The Menza arrangement also featured the reed section in a nice saxophone soli.

The orchestra began the second half of the concert with Menza's uptempo "Collage," featuring fine solos by Darren Pettit on tenor sax and Dave Sharp on alto sax. Rich Burrows struggled with miking problems to deliver a tenor solo on Tom Kubis' "Witchcraft." Throughout the evening, the sound-level inconsistencies of monitors, solo microphones and the piano plagued the performance.

Menza and Christlieb rejoined the fray for Menza's fast samba called "Sambiana." The two tenors stated the melody, took separate solos, and then finished with traded passages as the band, driven by drummer Greg Ahl, gathered momentum for the finale.

Christlieb took the spotlight for the Nestico arrangement of Billy Strayhorn's "Chelsea Bridge," a recording that won the tenor player a Grammy nomination earlier this year. His tone on the ballad standard was big and breathy but had an angular attack that kept the listener's attention and prevented the performance from slipping into cliché.

Nothing could have followed the evening's madcap capper, Menza's "Time Check," an incredibly propulsive tune first waxed 30 years ago by the Bellson band, in a recording featuring a younger Menza and Christlieb. As Christlieb aptly noted before the duo dove into the demonically difficult piece, "Playing this tune is like changing a fan belt while the engine is running."

It was an accurate description of the rhythmic tour de force, which again had the tenor twosome taking hard-driving solos, including a wry quote of "Summertime" by the comic Menza. A series of traded horn statements followed, with Menza and Christlieb again acting like a loving, long-married couple, finishing each other's sentences in a natural, flowing dialogue.

They finished with a dual cadenza that quoted "Blues Up and Down," the famous sax duet by Gene Ammons and Sonny Stitt. It was a fitting conclusion to this good-natured battle of tenor titans.
---
Concert Review

Old enough to drive, Djangirov puts pedal to metal
By Tom Ineck

Once a year, the Nebraska Jazz Orchestra parades its Young Lions All-Star Big Band for all to see and hear, but never has the NJO had a young lion who roared so loudly as its guest soloist Jan. 22 at The Cornhusker hotel ballroom in Lincoln.

Now old enough to drive, the 16-year-old Eldar Djangirov drove circles around his contemporaries. The young piano wizard from the Kansas City, Mo., area was making his return appearance as guest soloist with the orchestra, and it was everything that the capacity audience of nearly 600 could have imagined.


The Young Lions, 15 hand-picked musicians from high schools in Lincoln and Omaha, started things off with four tunes. As always, the young hopefuls were more confident and more successful in the ensemble passages that they were in improvised solos. Standout soloists included saxophonists Alex Levitov, John Guittar and Elizabeth Love, all of whom also were in last year's all-star group.


They did a nice job on "Stella by Starlight" and the Dizzy Gillespie piece "Soul Sauce," but it was a special treat when their visiting colleague Djangirov took the daunting piano role on "88 Basie Street." He played that role tastefully, as if holding back slightly in the company of lesser mortals.


The NJO began its set with "Skank 7," a reggae-influenced tune utilizing seven-count measures. Music director Ed Love played the tenor sax intro, leading into a nice brass statement that segued into a Love solo, followed by Tom Harvill on piano and the Hammond electronic keyboard. Chick Corea's "Sea Journey" featured wonderful harmonies in the brass and a hearty solo by Rich Burrows on tenor sax.


Djangirov returned for a variety of settings. First, he raced through Juan Tizol's "Caravan," combining technical virtuosity with audacity and supreme confidence, echoing the keyboard pyrotechnics of Oscar Peterson or even Art Tatum in his rolling left-hand figures and his lightning-swift right hand.


With bassist Andy Hall and drummer Carlos Figueroa, Djangirov expertly performed the Miles Davis blues "Freddie Freeloader" and the ballad "You Don't Know What Love Is." He reached heights of astounding speed and improvisational prowess on a solo rendition of Wayne Shorter's "Footprints."


After this amazing display of Djangirov's keyboard accomplishment, the members of the NJO meekly returned to the stage, but immediately proved themselves equal to the task with the uptempo workout "Pressure Cooker." Djangirov stayed out of the spotlight for much of this tune and the next one, "Thelonious Assault," a reinterpretation of Thelonious Monk's "Well You Needn't."


It was the finale that proved most impressive. Gershwin's "I Got Rhythm" has been done in many different styles, but none like this Rob McConnell arrangement with the brass section setting the furious pace and Djangirov exploding into an incredible solo. His standing ovation was richly deserved.

top

Concert Review
Gulizia helps NJO remember Sinatra, Basie


By Tom Ineck

The Nebraska Jazz Orchestra's decision to salute Count Basie and Frank Sinatra in the season finale may not seem an obvious choice, but the two legends of American popular song had much in common.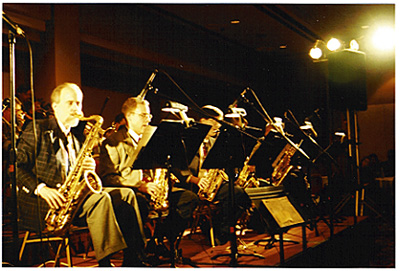 Sinatra and Basie made two studio recordings together and collaborated on the classic "Sinatra at the Sands" live performance in 1966. They swaggered with equal confidence and had a natural rapport, much like the teaming May 6 at The Cornhusker hotel.

Guest vocalist Tony Gulizia, an Omaha native now living in Vail, Colo., has a longtime association with several members of the NJO, including music director Ed Love. Gulizia also has that Sinatra panache, that charismatic hipster charm. As a friend observed, he has that "nouveau Rat Pack thing."

Following a snippet of the Basie theme song, "One O'Clock Jump," the NJO began the concert in earnest with the Basie-style riffing of "Count Bubba" by Gordon Goodwin, warming up each horn section separately. The long piece also included individual solos by trumpeter Bob Krueger, trombonist Pete Madsen, guitarist Peter Bouffard and Love on alto sax.

Trombonist Tommy van den Berg, a senior at Lincoln Southeast High School and this year's Young Jazz Artist, was featured in an opening set. Van den Berg handled the changes nicely on the mid-tempo Dave Sharp arrangement of "Then End of a Love Affair," but really excelled on Sonny Rollins' rollicking "St. Thomas," with a small combo consisting of piano, guitar, bass, drums and percussion. Tom Harvill's lively piano solo captured the irrepressible joy of the calypso rhythm. Van den Berg also sounded confident on the minor-key blues shuffle "A Switch in Time," written by Sammy Nestico for the Basie band.

Gulizia began with "Teach Me Tonight," displaying his sure sense of vocal dynamics and a personal way of phrasing the lyrics. In "The Lady is a Tramp," he cleverly mimicked Ol' Blue Eyes with casual lyric changes, substituting "girls" with "broads."
From the Stan Kenton songbook came the Bill Holman tune "Cubajazz," as though specially chosen for the evening's extra percussion players, including Gulizia's younger brother, Joey, on bongos and surprise guest Doug Hinrichs on congas.

A wonderful musician who is also adept on the piano and organ keyboards, singer Tony Gulizia showed an impeccable sense of timing on "Fly Me to the Moon." As if to remind Gulizia of his more modest and more ethnic musical roots, Love brought out an accordion, on which Gulizia good-naturedly played "The Chicken Polka," to the delight of orchestra members and the audience of 400.

Back to business, Gulizia switched to Gershwin, singing a Dave Sharp arrangement of "Summertime" in samba time. Brother Joey added congas and Jeff Patton soared on a spirited trumpet solo. Moving to the piano, Gulizia led a quartet featuring guitarist Peter Bouffard, bassist Andy Hall and percussionist Joey Gulizia for one of the highlights of the evening, a lovely rendition of Dori Caymmi's "Like a Lover," best known as a Sergio Mendes hit in the late 1960s.

The quartet continued with "In the Wee Small Hours of the Morning," with Gulizia diving immediately into the lyric with little introduction. He showed his two-fisted, driving piano style on the fast-paced "I Love Being Here with You."

A Quincy Jones arrangement of "I've Got You Under My Skin" completed the regular concert program, but Gulizia returned for a well-received encore on "Every Day (I Have the Blues)," in the style of Basie and singer Joe Williams.
---
Concert Review
McNeil quartet gives seamless performance



By Tom Ineck

No one could ever accuse the John McNeil Quartet of playing clichés.
With few comments from the leader regarding the title or the inspiration behind each tune, the band's two-hour performance Jan. 31 at Kimball Recital Hall in Lincoln flowed seamlessly, as though creating a symphonic suite or simply an extended conversation among four confidants. But none of the melodies, chord changes or improvised solos could be described as predictable.

McNeil is a trumpeter, composer and band leader worthy of far more recognition than he has acquired in his 54 years. While leading a quartet since 1979, and the current lineup since 1997, McNeil has developed a rare rapport with his sidemen: guitarist Andrew Green, bassist Tom Hubbard and drummer Ron Vincent, who last performed in Lincoln as timekeeper for baritone saxophone legend Gerry Mulligan in the early 1990s.

The midtempo opener seemed to come out of left field, with a brief statement of the melody followed by a subtle, searching guitar solo alternating chords and single-note runs. McNeil's trumpet solo soared freely while staying narrowly and imaginatively within the chord changes.

An uptempo stop-time piece metamorphosed into another tune, with Green's jagged, hard-edged guitar solo demanding attention. His tasteful use of effects (assorted slides, volume pedal, finger-tapping and hammer-on techniques among them) never got in the way and always added color to the overall sound.

The same can be said of Hubbard's warm tone and perfect intonation, whether plucking or bowing the bass, and of Vincent's bag of tricks, which included tambourine, chimes, mallets and other percussion paraphernalia.

Exhibiting a well-paced sense of dynamics, the quartet moved gracefully through a ballad, featuring a guitar solo of restrained virtuosity. After Green and the rhythm section had created an exotic Eastern mood, McNeil entered with an extraordinary solo, as though adding his own comments to the conversation.

Using a large shot glass as a slide on the strings, Green created an eerie effect, playing a quavering unison line with McNeil on trumpet.

The one recognizable melody all night was "Nothing Like You," an obscure tune written by singer Bob Dorough for an otherwise instrumental Miles Davis recording session. McNeil gave it an aptly quirky reading.

In an intriguing departure from the jazz norm, the quartet performed McNeil's composition "Urban Legend," a tune whose rather conventional folk-rock sentiment contrasted dramatically with McNeil's "outside" trumpet statements.

With "Blue Boat," McNeil and company demonstrated their affinity for the blues, albeit a very odd sort of blues progression. It is unlikely that anyone in the audience of 300 could have hummed along with these fast and furious changes.
---
Friends of Jazz
Bob Popek is a musician's best friend



By Tom Ineck

On most days, you can find Bob Popek hunkered down in the back room of the third floor at Dietze Music House in downtown Lincoln, surrounded by the well-worn tools of his essential trade. He's a string musician's best friend.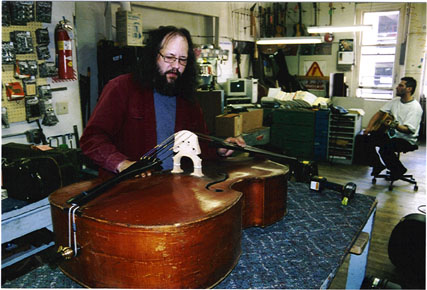 For more than 25 years, Popek has been an instrument repairman, capable of returning life and harmony to the most dejected and abused of guitars, banjos, fiddles, mandolins, basses. Generations of rock, folk, bluegrass, jazz and classical string players have Popek to thank.

"What I realized, very early on, is that people are very attached to their instruments, and they want them to play the way they want them to play," Popek said. "And, no two people play alike."

He began by specializing in instrument adjustments and custom guitar setups, the basic configuration of the instrument's strings and fretboard. Then, he added a one-year warranty on all of his work.

"That was totally unheard of back then, because an instrument's made out of wood and it shifts. But, I needed to make a statement when I started. I was pretty gung-ho." Popek quickly became known as the "setup king," which earned him many longtime friends among local string benders and fret meisters.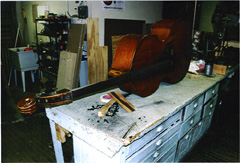 One of his current projects is restoring a double bass, vintage circa 1890, which once belonged to his mentor, the late bassist and string repairman Mark Pierce, who was in his 90s when he died in the mid-1970s, after running the Dietze repair shop for many years. In storage for 30 years, the bass was only recently purchased by the store for restoration.

"When I found out it was Mark Pierce's, with the connections, I thought it was too important to let that go on and lose the history it had, that I had to buy it and restore it and use it for a better cause," Popek said.

When brought back to playing condition in Popek's skilled hands, the bass will be made available for visiting bassists who have to leave their instruments at home, an increasingly common situation when air travel is a dicey proposition. Already the carved instrument, which will be valued at $5,000 when finished, is scheduled for play during three of this year's Jazz in June concerts in Lincoln.
Popek began his association with Dietze as a guitar teacher in 1976. Within six months, he was helping out in sales and landed a part-time job with Pierce in the repair shop, in addition to teaching. Pierce was doing orchestral string repair—basses, cellos, violas and violins.

"Mark Pierce taught me the practical side of repair, realistically what you saw in life," Popek said. "A lot of things aren't pretty. When somebody falls with a bass—no two people fall alike."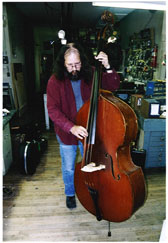 Pierce, however, didn't have time to teach his young apprentice everything.
"I worked with him for about a year, until we realized that Mark wasn't going to be around much longer." Dietze sent Popek to a repair school in Minnesota for a year of formal training that would groom him to replace Pierce, who died while Popek was away. Because Popek was the first student sponsored by a music store, he was treated with special care, to raise the school's placement rate and to set an example for other stores. When he returned to Lincoln, he was ready.

"We had enough work back then for it to be a good, solid part-time job, and it took maybe four or five years to build up to where I couldn't keep up, and we slowly started to hire, to evolve." The repair operation now includes Popek, two fulltime assistants in downtown Lincoln, one fulltime repairman at the south Lincoln store and one at the Omaha location.

He credits local bassist and UNL Associate Professor Rusty White with helping him to broaden his skills into other areas, such as perfecting setups for string basses, building his own adjustable bridges and designing his own C-string extensions."More than 20 years ago, when he first came to town, he came into the shop and said, 'Bob, I've seen your work and you do OK, but you're going to do better,'" Popek recalled. "I told him, 'Tell me what you expect, and I'll try to meet it,' so he was a very heavy influence on me."

The first music store in Lincoln to offer full service on all instruments sold, Dietze can handle anything that comes through the door, from acoustic string instruments to brass, from drums to electric keyboards and amplifiers. With the closing of other Lincoln area music stores and Dietze's solid regional reputation, business continues to grow.

"We're doing work with the Omaha Symphony. I do work, on a regular basis, as far west as Grand Island. I have regular customers as far away as Denver, Kansas City and Minnesota. We've diversified quite a bit. We're not a shop to limit ourselves to certain things. It's not a surprise to walk up into the shop and see a grand piano standing in what might be our last available place to stand because somebody wanted a piano refinished. We won't turn anything down."

Just the string family alone is a prolific one, including mandolin, guitar, banjo, steel guitar, bass, violin, viola and cello, not to mention such second and third cousins as the ukulele, zither and dulcimer.

"You can think of a thousand differences in each instrument, but there are just as many similarities," Popek noted. "They all require the same mechanism to tighten the string. They all require a string, a sound box and a neck to perform on."

Popek also works with manufacturers to create improvements in instruments and accessories. For example, he helped to solve a design problem on a string bender that could bend one or two strings independently. He also devised a display model guitar that allows customers to test different pickups before they make a purchase.

What truly tests the repairman's knowledge and skill is restoring a vintage instrument to its former glory.

"With restoration, you want to try to keep with the theme that the instrument was built in, in its time. A lot of lost knowledge you need at your fingertips to do a job correctly." In recent years, the Internet has become an invaluable tool for Popek in his search to access the history of instruments and the knowledge of instrument repairmen worldwide.

top

---
Berman guitar gets tender loving care



By Tom Ineck

Like most dedicated musicians, Butch Berman's relationship with his instruments is close. He's especially close to his 1961 Fender Esquire, and when it comes to repairs and maintenance of this classic axe, he turns it over to Bob Popek at Dietze Music House (Popek is featured in a Friends of Jazz article above).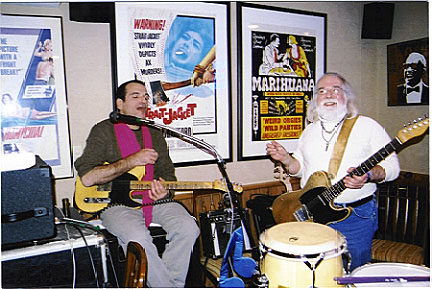 Berman recently related the story of his guitar and the man who keeps it humming. It began in the mid-1970s.

"When the Megatones broke up, we were looking for a guitar player. We tried a bunch of different things, and nothing really clicked."

Berman, a piano player with the Megatones, also played occasional guitar, so he offered his services.

"It worked, but I didn't have a guitar. At the time, Charlie had this really cool guitar, so he sold me his '61 Fender Esquire. It's a great guitar. So, I started using this guitar a lot. Like a sports car, it needs maintenance. I'd always been hanging around Dietze, and somehow I met Popek."

Berman told Popek he was having problems with guitar, and took the instrument to Dietze's third-floor repair shop. The skilled craftsman saw the guitar's value and potential. He also understood exactly how Berman wanted it to play and sound. Popek has been the instrument's "caregiver" ever since.

"Over the years, probably about every season, I take my guitars into him and he strums it and checks it out, changes the strings and repairs it. I used to have a problem with breaking strings and tuning, and now I hardly ever break a string or go out of tune. He's been the man for all my stringed instruments ever since that day. He really has an understanding. He's a real talented guy."

top

---
Tomfoolery
Thompson applies tourniquet to the soul



By Tom Ineck

HASTINGS, Neb.—English trad-rock apothecary Richard Thompson arrived April 23 at Hastings College carrying an old kit bag of tricks filled to the brim.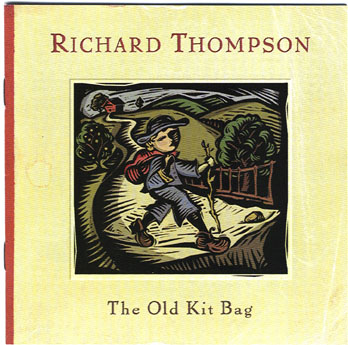 As promised in the subtitle of his new CD, "The Old Kit Bag," the concert of largely new material contained "unguents, fig leaves and tourniquets for the soul." On the rare occasion of a Thompson electric band tour of America's heartland, the quartet's inspired performance for some 650 people at French Memorial Chapel did, indeed, have welcomed healing powers.

The band was one of the best I've seen since my first encounter with Thompson in 1985 at Parody Hall in Kansas City, on the heels of the "Across a Crowded Room" release. The common denominator of both concerts was bassist Rauri McFarlane, then making his first U.S. visit, but now a seasoned veteran on both electric and upright bass. Multi-instrumentalist and harmony singer Pete Zorn, a long-time Thompson road warrior, and Earl Harvin, an outstanding percussionist from Dallas, gave the foursome a tight, self-contained sound, like a well-oiled machine.

"The Old Kit Bag" seems, at once, more accessible melodically and more complex lyrically than many of his recent releases. As a composer, Thompson has never avoided the tough subjects of life, love, faith and death, but his new writing is especially pointed. A devout Sufi Muslim, he has undoubtedly been affected by the world's sordid events of the recent past.

Unexpectedly, Thompson immediately launched into the rocker "Tear-Stained Letter," a classic flag-waver that usually is held in reserve for later in the show. He followed with several tunes from the new CD, beginning with "Gethsemane," a meditation on the meaning of life concluding with the question: "Who sucked out the freedom, days without end? Under the weight of it all you must bend."

The rocker "Pearly Jim" was followed by "Outside of the Inside," a scalding attack on the self-righteousness of the religious right. It begins, "God never listened to Charlie Parker. Charlie Parker lived in vain. Blasphemer, womanizer, let a needle numb his brain. Wash away his monkey music. Damn his demons, damn his pain." McFarlane's booming acoustic bass contrasted dramatically with Harvin's sharp rat-a-tat-tat on the bongos.

From the past came "Razor Dance" and the heart-wrenching "Missie How You Let Me Down," featuring Zorn on alto flute. Zorn switched to soprano sax for a heavenly rendition of "Al Bowlly's in Heaven," with Thompson on acoustic guitar and Harvin displaying his subtle but effective brush technique.

Returning to his new material, Thompson played a solo acoustic guitar version of "A Love You Can't Survive." As if to flaunt his versatility, he then performed (in Italian) his rocking arrangement of "So Ben Mi Ca Bon Tempo," written circa 1600 by Orazio Vecchi. By the way, the U.S. release of "Kit Bag" contains a limited-edition bonus disc containing an acoustic live version of this tune, Prince's "Kiss," and a video clip from a BBC documentary on Thompson.

"One Door Opens" had the feel of a traditional dance number, with acoustic guitar, mandolin, acoustic bass and bongos setting the mood. After the rocking "I'll Tag Along," Thompson again dipped into his considerable back catalog for "Bank Vault in Heaven," "I Want to See the Bright Lights Tonight" and "Shoot out the Lights."

"She Said It Was Destiny" was another finger-snapping melody from "Kit Bag." A very fast rendition of the favorite "Two Left Feet" was followed by the evening's only extended jam, on the breath-taking finale "You Can't Win."

The crowd brought the boys back for two encores, beginning with a solo acoustic "1952 Vincent Black Lightning," "Wall of Death" and "Crawl Back (Under My Stone)." For the second encore, they brought out "Man In Need" and finished with two new tunes, "Jealous Words" and "Word Unspoken, Sight Unseen."

Ever the professional, Thompson and the band played a generous 23 tunes, including 10 from the new release (counting the Italian novelty).

Thompson fans, a famously obsessed clan of followers, have kindred spirit Turner McGehee and the Hastings College Artist Lecture Series to thank for making possible this free concert appearance.

top

---
Concert Review
Jerry Seinfeld improvises like jazz saxist



By Butch Berman

DES MOINES, Iowa-Jerry Seinfeld—jazz? Yeah, why not? Improvisation is the ability (I know, Jamey Abersold sez everyone can improvise, but you know what I mean) to alter the original arranged piece of material, whether it be musical or spoken word. Well, I tell ya—after witnessing Jerry Seinfeld's new stand-up concert Jan. 21 at the Des Moines, Iowa, Civic Center's sold-out second show, I could easily draw the comparison.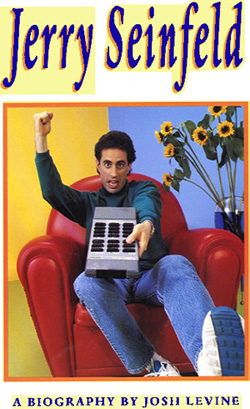 Dig this. The parallels between a sax player's own personal take on whatever composition he is blowing—and keeping (sometimes, ever so slightly) the intended tune intact and Jerry's shtick shows that he obviously has a game plan. There were several times I second-guessed what current hot topic he would put his spin on next, yet his relaxed, but slightly smug demeanor, almost took me back to the old Jack Benny days. His timing, like a veteran musician, was and is and probably will always be flawless.

After his opening act (I can't remember his name, but he was a pretty damned good standupper who really got the pro-Jerry audience primed) the lights dimmed as Jerry creeped on the bare stage, except for his lone barstool, glass of water and mike to one of the most heartfelt standing Os before he even opened his mouth I've ever seen. It gave me a rush I'll always remember.

Obviously, everyone in the audience, including myself, lived and breathed for Jerry, as well as his daily reruns. His only faux pas, which I've experienced at the two previous shows I've seen him perform at, was his attempt to use the audience in a question-and-answer session for his encore. It might work in a super-hip venue like L.A. or New York, but the people he picked out of the Lincoln, Omaha and Des Moines audiences proved to be fairly mundane. Yet, he takes his chances with that, and the trouper he is makes it sorta work.

With "The Sopranos" and "Sex in the City" in their last season, please come back, Jerry! You're the best… the best, Jerry!

top

---
DVD Review
Funk Brothers story makes life-shaking DVD



By Butch Berman

If you're lucky, and live long enough, a few major incidents will probably take place to shake and/or shape our lives.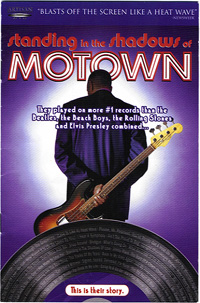 Looking back, I recall being home on furlough from Wentworth Military Academy (WMA) at the ripe age of 16 and seeing Dylan in '65. His first set was solo, followed by (at the time) the loudest, in-your-face backup band I've ever heard.

Next, also while at WMA in 1968, I snuck out, ingested my first LSD and saw Jimi Hendrix live in Kansas City. Lastly, catching Gerry Mulligan, months before his untimely death, inspired me to embrace jazz as never before, and to co-found the Berman Music Foundation with my then-partner, Susan Berlowitz. These are three standouts that first came to mind.

Yesterday…I had another. A full-page ad in Entertainment Weekly sent me on a search to Barnes and Noble. A nervous, near frantic hunt finally proved fruitful. VOILA! I'm now holding the new DVD entitled, "Standing In the Shadows of Motown," inspired by author and educator Alan Slutskey and director Paul Justman. This is the story of the self-penned Funk Brothers, who from 1959 to the early 70's provided the back-up and rhythm sections for Berry Gordy and Motown Records. The Funk Brothers did make a fairly decent living, but were certainly not overpaid and were left fairly obscure and unheralded. Motown made a fortune from these incredible musicians, turning dozens of talented singer/songwriters into stars, and recording hundreds of hits. Hey, I had every 45 from this era, and outside of bassist James Jamerson, I hadn't known the names of any of these cats.

So please, from now on remember these names: Drummers William "Papa Zita" Benjamin, Richard "Pistol" Allen and Uriel Jones; bassists James "Igor" Jamerson and Bob Babbit; guitarists Robert White, Eddie "Chank" Willis and Joe Messina; pianists Joe Hunter, Earl: Chunk of Funk" Van Dyke and Johnny Griffith; percussionist Eddie "Bongo" Brown and vibe-player/tambourine specialist Jack "Black Jack" Ashford, they comprise the heart and soul brotherhood of funk.

While researching a book on the Motown bass phenom James Jamerson…a visit to his widow turned author Slutsman's project into a 15-year odyssey to finish this film while these men were still healthy enough to appreciate their long over due adulation. Sadly, six of these gentlemen have since passed, but this work of art is God sent. Truly a spiritual experience, as countless educational gifts lie within this two DVD set. Almost life-changing, the packaging is as well done as I've ever seen, and I've seen a lot.

Grab it, open your hearts, dance the night away and rejoice. The Funk Brothers are back again…encased forever in a box set worth building a shrine for.

top

---
Colorado correspondent enjoys Rocky Mountain Hi (Fi)



By Dan Demuth

Ed Polcer brought "The Magic of Swing Street" to Colorado Springs on Feb. 19, musically recreating the period from the early '30s to the late '40s of New York's famed 52nd Street—a street that Arnold Shaw titled his book as "The Street that Never Slept."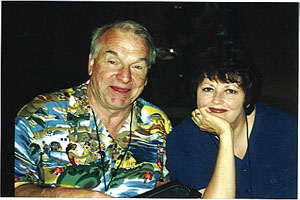 Accompanying cornetist Polcer was Alan Vache on clarinet, Dan Barrett on trombone, bassist Frank Tate, John Cocuzzi handling the piano and vices and Joe Ascione on drums. My notes will concentrate more on the event rather than the ritualistic listing of the songs played and comments on each. Reminiscent of a club-size atmosphere, an appreciative crowd of just under 200 people comfortably filled this venue at the Red Lion hotel.

Ed Polcer has the too oft-unseen ability to create a comfortable mood, as if one were conversing with him in your living room. It was obvious the musicians were also comfortable in this mode, it reflects in their playing and the mood resonates with the audience. The selections were what one could have heard on The Street, perhaps mistakenly too often put into a back as "traditional" by those who don't care to really venture outside of their cozy but limited sphere. As Shaw notes, Basie, Hawkins, Gillespie, Goodman, Herman, Parker, Vaughan, Tatum, Garner, Holiday, (Artie) Shaw, Norvo and Shearing were but a very few of the habitués of the 30-odd establishments nestled in an area of less than two blocks on The Street. If that's traditional, I'll have some. I would prefer to categorize this jazz as timeless.

To name just a few of the performance highlights: Vache's beautiful solo performance of "Danny Boy;" Barrett displaying his skill on the 88s; Polcer's intuitive comments; the "just right" touch on all numbers by Ascione and Tate; and Cocuzzi playing "intermission" piano, doing bluesy vocals on "I Want a Little Girl" and "Hello Central, Give me Dr. Jazz." A conversation with Polcer validated my thought that Harry "The Hipster" Gibson was perhaps the epitome of the many intermission pianists who earned their bread on 52nd Street.

All of the musicians lingered afterwards to talk with anyone who wanted to, another nice touch. This event was sponsored by the Pike's Peak Jazz & Swing Society. While on tour, two weeks prior to coming to the Springs, Polcer's group stopped in a studio in Durham, N.C., and recorded an 11-track CD—"Let's Hit It!"—in one day, no rehearsals, no kiddin'. It's great.

top

---
Editor's Note: At your request, we will mail a printed version of the newsletter. The online newsletter also is available at this website in pdf format for printing. Just click here: Newsletter
---