Bev Rehkop
K.C. woman combines jazz and photography
By Tom Ineck
Bev Rehkop envisions the drama and excitement of a live jazz performance as moments magically frozen in time. Combining her love of jazz and photography, she has realized her vision, becoming one of Kansas City's most familiar and well-respected jazz photographers.

---
Friends of Jazz
Nigerian Umbrella offers shelter in the storm
By Butch Berman
Friends of Jazz is an occasional column paying tribute to non-jazz organizations that in some way benefit the Berman Music Foundation or me.

Since I plan to marry a gorgeous Nigerian woman, Grace Gandu, I am proud to mention the nonprofit organization the Nigerian Umbrella.


---
K.C. scores another hit on latest visit south
by Butch Berman
The music awaiting us might now have carried the same intensity of Bobby's amazing performance, but emotionally it couldn't top our second Missouri adventure.


---
Cory Biggerstaff
Young bassist sets sights on DePaul University
by Tom Ineck
At 23, his impressive growth and maturity as a musician has not gone unnoticed, either in his hometown or beyond. He has been a first-call jazz bassist in the Lincoln-Omaha area for several years, and this fall he will attend DePaul University in Chicago on a scholarship, pursuing a master's degree in jazz performance with bassist Kelly Sill.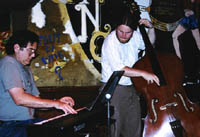 ---
Berman Music Foundation funds first Topeka Jazz Fest Academy
By Tom Ineck
TOPEKA, Kan. - Young musicians from four area high schools participated in the first TJF All-Star Academy, sponsored by the Berman Music Foundation.


---
My Story: The Beginning of the Boogie Kings
by Doug Ardoin
In response to the story of the Boogie Kings as presented here by Ned Theall, the BMF received this version of the story by another member of the band, Doug Ardoin.


---
Letters to the Berman Music Foundation Editor
---
Belgian pianist returns
to Lincoln Sept. 12
By Tom Ineck

The 1998 Jazz in June series ended with the spectacular American debut of Belgian pianist Ivan Paduart.
Thus began my Lincoln Journal-Star review of Paduart's last Nebraska appearance. When he returns Sept. 12 for a 7:30 p.m. performance at P.O. Pears (one of several upcoming shows funded by the Berman Music Foundation), it promises to be a similarly stellar occasion-and a bit of deja' vu.
---
Cables concert is 2002 live jazz highlight
By Tom Ineck

There never was any doubt that the June 11 performance by the George Cables Trio would be Lincoln's live jazz highlight of the year, and the year wasn't even half over.

Accompanied by bassist Cameron Brown and drummer Victor Lewis, Cables appearance for the Jazz in June outdoor concert series was highly anticipated and lived up to the high expectations. The Berman Music Foundation sponsored the concert.

---
Tomfoolery
Project Object carries on Zappa tradition
By Tom Ineck
PETALUMA, Calif. - It is no surprise that there is great music happening in classic, restored movie theaters all over America.
My expectations rose to unrealistic heights as I imagined a group of accomplished musicians who could do justice to the complex, hilarious, sleazy, profound, political, exasperating, dark, puzzling, challenging, lyrical music of the master. Zappa (1940-1993) was somewhat of a human conundrum, and it was difficult to imagine anyone capable of capturing his many moods and contradictions.


---
Paris and San Francisco meet in Lincoln
Hot Club of San Francisco
By Butch Berman

It seemed like Paris in Lincoln via San Francisco June 18 at the third in a series of acts that the Berman Music Foundation brought in for the Jazz in June series this season.
---
Teen Djangirov continues to improve with "age"
Eldar Djangirov
By Tom Ineck

Eldar Djangirov, the 15-year-old jazz piano marvel from Kyrgyzstan, is aging with a combination of youthful grace and prodigious talent.
---
Dave Pietro band delivers Wonderful concert
By Bill Wimmer

Saxophonist Dave Pietro brought his group to Lincoln for the Jazz in June series June 25.

Pietro, a very talented musician, composer and arranger, came with an excellent group featuring David Berkman on piano; Pete McCann, guitar; John Hebert, bass; and Nasheet Waits on drums.

---
Topeka Jazz Festival 2002 Review
Topeka Jazz Fest was a piano-lover's dream
By Tom Ineck
---
Stan Kessler and the Sons of Brazil
Lincoln's 2002 Jazz in June series, sponsored in part by the Berman Music Foundation, began June 4 with a high-spirited performance by the six-piece Sons of Brasil, who brought the exotic rhythms of Brazil via Kansas City, Mo., the group's hometown.
By Tom Ineck