By Tom Ineck

In Lincoln's venue-starved environment, it is especially exciting to witness the
emergence of the classy DelRay Ballroom as a possible site for local, regional and even national music acts.

Located at 817 R St. in the historic Haymarket District of downtown Lincoln, The DelRay has offered occasional live music for more than two years, but only recently was the former storefront coffee house transformed into a swank jazz lounge with full bar service and appropriately hip décor, including abstract paintings by Lincoln artist Bob Hall. The dreams and aspirations of The DelRay owners and managers go well beyond even these improvements.

Further back in the huge former warehouse are a dance studio and a full-sized ballroom. A pastry and catering service add to the eclectic mix. The team of business associates includes Shelley Brackhan, owner and instructor of the Dance Directive studio; Michael Galloway, the operator and manager of the front area; and Richard Sullivan, sound engineer, deejay and resident music expert.

In a recent interview, Sullivan and Galloway spoke enthusiastically about The DelRay's potential as a live music venue.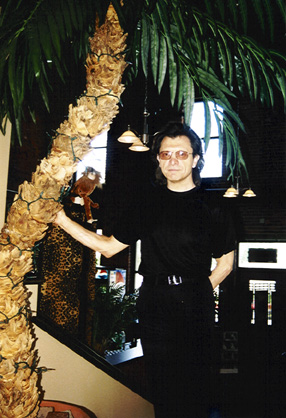 Best known to Lincolnites as a longtime musician and songwriter, Sullivan speaks with authority and personal knowledge of the business of making (and selling) music to the public. From the mid-1970s to the mid-'90s, he was active in local bands that included the South Street Shakers, Pinky Black and the Excessives, The Gears and Blonde Waltz. Raised on Elvis, Little Richard, Chuck Berry, The Beatles and The Rolling Stones, he describes himself as "an old rock 'n' roller," but he's also dabbled in the blues and country music.

Sullivan's still writing songs for some future recording, but lately he spends much of his time and energy at The DelRay Ballroom and dance studio, where he is sound engineer, deejay and music archivist for the dance instruction.

Galloway, who recently moved back to the Midwest from Seattle after 22 years in the Pacific Northwest, once worked at Lincoln's famed Zoo Bar and managed McGuffey's, a local pub known for its serious jazz policy, with weekly jams and occasional appearances by Jay McShann and other big-name artists.

During a five-year period during the 1980s, Galloway operated a 1,400-seat rock club in Portland, Ore., featuring everyone from Iggy Pop to Miles Davis.

"It was kind of the advent of MTV and the one-hit wonders, so we had a lot of those come through," he recalled. He also operated a couple of clubs in Seattle's Pioneer Square district.

Galloway was attracted by The DelRay's location, in Lincoln's most celebrated retail and pedestrian district and next door to the new Haymarket parking garage.

He has installed a baby grand piano in The DelRay's front lounge and hired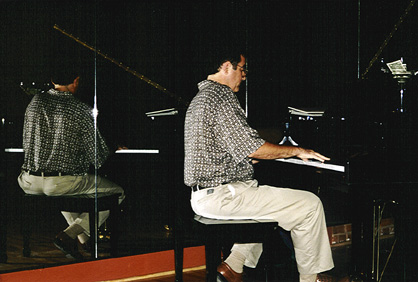 Lincoln jazz pianist John Carlini to play several nights a week.

"Eventually, we've talked about possibly bringing in some nationals, and it won't be just jazz, but jazz is probably one of the ways we're leaning," he said. The ballroom capacity is around 325 seated and 700 standing, making it large enough for a successful run at some big-name artists.

Midwest Sound designed the six-speaker DelRay sound system, with individual volume controls to fit any occasion. The lighting also is totally adjustable by rheostats.

Initial plans are to have Carlini play solo from 6-8 p.m. most weekdays, with occasional local groups performing later in the evening, probably 9-11 p.m.

"It's great to have Richard here to know all the musicians," Galloway said. "That learning curve can take you quite a while when you go into a new town. I'm counting heavily on Richard to help me find those gems that you have here in Lincoln."
BMF president and longtime Lincoln rock guitarist and keyboard player Butch Berman is among the musicians who Sullivan has tapped to perform with him in upcoming weeks and months in a band called The Lounge Hounds. Other local artists on the calendar include The Mezcal Brothers, The Resonators, the Sandwich Kings Blues Band and pianist Vince Learned.
Meanwhile, The DelRay builds its clientele and shapes a music policy that can lead to success. It's a success that all Lincoln music fans should anticipate and support with their patronage.
---
By Butch Berman

I hadn't flown the not-so-friendly skies in more than eight years, and after 9/11 I thought to myself, "No way!" I guess I didn't know Grace Gandu then.

After marrying my gorgeous bride May 30, I figured I might have to eat those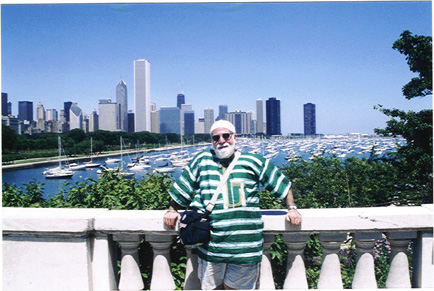 words. With the Southwest undergoing the worst heat wave of the summer, we changed our minds about Canyon Ranch and decided to make that a winter excursion. I didn't want to disappoint Grace and ruin our honeymoon plans by not flying somewhere else, so we opted on Chicago as a perfect choice for lovers (like us), jazz fans (like us), food and wine connoisseurs (like us) and baseball fans (well, me). So, I dusted off the rust from my wings and…up, up and away!

Usually the ride to and from airports is the scariest part of flying, and our cab experiences in Chicago were no exception. The neatest thing about all of the drivers, hotel bellhops and maids this trip is that most of them were from Nigeria (Grace's home country), Ethiopia or neighboring areas, so Grace could talk about their native homelands and in some cases speak in her tribal tongue (Hausa).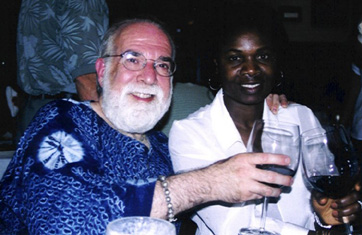 In the old days I used to love to stay at the Blackstone Hotel on South Michigan Drive because Joe Segal housed his famed Jazz Showcase there. Well that establishment is now used as permanent dwelling condos, so due to location we opted for the Chicago Hilton right next door. When built in 1927, it was either the world's or the United States' (I forget which) largest hotel. We're so used to the likes of KC's Historic Suites, or the Embassy Suites anywhere else, that the Hilton's rather small room could have been confining to us. However, since it was our honeymoon…you get the picture.

Cozy's cool, too, and we had a beautiful lakeside view. The Hilton is ran like a city unto itself with all of our needs handled perfectly and professionally including speedy and tasty room service, complete post office service, great gym, pool and massages available and the best concierge I've ever dealt with. Donald Crossley is "De Man" of the hour, making me want to consider staying there again just to utilize his fab connections and expertise in getting the most out of what's happening in the Windy City. He copped us eighth row center tickets at a decent price for "The Lion King," booked the historic Chicago's First Lady Architectural boat tour down the Chicago River, and got us reservations at one of Chicago's best five-star restaurants, Speggaia's, in a flash. (Thanks to my dear friends Daniel and Elizabeth Nelson for telling us about this spectacular eatery.) He also provided us with city maps and tips to make our trip even more enjoyable. What a guy!
Other top-flight places to dine are Trader Vic's at the Palmer House Hotel, the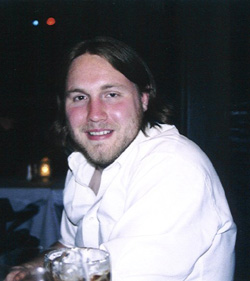 Cape Cod Room at the beautiful Drake Hotel, and Pete Miller's steak house (with great live jazz and an incredible wine list consisting of many of the finest California cabernet sauvignons of 1997). Pete's joint is located in Evanston, Ill., near DePaul University, where our host for the evening, former Lincolnite and bassist Cory Biggerstaff now resides, gigs and attends classes. He introduced me to the excellent piano trio playing that night. Pianist Mike Kocour, bass player Kelly Sill and drummer Joel Spencer are a terrific group and super nice cats to hang and chat with. Maybe I'll try to bring them in to P.O. Pears sometime down the line.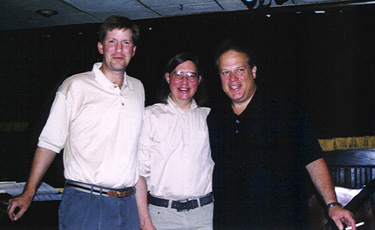 We also dug the amazing Blue Man Group, performing at the Briar Street Theatre on North Halsted Street near where the old Chess Records studio stood. I can't say enough about this over-the-top, rockin' performance art organization and their stellar show. If you can't catch them here, they have a road show touring the country right now, as well as semi-permanent "homes" in New York City, Boston and Las Vegas. Don't miss this rather unusual super-group!

Another point of interest to recommend is going to Wrigley Field. I'm a die-hard Giants fan, but seeing the Cubbies at this real grass ballpark is totally worth it. By the way, San Francisco kicked their butts when we were there.

Chicago has many world-class museums. We took in the breathtaking Art Institute of Chicago, marveled at the "Eternal Egypt" at the Field Museum and loved every minute of attending the Shedd Aquarium.

This story is taking on epic proportions, so I'd best get back to the jazzy stuff, and you can't get any jazzier than dropping in at my favorite Chicago haunt, Joe Segal's Jazz Showcase. Now relocated on Grand Avenue between Deerborn and Clark, the Showcase has been a Chicago landmark for many years. Similar to New York's Village Vanguard, the room carries mucho jazz history, has excellent acoustics and has housed every main-event bebopper in the biz that you'd ever want to hear and see.

Joe just won Downbeat magazine's lifetime achievement award, and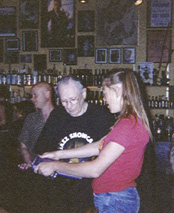 deservingly so. He can be a bit of a crusty character at times, but his heart is in the right place. This man truly lives and breaths jazz, and his club almost serves as a shrine for his beloved hero, Charlie Parker. If you've spent nearly 50 years in the bar business, you might get a little grouchy at times, but I really dig this hip old cat. Let me tell you all about the two super-groovy shows we attended on our vacation.

First of all, way before our trip, I got on Joe's web-site to check out the calendar. I smiled to myself when I discovered that we'd be most fortunate to catch the immortal talents of drummer Roy Haynes and bebop clarinetist Buddy DeFranco with their respected bands back to back. Wow!

So Grace and I popped in, said hi to Joe at the door and proceeded inside. It seems the air-conditioning unit that evening was on the blink, but even when Roy kidded the audience about the heat, he and his band simply smoked. Backed most admirably by piano player Martin Bejarama, (the only name from his group I'm not sure about as we forgot to cop a poster on the way out) bassist John Sullivan, and the remarkable saxophonist Marcus Strickland. They played their asses off behind the one-and-only percussion king, Mr. Haynes, who at age 79 could pass for a man in his 50s. He was, and still is, one of the all-time great rhythm machines in the business.

The big surprise of the night was the addition of genius trumpeter Terence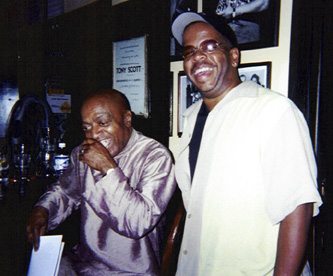 Blanchard. It seems film guru and my current favorite living director Spike Lee was showing clips from his wonderful flicks the next night at the beautiful Symphony Hall (yup, we went to that tremendous concert too) with a 20-piece orchestra led by Blanchard, along with the extraordinary vocalists Mavis Staples, Gerald LaVert and new-comer Belai.

Anyway, Terence was in town, hanging at the club, and set in to play a few pieces with the band the second set. The frontline work between him and Marcus was truly superb. By the way, the relocated Showcase is stunning with perfect sightlines, decent lighting and a great sound system. If I remember correctly, the cover charge is only $20 or $25 a person nightly with a no-minimum-drink clause.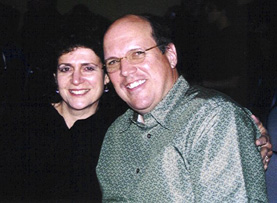 Joe also has a decent dinner plan with a fairly new Italian restaurant chain based, I think, in Chicago called Maggiano's. We loved the food and service and it's just across the street from Joe's. For $70 a couple, you get reservations at the club and dinner for two, excluding alcohol. What a deal!

So, that's what we did for the DeFranco show when we returned a couple of nights later. We were joined at the Showcase that night by my new friend, jazz mandolinist Don Stiernberg, and his wife for another grand evening of jazz, and Buddy didn't let us down.

I've been a huge Buddy DeFranco fan since I found my first LP by him (an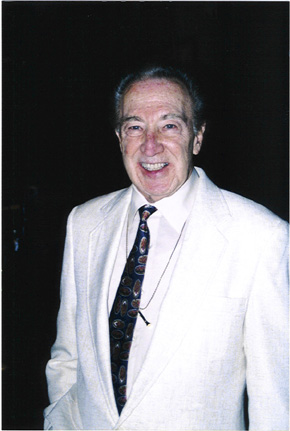 early '50s MGM). At first, listening to his stellar bebop phrasing, I thought to myself it's like hearing Charlie Parker, but on the ole "licorice stick" instead of the sax. Nevertheless, Buddy, now at 80, was one of the nicest and charming men I've ever met for the first time. He too had a top notch band that night.

A true Chicago legend, piano stylist Larry Novack was in top form manning the keys behind Buddy. I remember seeing him play at Mr. Kelly's when I was only 10, and like most of these older gentlemen, his chops only seem to get better with age. Veteran players John Kohout on bass and Robert Shy on drums performed flawlessly, and Buddy is just brilliant. I also got to meet his lovely wife, Joyce, who said they'd love to play in Lincoln sometime in the near future. That possibility got my wheels turning.

Also need to mention that if you want to buy a coffee table-sized history of jazz, crammed with a vast array of rare photos, run, don't walk to your book store of choice, and order "A Life in the Golden Age of Jazz: A Biography of Buddy DeFranco" by Fabrice Zammarchi and Sylvie Mas from Parkside Publications Inc. You can reach them at (206) 839-1191. This book is a work of art, and should be in every true jazz fan's collection.

Well, that wraps up our whirlwind jazzy honeymoon in one of my most endearing places to visit, Chicago, Ill.

top
---

By Butch Berman

Still reeling with the feeling of our wonderful time in the "windy city," Grace and I were eagerly looking forward to our post-honeyswoon excursion to our true "home away from home," Kansas City, Mo. True to form, this trip was no exception. As a matter of fact, it might have made it to our top three faves.

It certainly wasn't because of the weather (in the 100s every day) or the fact that my lovely bride and I love to be together wherever we are. No, this time it was all about love, good friends, great food, and of course, excellent music. This time, however it wasn't only jazz that propelled us southward on I-29 but some godly gospel, and soulful r&b. Well, here goes.

Since the sad decline of our old favorite haunt—The Savoy Hotel (hey, the Grille next door is still tops, especially if you get KC's coolest old-time male waiter, Bob, but that's another story—our new abode, thanks to Karrin Allyson's recommendation, is the Historic Suites at Sixth and Central. It's only one block off the Highway 169 (formally Broadway) exit, and within walking distance of the Phoenix Bar and Grill, the Majestic Steakhouse and the Folly Theater, as well as a 10-minute drive to either Crown Center, Westport, the Plaza or the famed 18th and Vine section. Thanks to their new guy on the go, Rico, they have now added van service to all guests for just whatever you can tip. No searching for how to get there or parking. One of their drivers, Nelson Thomas, used to play sax with Sun Ra, so it's jazz, jazz, jazz 24/7.

You get a beautiful two-bedroom suite with living room and kitchen with everything you need for comfort (TVs, phones, iron), free hot breakfasts, workout room with sauna and whirlpool and a outdoor pool with off-street parking. All this is $149 a night, with discounts available. Tell Rico the Bebopman sent you, and he'll take care of business! Call (816) 842-6544 or go to www.historicsuites.com. Enuff of this travelogue and onward to music.

The total triple threat weekend started with dinner at the Fairmont with Joe Cartwright for dessert. Joe, a good friend and marvelous pianist has been the main cat at the Fairmont's Oak Room for quite awhile. This month he was showcasing different players each week on Thursday night free of charge. This date was a must for Grace and me as Joe hosted the one and only alto saxophonist Bobby Watson along with Bob Bowman subbing on bass, as my BMF consultant and pal Gerald Spaits and his wife, Leslie, were on a much-needed vacation in France. As always, Joe's drummer Ray DeMarchi kicked butt.

Note to all that it took us two trips to figure out to ask for dinner in the lounge so we could get a good seat for the players. After sitting behind a pillar across from a couple of cigar-smoking yuppies for the first set, we'll get it right the next time. Bobby sounded gorgeous with the boys knocking my socks off on every tune especially with his rendition of Strayhorn's "Chelsea Bridge." Bobby looked healthy and happy and seemed to be more at-home back in his old stomping grounds than the Big Apple these days with his teaching at UMKC and steady gigging. I've literally caught his stuff from coast to coast for over eight years and have never heard an off night.

We also sat with my old friend from the Rich Hill days at Larry's Showcase, bassist and vocalist Brian Hicks, who was going to play with my dear friend, Ahmad Alaadeen at The Blue Room on Saturday. To top it off, I officially met KC Star jazz scribe Joe Clopus for the first time. What an evening, and we're just getting started.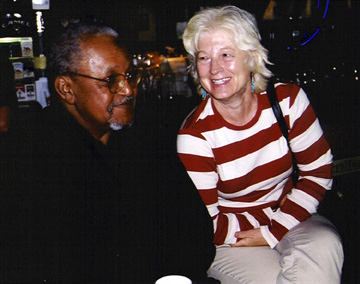 We kicked back most of the day Friday, looking forward to a home-cooked meal of fried chicken prepared by none other than Alaadeen, veteran KC saxophonist and one of the dearest, hep-cat gentleman I've ever met. He and his out-of-sight manager, Fanny Dunfee, welcomed us into their warm and inviting home in Overland Park, Kan., for a perfect experience of great food, chatter, music and the pure joy of two diverse couples who love each other and their spouses and have a ball together. The night ended much too soon, as our anticipation for our last segment of this continuing saga awaited us.

I've adored the stirring soul stylings of Al Green since the early '70s, but never was able to see him live. When I discovered he was going to be playing the Uptown in downtown KC, I acted fast, checking the 'Net daily for when tickets went on sale and being on top of it. My homework and persistence paid off big time as I snared front-row center seats for this very special event. Mr. Green, all decked out in a three-piece white suit, did not disappoint us. His vocal prowess totally intact, he smoked, and his back-up band, singers and dancers were simply killer.

He walked the front isle, stopping to greet each member of the blessed first row with a handshake or a hug, and presented my lady Grace with a beautiful red rose which she'll cherish for life, I'm sure. The opening act, Forgive, an incredible 17-piece vocal choir with their own musicians behind them, sang like angels, but Al stole the show.

The 3,000-plus crowd gave the hall an almost revival atmosphere as the Reverend did more than 10 songs, including most of his major hits, some gospel and a little blues. After a rousing "Love and Happiness," we all expected an encore, but it seemed that Al Green had left the building. Nevertheless, little ole Jewish me got a good taste of Jesus that night, and it felt good. Still, there were more groovy moments ahead waiting for us at the Blue Room on 18th and Vine.

The hotel doesn't run its van on weekends, but Rico had us covered. A genuinely suave older black dude named Lloyd, former cop for 15 years and now operating a taxi service besides being a Pentecostal minister, took the best care of us. We ate another fab meal at one of our first choice KC eateries called Zin on 1900 Main. My old pal, bassist Bow Bowman's darling wife, Sondra, waited on us with expertise. Next, it was the Uptown, and finally the Blue Room. Lloyd kept us enchanted with many stories of his family and KC history in general. Between Rico, Nelson and Lloyd wheeling us around, the rides were just as entertaining as our destinations.

Arriving at the Blue Room was like old home week, as we sat with Alaadeen's manager, Fanny, his charming son (also named Ahmad Alaadeen) and our old comrades Steve Irwin and his better half, Jo Boehr, from the famed KC International Jazz Festival. We were greeted so warmly, and then things really got hot when Alaadeen took the stage with his stellar band consisting of Jason Goudeau on trombone, Brian Hicks at the bass, Donovan Baily pounding the skins like a jazzy Buddy Miles, and newcomer (to us) Chris Clark, who just wowed us with his amazing piano virtuosity.

Still the main event belonged to Alaadeen, as he led his group with style and grace and displayed his brilliant chops to the throng of followers with every selection. He debuted his new "African Suite," that jazz-drenched night inspired by Grace and my relationship, and dedicated it to her. Hopefully, this splendid piece of work will be recorded soon for the world to hear and appreciate. His heartfelt rendition of "What A Wonderful World" seemed so appropriate during these troubled times, and moved everyone in the room to a better space. He ended the evening calling up a new young piano player named Harold O'Neal to sit in. His Tyneresque performance fit the groove perfectly. My dear friend and BMF fotog, Rich Hoover, was filming the entire show for a possible future documentary. More on that later.
---
By Butch Berman

I lost a friend today, a friend I never met face to face, but a true friend indeed. Don Lanphere, revered bebop saxophonist, master educator, devoted husband to his beloved Midge, and devout Christian, passed away Oct. 10, age 75.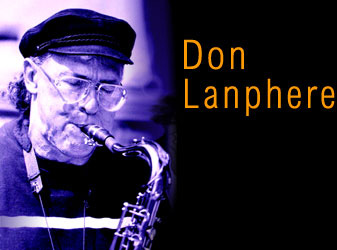 He was living at the Group Health Eastside Hospital in Redmond, Wash., near his home in Kirkland.
We met on the phone, introduced by Seattle jazz record store owner and noted deejay and music historian Bud Young. It was my first trip to Seattle, on an early BMF biz trip when I wandered into this totally cool old record shop in downtown Seattle—Bud's Jazz Records. I was greeted warmly by Bud himself, and we shared our stories about our passion for jazz or great music in general.
There was some incredible sax work coming through his store speakers. I asked who it was, and he said Don Lanphere. The next thing I knew, Bud picked up his phone, dialed, chatted for a minute and handed me the receiver. Yup, it was Don. That's how it all started.
As time went on, Don and I talked many times over the phone. It wasn't long—between his generosity and my constant record hunting—that I acquired most of his beautiful, inspired recorded work, which I'll treasure for a lifetime.
Don kindly consented to be my guest on my old radio show, "Re-Boppin'," on KZUM Community Radio in Lincoln. It turned out to be one of my most rewarding and favorite interviews. His candid recall of his life could be made into a movie—so real, at times tragic, but with a most happy ending. After years of not only playing with the likes of Charlie Parker, but living the lifestyle as well, Don was reborn into Christianity. With his rejuvenation, his musical genius and opportunities soared.
The "old" Don's past efforts, making records and gigging with most of the great ones—Fats Navarro, Max Roach, Woody Herman and Artie Shaw, to name a few—will stand the test of time. His later and more recent music, often working with the Origin Records house band New Stories, is tremendous and mostly still in print and available. Some of the earlier works on Hep Records might be a bit harder to track down, but are SO worth it.
I would have loved to have seen Don play in person, and truly have met and hung with this dear, talented man. I still feel extremely fortunate to have known him as I did. Don is survived by his wife of more than 50 years, Midge. Rest in peace, my old friend. You were one of the very best in your field and will always be remembered fondly.
---
Memorial
Trombonist Jimmy Knepper died June 14



By Butch Berman

I first became affiliated with the recently deceased jazz trombone legend Jimmy Knepper quite by accident. Let me tell you a little story. I think you'll get a kick out of it. I know Jimmy would have dug it.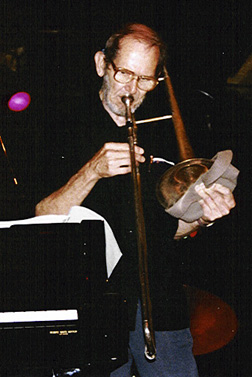 In the early days of the BMF (around 1994-5) with since-departed (not dead, just split) ex-partner, Susan Berlowitz, who actually started this jazz rag, we brought some great players to Lincoln. The Zoo Bar was an early venue until former owner Larry Boehmer and I also parted ways. (Gee, can't I get along with anybody?) Anyway, our first projects to try to indoctrinate ourselves into the art community were presenting these mini-jazz concerts at anyplace that would have us. We also hosted events at the now-defunct Huey's, the 7th Street Loft and Ebenezer's, to name a few.

Susan and I had just returned from a trip to NYC where we for the first time caught our old friend Claude "Fiddler" Williams backed by an all-star band for his 85th birthday at the also-no-more Metropolis. We thought how Lincoln had only heard Claude being backed by our local cats, and how cool it would be to let the folks hear this amazing musician with a real top-notch group behind him.

We had recently befriended the leader of the famed Duke's Men, trombonist Art Barron, who promised to put together a similar bunch of players to make the trip, and he'd help keep things in order. Taken from the guys we had heard was bass player Earl May (still a dear friend to this day) as well as drummer Jackie Williams. We couldn't obtain pianist Junior Mance, but were thrilled to get the wonderful Jaki Byard instead. We also had just become acquainted with newcomer, singer Kendra Shank, who we thought would be the perfect extra to augment this killer bunch to back the "Fiddler."

Well, to make an already long story a bit shorter, just days before the show, Barron pulled out for a better-paying job. He said we should get used to this kind of situation, but in nearly nine years only one other jerk has pulled that song-and-dance on us. Nevertheless, he said he'd found a replacement for us—who else but Jimmy Knepper.

So, on my way to the airport I'm thinking to myself, "How cool is this to have the two remaining living gentlemen from the Mingus dynasty hanging out at my pad?" Only problem was, I never had seen a picture of Mr. Knepper, whom I was just about to greet. So while scanning the people filing off the plane, looking for an older black dude carrying a trombone case, here comes this rather disheveled, funky-lookin' old white guy wearing a beat up old cap. Yup, that's Jimmy, but looks are usually deceiving. As soon as we met, I felt an immediate connection with this brilliant, totally lovable man.

Even then, you could see he was in the early stages of the Parkinson's disease that later took his life. His slow, stumbling gate made me wonder if he could still cut it, but he played his ass off all weekend. He fell once getting on the Zoo's high stage, and I caught him twice as he nearly fell backward just standing around. Still, however, he and Jaki (who was murdered a few years later in his NYC home, unsolved to this day) had a ball sharing tales of the old days with me, Susan, and the multitudes of fans who came over to our house that weekend to pay homage to these great people. I still get a kick out of how Jimmy couldn't get over the fact that he and I had both been sent to military schools as youths.

The boys and Kendra sounded great, playing three sets over that swinging weekend. The videos of their practice session at my house, as well as the gig, will forever remain prized possessions in my vast collection of jazz artifacts.

As soon as everyone went home, I started a search of as many Knepper albums and CDs that I could find. I wasn't the least bit surprised to discover how everything he recorded was simply fantastic. I once proclaimed on my old KZUM show "Reboppin'" "Knepper is Jazz, Knepper is Jazz, Knepper is Jazz," and to this day I still feel he exemplifies the true essence of jazz. By the way, he of course used his old cap for a mute, and I will cherish his memories for the rest of my life.

Jazz scribe Whitney Balliett called Jimmy "the first original trombonist in the modern idiom since J.J. Johnson." Amen to that, and may his soul rest in peace forever. Jimmy was 75.

I'll never forget my old pal Jimmy Knepper. Recommended listening? Everything he ever recorded.
---
Editor's Note: At your request, we will mail a printed version of the newsletter. The online newsletter also is available at this website in pdf format for printing. Just click here: Newsletter
---