October 2010
Feature Articles
Music news, interviews, memorials, commentary
BMF reconfirms its partnership with Arts Inc.
By Tom Ineck
LINCOLN, Neb.—The last time we caught up with Arts Incorporated, the non-profit arts management and promotion organization was in a hectic period of transition.
It had just moved its offices into 2,000 square feet of newly remodeled space at 315 S. Ninth St. in the historic Peanut Butter Factory. One of its primary agencies, the Capitol Jazz Society, had just shifted its twice-weekly performances to a new venue—the lower level of Brewsky's Food & Spirits at 201 N. Eight St.—after the sudden closing of P.O. Pears., where the jazz series had been housed for many years.
And the U.S. economy was still thrumming along nicely, oblivious to the monumental greed and mismanagement that were about to cause a near meltdown of the nation's financial system.
More than two years later, Arts Inc. is firmly ensconced in its downtown Lincoln digs, and Brewsky's Jazz Underground remains home for the Monday Night Big Band and Wednesday's Lincoln Jazz Series, featuring a variety of small combos. After a couple of years in which the Nebraska Jazz Orchestra and other Arts Inc. agencies reeled from the effects of the Great Recession, the NJO and its other jazz performance and education programming are on relatively firm financial footing.
Aware that finding and retaining corporate support for jazz remains a challenge, the Berman Music Foundation recently awarded a $1,500 grant to Arts Inc., specifically to support NJO and Capitol Jazz Society programs. A longtime friend and supporter of jazz in Lincoln, the BMF has sponsored many NJO guest artists over the years, including performances by saxophonists Bobby Watson and Greg Abate, trumpeter Claudio Roditi and singer Giacomo Gates. With that in mind, we thought it was time to revisit Dean Haist, Arts Inc. president, NJO business manager, Capitol Jazz Society executive director, versatile jazz and classical trumpeter and general jack-of-all-trades.
Despite cost-cutting measures, aggressive fund-raising and a well-attended Oct. 15 concert at the Lied Center for Performing Arts, the NJO is not out of the woods, Haist said. In its 35th season, the orchestra had to reduce the current series from the usual five concerts to just four.
"It continues to be an issue. We cut one of our concerts and we cut everything that we could to survive and still maintain the basic services," Haist said. "We put a lot of our staff time into looking for money and grant-writing. We haven't been all that successful in generating increased revenue, but we have maintained things in the last year or so, instead of letting it continue to slide. That first year or so of the recession was really rough."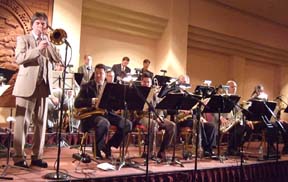 Many non-profits took a hit when corporate funding dried up in an attempt to tighten the belt and survive the economic downturn, but it has been especially difficult for the arts, which are often seen as a luxury rather than a necessity. Banks and other financial institutions, once heavily engaged in supporting the arts, simply stopped giving. Other businesses reduced funding or quit buying ads for NJO concert programs.
The NJO has survived, largely because it began featuring more local musicians rather than bringing in big-name guest soloists. When negotiating artist fees for world-class players, Haist has become penny-pincher-in-chief.
"I've really twisted arms pretty hard with our guest artists the last couple of years, in terms of what their fee is," he said. "I've basically begged and said, 'Look, here's where we are.' For some of them it's not so much the money. They need to cover their expenses. If it's something that's going to be fun, some of them have been very kind to us."
In other words, if the artist's stay in town is a pleasant one, the smaller fee is more acceptable. Trumpeter Wayne Bergeron recently returned to Lincoln to appear with the NJO at cost, graciously willing to take a cut after he was unable to perform last year due to a lip injury. Bergeron and the NJO drew 600 people Oct. 15 at the Lied Center, a venue that is working with Haist to increase audiences for both organizations.
"I can't say enough nice things about the Lied Center," Haist said. Bill Stephan, the new Lied executive director, has been aggressive in partnering with Lincoln's other performing arts organizations to their mutual benefit.
In an unusual collaborative publicity piece, a recent brochure touting "Jazz in Lincoln" was mailed to thousands of area music fans. Co-sponsored by the Lied Center, the NJO, the Capitol Jazz Society, the University of Nebraska-Lincoln School of Music, Nebraska Wesleyan University and the Berman Music Foundation, it details seven major jazz performances, plus schedules for the Capitol Jazz Society, UNL jazz ensembles and faculty recitals, the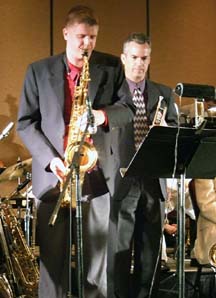 Wesleyan jazz ensemble and the Wesleyan summer jazz camp. It is the kind of joint effort that bodes well for the future of Lincoln's jazz scene.
"This is a result of Bill's efforts to reach out a little more in the community, collaborative events at the Lied with other organizations," Haist said. "It's not that those weren't there in the past, but it's a very different situation. We're hoping that it will be good for their organization and ours."
BMF funding will support the NJO's educational programs, which ranges from the annual Young Jazz Artist Competition and Young Lions all-Star Band to "Jazz Goes to School" and the Nebraska Jazz Camp, held every summer at Wesleyan. The young artist competition awards cash prizes to a winner and runner-up after an audition. The winner also performs a solo with the NJO in concert. The Young Lions is a big band comprised of young musicians selected by audition who rehearse and perform with the NJO and a guest artist.
Through "Jazz Goes to School," members of the NJO visit elementary and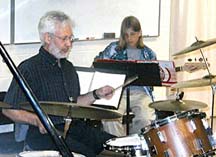 middle schools in small combos to perform for students, giving them a better understanding of jazz history and the role that each instrument plays in the music. The annual Nebraska Jazz Camp is a week-long intensive program for young jazz musicians—middle school to college—allowing them to work individually with professional jazz musicians and participate in big bands, combos and jam sessions. Classes include jazz improvisation and theory, standard jazz literature and electronic music.
"That is good news for us. It's one of the few organizations where we have some hope of increased support as opposed to losing support," Haist said of the BMF's enhanced sponsorship. "We lost three or four significant sponsors in a year-and-a-half period that aren't coming back. We've pulled back on some of educational outreach, in terms of presenting things in schools where there wasn't financial support for it. We've really just focused on trying to stay alive, trying to generate revenue."
---
Capital Jazz Society furthers education
By Tom Ineck
LINCOLN, Neb.—Two recent Wednesday night performances at Brewsky's Jazz Underground caught our attention as the intimate lower-level venue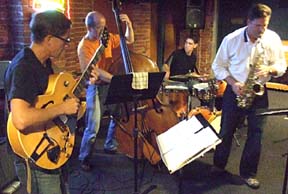 continues to host some lively Lincoln Jazz Series small combo sessions.
On Sept. 15, guitarist Peter Bouffard fronted a quartet also featuring saxophonist Paul Haar, bassist Jeffry Eckels and drummer Steve Helfand. On Oct. 20, keyboardist extraordinaire John Carlini led his quartet, with Tommy van den Berg on trombone, Sean Murphy on bass and John Scofield on drums.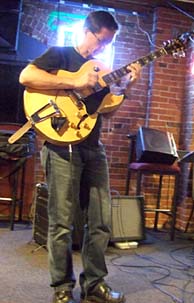 Bouffard's outfit tended to embrace the more scholarly and classic post-bop conventions, not unexpected considering the impressive education credentials of the players. All but Helfand are professors of their instruments at the University of Nebraska-Lincoln School of Music. Eckels, the most recent addition, took over the UNL bass chair after longtime instructor Rusty White retired. Helfand is a private instructor in the Omaha area and plays with the U.S. Air Force Heartland of America band.
The quartet dug into some well-worn jazz standards with energy and expertise, including "Alone Together," "All Blues," "I Remember You," "Bye Bye Blackbird," and the Charlie Parker burner "Confirmation." "Solid," a slow, swinging blues shuffle, featured Haar on tenor sax taking the melody and pinching off some high notes in a solo passage.
Eckels proved a capable composer and arranger on "Upper Fargo," a technical workout with Bouffard demonstrating Pat Metheny-style tone and progressions with forward-leaning intensity. "The Newness of You," another Eckles original, was an obvious variation on "The Nearness of You," a soulful swinger with echoes of Mancini's "Pink Panther" theme. Haar laid down a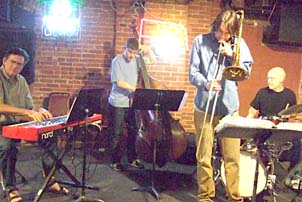 greasy, swaggering tenor solo reminiscent of Pete Christlieb. "April Mist" was a breezy Latin number that provided a nice platform for Helfand's imaginative percussion work.
Carlini's approach was more improvisational, with unusual key changes and harmonic variations, even on otherwise conventional standards, like "You Don't Know What Love Is," which the quartet treated as a bossa nova. Carlini's quirky creativity gave a funky shuffle beat to Fats Waller's venerable "Jitterbug Waltz" and re-located Kurt Weill's "September Song" to a New Orleans street parade.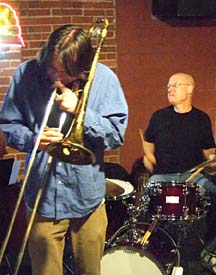 Scofield's percussion skills were on display throughout the evening, especially during an extended solo on the Miles Davis classic "Nardis," lively drum breaks on a mid-tempo rendition of Cole Porter's "I Love You," some slinky Latin syncopation on "Softly, As in a Morning Sunrise," and a little outside exploration on a typically twisted Carlini arrangement of "It Ain't Necessarily So." Van den Berg and Murphy, the juniors by a couple of decades, held their own despite the musical challenges that Carlini repeatedly introduced. The versatile keyboardist never settles for the merely conventional and revels in the unexpected, always with a mischievous glint in his eyes.
All performances sponsored by the Capitol Jazz Society, both Monday Night big bands and Wednesday night combos, are 7:30 p.m. to 10 p.m. General admission is $5, and student admission is just $4.
---
Jazz weather report for Lincoln and Omaha
By Tom Ineck
In an attempt to provide our readers—especially those who are also patrons of live music—with news they can use, this is the first edition of an ongoing series called Jazz Forecast, in which we will list upcoming performances in Lincoln, Omaha and beyond.
In addition to concerts by the Nebraska Jazz Orchestra and at the Lied Center for Performing Arts, we will include performances at the Holland Center and other venues in Omaha, plus the Lincoln Jazz Society schedule and some of the University of Nebraska-Lincoln recitals, especially those featuring special guest soloists. Let us know if there is other information you would like us to feature on this occasional jazz calendar.
Nebraska Jazz Orchestra
Cornhusker Marriott, 333 S. 13th St., Lincoln, 7:30 p.m.
Tuesday, Dec. 14
"Christmas & All That Jazz," featuring Melissa Lewis, vocalist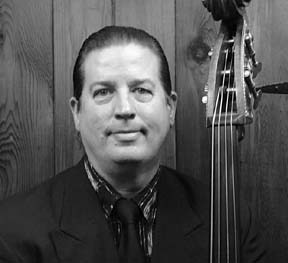 Friday, Feb. 18
"Live from New York," featuring Scott Robinson, woodwinds, and the 2011 Young Lions All-Star Band
Tuesday, April 26
"Ace of Bass: The Music of Jaco Pastorius," arranged by Peter Graves and featuring bassist Andy Hall and the 2011 Young Jazz Artist Winner
Lied Center for Performing Arts
301 N. 12th St., Lincoln, 7:30 p.m.
Saturday, Dec. 11
"Swingin' Bells of Christmas," featuring the Boston Brass and Brass All-Stars Big Band performing Stan Kenton jazz carols
Friday, Feb. 25
Branford Marsalis, saxophone, and Terence Blanchard, trumpet
Friday, March 18
Count Basie Orchestra
Friday, April 29
"Simply Sinatra," featuring vocalist Steve Lippia
Kiewit Hall (at the Holland Center)
1200 Douglas St., Omaha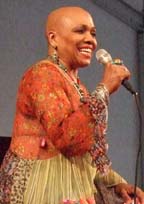 Friday, Nov. 19, 8 p.m.
"To Billie with Love—a Celebration of Lady Day," with vocalist Dee Dee Bridgewater
Saturday, Feb. 5, 8 p.m.
Jazz at Lincoln Center Orchestra with Wynton Marsalis
Thursday, April 14, 7:30 p.m.
Stefon Harris and Blackout
Club 1200 (at the Holland Center)
1200 Douglas St., Omaha, 8 p.m.
Saturday, Dec. 11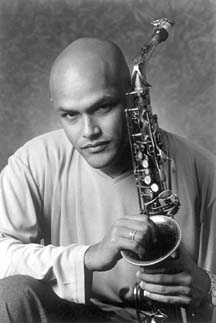 Sachal Vasandani, singer
Saturday, Jan. 22
Bonerama, funk band
Friday, Feb. 18
Julian Lage Group, jazz guitar
Saturday, Feb. 26
Karrin Allyson with the UNO Jazz Ensemble
Saturday, May 21
Miguel Zenon, saxophone
Capitol Jazz Society
Brewsky's Jazz Underground
201 N. Eighth St., Lincoln, 7:30 p.m.
Monday, Nov. 15
Monday Night Big Band
Dean Haist, director

Wednesday, Nov. 17
Marc LaChance Combo
Lincoln Jazz Series

Monday, Nov. 29
Nebraska Wesleyan University Jazz Ensemble
Special Event

Wednesday, Dec. 8
Group Sax
Lincoln Jazz Series
UNL Jazz
Sheldon Museum of Art or Westbrook Music Building
University of Nebraska-Lincoln City Campus
Tuesday, Dec. 7, 7:30 p.m., Sheldon Museum of Art
"Thad, Mel and the VJO," featuring Jazz Ensembles I and II, with guest soloist Scott Wendholt, Vanguard Jazz Orchestra trumpeter
Tuesday, Feb. 8, 7:30 p.m., Sheldon Museum of Art
UNL Jazz Faculty
Thursday, March 31, 7:30 p.m., Kimball Hall
Jazz Ensembles I and II with Ray Anderson, featured guest trombonist
Friday-Sunday, April 1-3
5th Annual Honor Jazz Weekend with Ray Anderson, featured artist
Friday, April 29, 7:30 p.m., Kimball Hall
"Tree Lines: The Music of Christine Jensen," Jazz Ensembles I and II with Christine Jensen, guest composer, and Ingrid Jensen, guest trumpet soloist
---
"We Always Swing" jazz series celebrates 16th
By Tom Ineck
Like the Berman Music Foundation in Lincoln, Neb., the "We Always Swing" Jazz Series of Columbia, Mo., is celebrating 16 years of promoting and presenting jazz music in the heartland. Both organizations also share a common purpose in jazz preservation and education.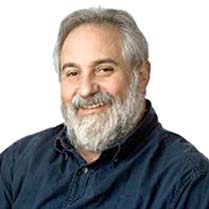 Founded in 1995 by jazz journalist Jon Poses, the not-for-profit corporation has maintained an annual series of concerts featuring world-class jazz musicians at various venues in the Columbia area, which is about 5½ hours drive from Lincoln.
The current season began Oct. 10 with two performances by the Tierney Sutton Band at Murry's jazz club. It continues Nov. 17 with the Alfredo Rodriguez Trio at The Columns Ballroom at the University Club in the Reynolds Alumni Center at the University of Missouri.
The Joey Calderazzo Trio—also featuring bassist Orlando le Fleming and drummer Donald Edwards—will give two performances Dec. 5 at Murry's, an intimate club and restaurant at 3107 Green Meadows Way. Calderazzo was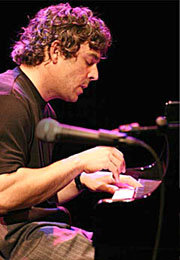 pianist in the Branford Marsalis Quartet for more than a decade, in addition to recording some 10 CDs as leader. The BMF plans to cover the 3:30 p.m. Sunday matinee and report on the concert in the January newsletter and website update.
Additional concerts in the series include a Feb. 1 appearance by bassist Stanley Clark and pianist Hiromi at The Blue Note, a Feb. 13 performance by the Ellis Marsalis Quartet in the Windsor Ballroom at the Holiday Inn Select, two shows Feb. 20 by trumpeter Ray Vega's Latin Jazz Quintet at Murry's, the Anat Cohen Quartet March 12 at The Blue Note, the Lynn Arriale Quartet featuring trumpet great Randy Brecker and the MU Concert Jazz Band April 7 at The Blue Note, two performances by the Danilo Perez Trio April 17 at Murry's, and two shows by husband-and-wife piano duo Bill Charlap and Renee Rosnes, May 1 at Murry's.
Due to poor health, 89-year-old piano legend Dave Brubeck had to cancel an Oct. 16 quartet performance at the Missouri Theatre Center for the Arts.
During the 2009-2010 season, artists included guitarist Pat Martino, bassist Christian McBride, singer Kurt Elling, Bobby Watson and Horizon, vibraphonist Stefon Harris, saxophonist Branford Marsalis, the Clayton Brothers Quintet and trombonist Conrad Herwig.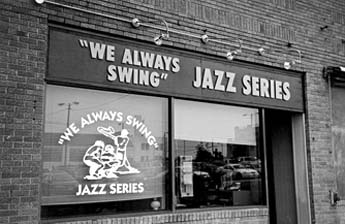 "We Always Swing" also has produced a couple of CDs, including "Home: Live in Columbia, Missouri," documenting a June 2009 house concert by pianist Bruce Barth and saxophonist Steve Wilson, and "Soulful Serendipity" with saxophonist Bobby Watson and the late pianist James Williams.
"We Always Swing" receives support for its jazz series operations from ticket revenue, the Missouri Arts Council, and the City of Columbia through the Office of Cultural Affairs' Commission for the Arts. Additional funding is secured from the National Endowment for the Arts and gifts from a variety of national, regional and local corporations and businesses, as well as through the generous tax-deductible contributions from individuals.
For more information, visit http://www.wealwaysswing.org.
---
The Evolution of Jazz Albums
By Dan DeMuth
The term "album" has been continuously used up to and through the latest recording technology to describe a collection or compilation of musical renderings. Endless discussions have revolved around various types of music as to who or what was the "first," serving no purpose other than to stir the passions of true aficionados who are into this type of thing. Which leads to the question: "What was the first jazz album?"
In a recent article in the National Endowment of the Arts Award Journal, and in Max Kaminsky's autobiography "My Life In Jazz," reference is made to a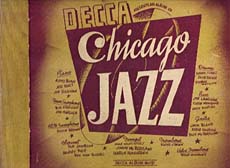 particular album. These sources credit the "Chicago Jazz" 78 rpm set produced by the fabled Milt Gabler, recorded by a variety of musicians from August 1939 through January 1940 and released on Decca album #121. Gabler, the proprietor of the Commodore Record Shop on 42nd Street in New York City, later became famous by producing artists for recordings on his own Commodore label that are still sought after by collectors. At the time this album was put together he was working as the A&R man for Decca. Despite the title, only four of the 12 sessions were recorded in Chicago, with the rest in New York. Three groups were used, their nominal leaders being Eddie Condon, Jimmy McPartland and George Wettling. The album includes:
Eddie Condon and his guitar:
"Nobody's Sweetheart/Friars Point Shuffle"
"Someday Sweetheart/There'll Be Some Changes Made"
These recordings feature Joe Sullivan on piano, Bud Freeman on tenor sax, Pee Wee Russell on clarinet, Max Kaminsky on trumpet, Brad Gowans on valve trombone, Clyde Newcomb on bass and Dave Tough on drums.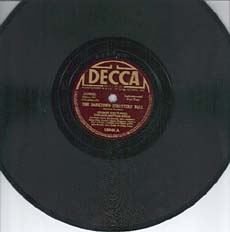 Jimmy McPartland's group:
"Jazz Me Blues/China Boy"
"Sugar/The World Is Waiting For The Sunrise"
This group is comprised of Floyd Bean on piano, Boyce Brown on alto sax, Bud Jacobson on clarinet, McPartland handling the trumpet with brother Dick on guitar, Jim Lannigan on bass and Hank Issacs on drums.
Drummer George Wettling's group:
"(I Wish I Could Shimmy Like My) Sister Kate/Bugle Call Rag"
"The Darktown Strutters Ball/I Found a New Baby"
This group features Jess Stacy on piano, Joe Marsala on tenor sax, Danny Polo on clarinet, Charlie Teagarden on trumpet, Floyd O'Brien on trombone, Jack Bland on guitar and bassist Artie Shapiro.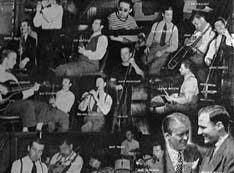 The inside cover features a nice photo montage of the various artists and includes a 12-page booklet with brief bios of each artist and reviewer notes and historical ruminations by critic George Avakian, who at the time was a writer for Tempo magazine and a member of the advisory board of the Hot Record Society. A brief quote from his notes may help to explain the thrust of the album as well as the era involved.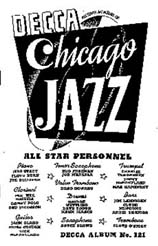 "The purpose of this album is to set down on wax once more a type of music played in the twenties by a small group of young white musicians in Chicago," Avakian writes. "What they played has come to be known as Chicago style and is recognized as the greatest advance of white musicians in the essentially colored art of hot jazz."
Lest too much is read into this comment, the reader should remember that at this time the references to the artist's race were more to delineate rather than denigrate the different styles and were actually a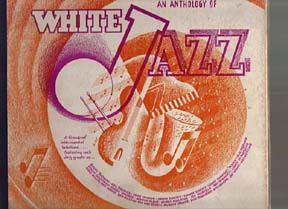 compliment to the black musicians. A later Decca album, "An Anthology of White Jazz," reinforces that statement.
So, first jazz album? I'm not sure. Perhaps the BMF resident hot jazz entrepreneur, Russ Dantzler, could weigh in on this. Regardless, it's amazing when one thinks of the tens of thousands that followed "the first."
---
Ahmad Alaadeen dies Aug. 15 at age 76
By Tom Ineck
We at the Berman Music Foundation received the news of Ahmad Alaadeen's death Aug. 15, at age 76, with great sadness. We last wrote about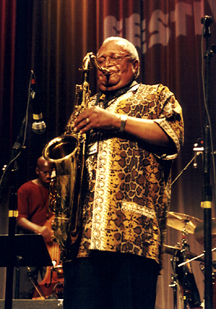 him in August 2009, on the publication of his jazz instruction manual, "The Rest of the Story," funded by the BMF. Grace Sankey-Berman attended the book-signing event in Kansas City, Mo., which also celebrated Alaadeen's 75th birthday.
The BMF's relationship with Alaadeen goes back to at least December 1998, when the foundation brought the saxophonist and educator to Lincoln for a series of workshops at the University of Nebraska-Lincoln School of Music. In August 1999, the BMF flew Alaadeen to New York City to play soprano sax on the title track of Norman Hedman's CD "Taken by Surprise," a part he nailed on the first take! Butch Berman also booked Alaadeen and his band at the 2005 Topeka Jazz Festival—for which Butch was artistic director—and a month later at the 2005 Jazz in June series in Lincoln.
Along the way, we reviewed two Alaadeen recordings, 2005's "New Africa Suite" and the 2008 collection of jazz ballads, "And the Beauty of It All," one of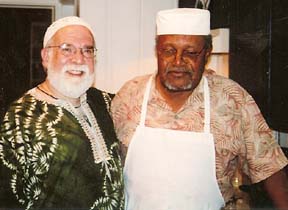 the last pieces written by Butch before his death on Jan. 31, 2008. Of Alaadeen and the CD, he wrote, "He's a beautiful cat, spiritual and a deep thinker whose musical talent has great healing potential as well as being most entertaining. Alaadeen captures what is most essential in the treasured art form we call jazz. I recommend it for lovers only, as it totally transcends from the heart into our systems, making us, the listeners, truly appreciate what 'the beauty of it all' is all about."
Of "New Africa Suite," I wrote at the time of its release, "On both tenor and soprano saxophones, Alaadeen's sound most closely resembles the African-influenced excursions of John Coltrane, Pharoah Sanders, Archie Shepp and other progressive players of the mid-1960s. Like Coltrane, Alaadeen's music contains a deep, warm current of spirituality and universal brotherhood."
A Kansas City native, Alaadeen studied flute at the Kansas City Conservatory of Music, and oboe at St. Mary's College and DePaul University. He served in the military from 1957 to 1959, performing as the jazz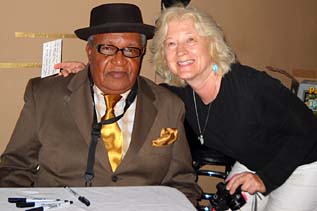 saxophonist and principle oboist with the 4th Army Band. After his discharge, Alaadeen spent time in Chicago, playing in a program led by pianist-composer Richard Abrams that was the beginning of the acclaimed Association for the Advancement of Creative Musicians (AACM). Other members included trumpeter Lester Bowie and bassist Malachi Favors.
The saxophonist picked up a lot of experience living and playing in New York, Chicago, Denver, Houston, San Antonio and St. Louis. In addition to McShann, he worked in countless settings, including stints with Miles Davis, Billie Holiday, Ella Fitzgerald, the Count Basie Orchestra, the Glenn Miller ghost band under the direction of Tex Beneke, Della Reese, Eddie "Cleanhead" Vinson, T-Bone Walker, Claude "Fiddler" Williams and with R&B stars Rufus Thomas, Carla Thomas, Gladys Knight, Smokey Robinson, the Temptations, Four Tops and Sam Cooke.
Alaadeen died after a long battle with bladder cancer. He is survived by his wife Victoria "Fanny" Dunfee.
---
2011 Jazz Cruise promises total immersion
By Tom Ineck
While covering almost every performance of the now-defunct Topeka Jazz Festival—which ran its course from 1998 to 2005—it became abundantly clear that total immersion is the best way to enjoy the live jazz experience.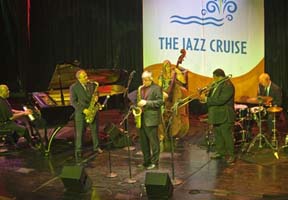 Every Memorial Day weekend dozens of world-class jazz musicians and hundreds of fans from around the world shared the same performance spaces, the same dining room tables and the same hotel, often bumping into each other in the lobby, in the parking lot or strolling on the sidewalks of downtown Topeka. After a while, you began to think of this captive audience—and these captive musicians—as part of a brotherhood and sisterhood, a close-knit fraternity that lacked only a secret handshake to confirm our exclusive status.
I still miss those experiences, but I hope to recreate an approximation of them on The Jazz Cruise, embarking Jan. 31 from Fort Lauderdale, Fla., and returning Feb. 6, a full week on the Caribbean with more than 50 world-class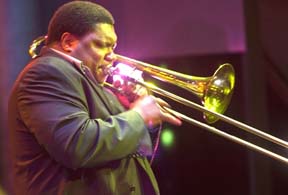 musicians aboard, many of whom were regulars in Topeka during the festival's golden years.
The 10th annual cruise has scheduled stops in Nassau, Bahamas; San Juan, Puerto Rico; St. Maarten, Netherland Antilles; and Half Moon Cay, Bahamas, with stays of 12 to 16 hours in each port of call, enough time to leave the Holland America ship on shore excursions to shop, see the sights, and recover your land legs. Two days will be spent at sea. Of course, this means we will have plenty of time on board, listening to jazz and visiting with fellow jazz buffs and musicians.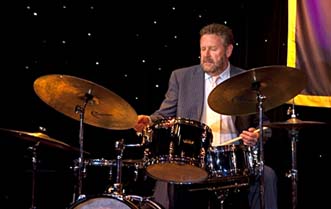 This brings me to the musicians who are booked for the cruise. Chief among them are groups fronted by saxophonists James Moody and Houston Person, trumpeter Randy Brecker, bassist John Clayton and saxophonist Jeff Clayton, singers Freddie Cole, Janis Siegel, Nnenna Freelon and Jamie Davis, drummers Lewis Nash, Jeff Hamilton and Tommy Igoe, and guitarist Bobby Broom, plus the George Wein Newport Jazz All-Stars.
But that's not all. Individual artists who will perform with others on the roster include reed players Harry Allen, Ken Peplowski, Wessell Anderson, Jon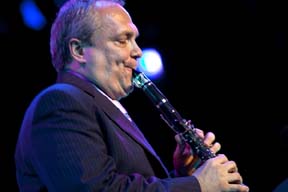 Gordon, Grant Stewart and Gary Smulyan, trumpeters Brian Lynch, Terell Stafford, Bob Millikan and Gilbert Castellanos, trombonists Wycliffe Gordon, John Fedchock, John Allred and Jennifer Wharton, guitarist Bucky Pizzarelli, pianists Shelly Berg and Bill Mays, singers Jane Monheit, Dena DeRose, Clairdee and Anita Rosamond, bassists Jay Leonhart, Tom Kennedy and Kristin Korb and drummers Butch Miles, Chuck Redd and Ernie Adams.
The mind boggles. Aside from the immense musical talent represented by this list of performers, the mere presence of George Wein on the ship is noteworthy. At 85, Wein is the foremost jazz impresario in the world and the father of the jazz festival tradition. A well-regarded pianist, he studied under the tutelage of Teddy Wilson at Juilliard. In 1950, he opened the jazz club Storyville in Boston, which eventually led to establishing the Newport Jazz Festival in 1954. In 1960 he launched Festival Productions Inc. Since then he has produced some 30 jazz festivals worldwide.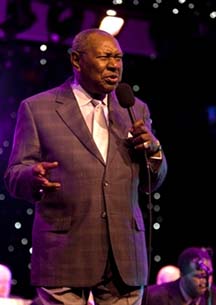 Concert and record producer Todd Barkan also will be among the guests. From 1972 to 1983, he was the owner and artistic director of the legendary Keystone Korner jazz club in San Francisco. Among the recordings made there is the classic "Bright Moments" by Rahsaan Roland Kirk. In all, he has produced more than 800 jazz recordings for labels in the U.S., Japan and Europe. Since October 2004, he has been the programming director for Dizzy's Club Coca-Cola at New York City's Jazz at Lincoln Center.
Comedy also is on the bill with the inclusion of hilarious jazz hipster Pete Barbutti on board. A versatile jazz musician, he is best known for his frequent appearances on the TV talk-show circuit, including more than a dozen times on "The Tonight Show" with Johnny Carson, as well as shows hosted by Jay Leno, David Letterman and Merv Griffin.
We booked a somewhat secluded rear stateroom on the Navigation Deck, the eighth deck of the 11-deck m/s Noordam. Just 254 square feet, the cabin features a queen-size bed, bathroom with tub and shower, a sitting area and a private verandah with floor-to-ceiling windows. Ergonomic design makes the most of every square inch of space. Jazz Cruise officials assured me that no deck was better than another for access to live jazz, with venues positioned throughout the ship. This promises maximum enjoyment with minimal effort!
At last check there were still 20 staterooms available. For more details, visit www.thejazzcruise.com. Expect a full report with lots of photos in our April 2011 newsletter and website update.
---
Editor's Note: At your request, we will mail a printed version of the newsletter. The online newsletter also is available at this website in PDF format for printing. Just click here: Newsletter
---