Chicago Jazz Festival celebrates 30 years
By Tom Ineck
CHICAGO, Ill.—Twenty years is a long time between trips to Chicago, and once again it took the Chicago Jazz Festival to get me headed north to the Windy City.
This year's 30th annual event was Aug. 28-31, with a special opening-night performance by Sonny Rollins and a closing-night finale by Ornette Coleman.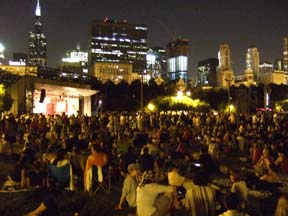 In between, a typically diverse array of jazz artists took the Petrillo Music Shell stage in Grant Park. Afternoon performances were scheduled at a smaller stage on nearby Jackson Street.
The city-sponsored jazz fest has always prided itself on a schedule that alternates mainstream jazz with the avant-garde. The lineup in 1988 also included Sonny Rollins and Ornette Coleman, in addition to Herbie Hancock, the Sun Ra Arkestra, Charlie Haden and his Liberation Orchestra, native sons—all saxophonists—Clifford Jordan, Johnny Griffin, Von Freeman and Ira Sullivan, and native daughter pianist Dorothy Donegan, among many others.
This year, the headliners ranged in age from the young East Indian jazz fusion keyboardist Vijay Iyer to the 90-year-old big band leader Gerald Wilson, whose performance featured a guest appearance by guitarist Kenny Burrell. Singer Dee Dee Bridgewater paid tribute to the late Betty Carter, and the Eddie Palmieri Latin Jazz Band stirred up a hot salsa of dance numbers. Trumpeter Dave Douglas paid respectful and aptly adventurous homage to the late Lester Bowie, who moved to Chicago in the mid-1960s and later founded the cutting-edge Association for the Advancement of Creative Musicians (AACM) and the Art Ensemble of Chicago.
One of the most vital and enduring traditions of the jazz fest is its commitment to new compositions. With help from the Chicago Jazz Partnership, the festival this year commissioned original works by four artists, including Saturday night headliners Iyer, Douglas and Wilson. The fourth was the 5 p.m. opening-day "Tribute to Captain Walter Dyett," in honor of the late educator who served as the mentor for so many of the city's great jazz artists.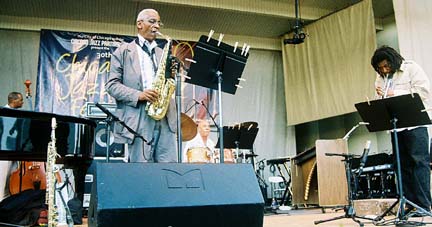 Having just arrived at my hotel room about the time that performance was in progress, I didn't arrive at the festival site until 6 p.m., just in time for another tribute. This one recognized the indisputable influence of the AACM and featured saxophonist Roscoe Mitchell, trumpeter Wadada Leo Smith, pianist Amina Claudine Myers, bassist Michael Logan and drummer Thurman Barker, who organized the quintet for this special appearance.
The quintet's style is best summed up in one word—intense. Myers attacked the keyboard with ferocious, percussive phrases. Mitchell, 68, belied his age with long alto sax solos that employ rotary breathing to an amazing degree.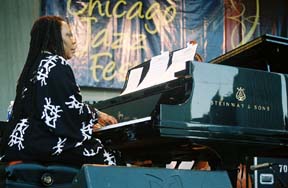 Trumpeter Smith and saxophonist Mitchell created a formidable front line, often playing in unison on long, through-written pieces, and then alternating lines in classic jazz dialogue.
Logan and Barker seldom played the time-keeping role of the traditional rhythm section. Instead, they wove intricate patterns around the others, defining the essence of group improvisation. Barker also doubled on marimba to great effect, lending an organic element to the overall sound. He combined that instrument, cymbals and drums in a moving piece he wrote for the late AACM drummer Steve McCall (1933-1989). Mitchell, in turn, took up the soprano sax to pay homage to late AACM bassist Malachi Favors (1927-2004).
The AACM tribute band eschewed stage banter, not even introducing the pieces by name, preferring to let the music speak for itself. It did, profoundly.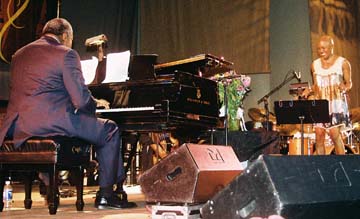 Like her mentor Betty Carter (1930-1998), Dee Dee Bridgewater always brings style and drama to her performances, both visually and musically. Possessing a virtuosic vocal range and an irresistible personality, she commands the stage and rivets the audience's attention. With a program devoted to Carter and a rhythm section comprised of Carter veterans, she delivered a spectacular concert.
Accompanying Bridgewater were pianist Mulgrew Miller, bassist Ira Coleman and drummer Winard Harper, all of whom were among the many young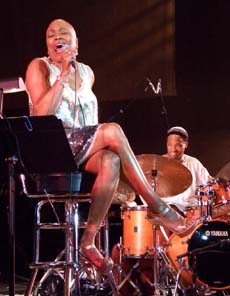 musicians who Carter famously hand-picked and nurtured during her career. The singer had herself been a close friend and student of Carter's, giving the tribute concert a sense of authenticity.
Among the early highlights was a very fast rendition of "What a Little Moonlight Can Do" and a scat-singing interlude during "There Is No Greater Love" in which Bridgewater mimicked a muted trumpet solo with unfettered glee. A resident of France for many years, she sang the standard "The Good Life (La Dolce Vita)" with the original French lyrics using Carter's arrangement. "Cherokee" had Bridgewater and Miller trading phrases in dazzling style. The band slowed to a ballad tempo for a rendition of "Spring Can Really Hang You Up the Most."
Bridgewater related her final phone conversation with Carter and her efforts to win the rights for the only "authorized" tribute show to her mentor. That served as an introduction to her take on Carter's most idiosyncratic and devilishly difficult number, the stop-and-start, elastic "Tight." After a couple of miscues, she sailed into the heart of the song, with the band admirably keeping pace, and confidently added the sequel, "Mr. Gentleman."
Finally, Bridgewater turned her attention to another gifted singer and iconoclast, Nina Simone (1933-2003). Her powerful rendition of Simone's classic "Four Women" led to a call to all women of color—"Yes, we can change!"—and a plea to vote for Barack Obama. It would not be the last time during the festival that an artist would endorse the Democratic candidate for president.
But there were no overt political messages in the infectious music of the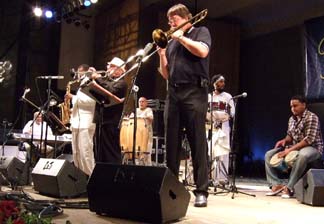 evening's closing act, the Eddie Palmieri Latin Jazz Band. Holding court from the piano bench, Palmieri displayed a perpetual glowing smile, evidence of his great love for this music and for Chicago.
Palmieri's current octet boasts the stellar front line of trumpeter Brian Lynch, tenor saxophonist Donald Harrison and trombonist Conrad Herwig, plus Luques Curtis on bass, Jose Claussell on timbales, Vicente "Little Johnny" Rivero on congas and Orlando Vega on bongos and cowbell. The mood was light and the playing was top-notch as they whipped through an hour-long set of rhythmic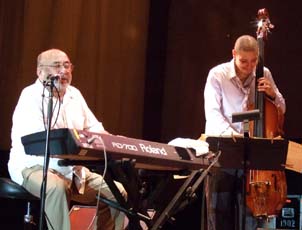 dance tunes and ballads, ending with the smoking, crowd-pleasing favorite, "Azucar," with somewhat unsteady vocals by the 71-year-old Palmieri.
Hoping to catch legendary guitarist Kenny Burrell fronting a rhythm section of Chicago's finest at the Jazz on Jackson stage, I hustled over to the festival grounds around 3:30 p.m. Saturday, only to find that Burrell had been replaced by trumpeter Brian Lynch. But, after witnessing his playing prowess with Palmieri the previous night, I was delighted to see him in a different format, with excellent accompaniment from pianist Willie Pickens, bassist Larry Gray and drummer Joel Spencer. After a half-hour in the sun-baked street, snapping photos in 90-degree heat, I fled for a cooling respite to the nearby banks of Lake Michigan, a welcome change of scenery for weary festival-goers.
The 5 p.m. performance at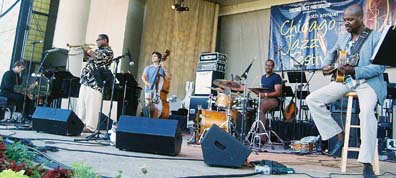 Petrillo Music Shell was the sextet of trumpeter Pharez Whitted, a native of Columbus, Ohio, who now directs the jazz studies program at Chicago State University. He was joined by Edwin Bayard on tenor sax, Bobby Broom on guitar, Ron Perrillo on piano, Dennis Carroll on bass and Kobie Watkins on drums. The group will release its debut CD next year, good news for those of us who think Whitted is deserving of more recognition. His style is akin to Freddie Hubbard's. Indeed, the trumpeter performed two Hubbard tunes, the funky "Mr. Clean" and the uptempo "Birdlike."
Commissioned to write a piece for the festival, pianist Vijay Iyer delivered "Far From Over," a seven-part suite inspired by the police shooting of Sean Bell in New York City and devoted to the potential change promised by a Barack Obama presidency. The title, Iyer noted, acknowledges that much work lies ahead in improving the lives of Americans at home and the status of the United States abroad.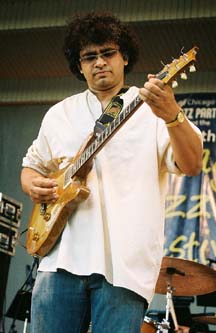 The performance also marked the debut appearance of Iyer's formidable quintet, which prominently featured guitarist Prasanna, whose style draws on the keening tone and leaping scales of the sitar. The band also includes trumpeter Ambrose Akinmusire, who won the 2007 Thelonious Monk Competition, bassist Stephan Crump and drummer Marcus Gilmore, the grandson of legendary bop drummer Roy Haynes.
Melding many musical influences, Iyer and company performed the movements of the suite—"Far From Over," "Optimism," "Out of the Tunnel," "Passage," "Actions Speak…," "Helix," and "Good on the Ground"—with assurance and technical proficiency, displaying stylistic elements of rock, jazz, folk and world music in a rhythmically complex tapestry of sound.
Douglas and his Brass Ecstasy ensemble contributed "Chicago Calling: Bowie, Barack and Brass," another outspoken, political call to action. Of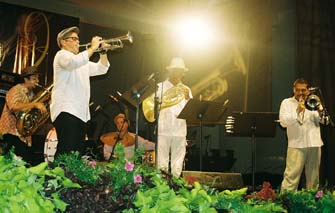 course, the band's name is a reference to Bowie's ground-breaking, mid-'80s outfit, Brass Fantasy. Douglas carries on—and extends—that tradition with help from Vincent Chancey on french horn, Luis Bonilla on trombone, Marcus Rojas on tuba and Ben Perowsky on drums.
The unusual format of four brass instruments and drums created beautiful harmonies and dynamics running the full range from Douglas' astounding trumpet flights to the lower regions of Rojas' tuba. Perowsky broadened his own palette by employing tuned bells and a second bass drum set up behind him, in addition to a standard drum kit. For emphasis, he would occasionally take up a mallet and pound the bass drum, creating a thunderous effect when combined with tuba.
The brass-heavy nature of the ensemble also allowed Brass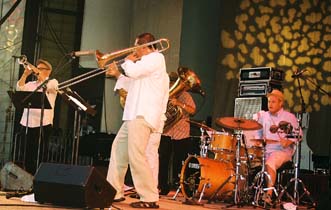 Ecstasy to approximate the polyphony of traditional New Orleans bands without sounding stodgy or old-fashioned. The trumpet soared, the trombone growled and the drums marched, but, as always, Douglas maintained an imaginative, progressive approach to the music.
In case anyone failed to get the political message of the suite, Douglas announced that it was dedicated to Nov. 4 (Election Day) and shouted "Yes, we can!" a sentiment echoed by many in the audience.
Finally, Douglas offered a tune specifically dedicated to Bowie that he wrote before the commissioned suite. Entitled "Glad to Meet You," it was performed as a soulful, slow-drag that had Douglas exhibiting some of the lip effects and breathing for which Bowie and Louis Armstrong are known.
The evening's closer was a joyous affair by the age-defying, nonagenarian big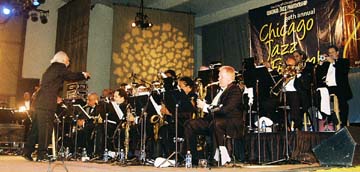 band leader Gerald Wilson. His commissioned piece was a long, somewhat disjointed suite called "Chicago Is." Again and again, it praised Chicago as "a beautiful place to be," citing its windy reputation, its history as a transportation hub, its blues roots and its many sports venues and sports fans.
Noting his tenure with Jimmie Lunceford and Count Basie, Wilson began with a tune he wrote for Basie in the late 1940s. An animated conductor, Wilson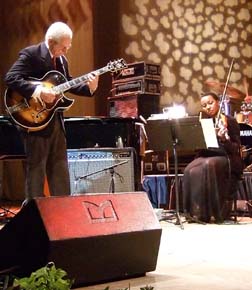 energetically led the band through the swinger, which included excellent solos by Winston Byrd on trumpet, Yvette Devereaux on violin, and Louie Spears on bass.
On several tunes, his 18-piece, Los Angeles-based orchestra was augmented by legendary guitarist Kenny Burrell. He made his entrance on "Theme for Monterey: Romance," part of a suite commissioned by the Monterey Jazz Festival in 1997. Wilson humorously dedicated it to lovers of all kinds, proceeding to number all the possible combinations. Burrell also was featured on "Viva Tirado," an bluesy Latin tune from the recent collaboration between Wilson and the guitarist. Sans Burrell, the band followed up with "Triple Chase," an old flag-waving favorite.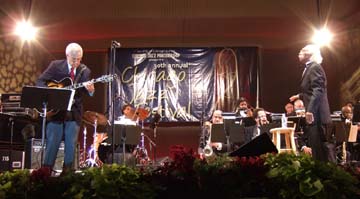 Pianist Brian O'Rourke, who has been with Wilson for 15 years, performed the introduction to "Chicago Is." Burrell returned to deliver the very romantic melody, accompanied by powerful brass voicing, and an outstanding guitar solo. "Blues Triangle" and "Blowing in the Windy City" brought the suite to its conclusion, after which festival officials wheeled a giant cake to the stage's edge and sang "Happy Birthday" to the grateful bandleader, who was born Sept. 4, 1918. A few days early, it was nevertheless a fitting end to an amazing day of music.
In keeping with the festival's pledge to celebrate jazz in all its diverse forms, the final evening was arguably the most adventurous of all, beginning with the iconoclastic Instant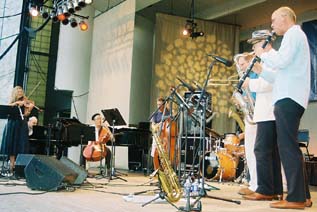 Composers Pool Orchestra, a Dutch outfit with roots in the early 1960s, when pianist Misha Mengelberg coined the term "instant composition," as opposed to the much-maligned concept of "free improvisation."
Like Chicago's AACM, the ICP has had rotating personnel but still includes Mengelberg and original drummer Han Bennink. The current 10-piece ensemble also includes Ab Baars, Tobias Delius and Michael Moore on clarinets and saxophones, Thomas Heberer on trumpet, Wolter Wierbos on trombone and a string sections comprised of Mary Oliver on violin and viola, Tristan Honsinger on cello and Ernst Glerum on bass. Together, they create a very unique sound, often beginning with cacophonous interplay that somehow evolves into a familiar jazz standard. Indeed, in its 35-year recording history, the ICP has covered many tunes by Duke Ellington, Thelonious Monk and Herbie Nichols, but never in a way that could be considered conventional or predictable. Viva le difference!
A musical mainstay in Chicago since 1985, the loose-knit 8 Bold Souls has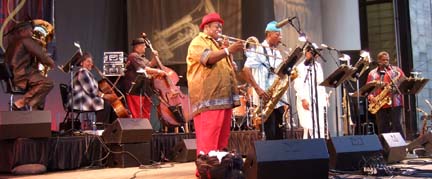 never received the recognition they deserve for their genre-leaping compositions and extraordinary group interplay. With only four recordings in the last 20 years—most recently in 2000—it was a rare treat to hear them in action.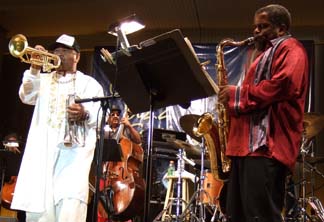 The octet is led by multi-reed specialist Edward Wilkerson Jr., the festival's 2008 Artist-in-Residence, and boasts some of the Windy City's most talented and innovative players—Mwata Bowden on reeds, Robert Griffin on trumpet, Isaiah Jackson on trombone, Aaron Dodd on tuba, Naomi Millender on cello, Harrison Bankhead on bass and Dushun Mosley on drums. The festival appearance also featured special guest vocalist Dee Alexander, herself an area favorite.
Wilkerson speculated that the "definable Chicago sound" is perhaps due to the city's wind, the cold weather or the smell of the stockyards. 8 Bold Souls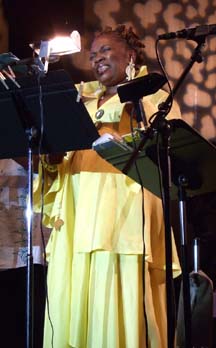 undoubtedly are linked to Chicago's blues roots, but not in any conventional, 12-bar sense. The tune "Autumn of the Patriarch" sounded like a modified tango.
Flaunting their versatility, Wilkerson moved easily from tenor sax to alto sax so clarinet to soprano sax, while Griffin took up both trumpet and flugelhorn, first alternating the two, then playing both simultaneously. Bowden doubled on baritone sax and clarinet.
Alexander joined the band for the gospel-tinged "I Can Fly," and deftly scatted her way through the boppish "What the Heck," displaying a broad range, both vocally and stylistically. A swaggering funk tune completed the set with Wilkerson on tenor. The four-horn front line, with additional heft from the tuba, created a brawny sound.
High anticipation notwithstanding, the average listener could not have been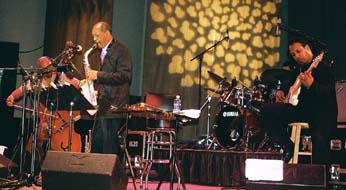 adequately prepared for Ornette Coleman's festival-closing set. The 78-year-old, free-jazz icon did not disappoint those who expected the unexpected. It began when Coleman's announced entrance was delayed by several minutes while the rest of his quartet stood waiting on stage. It soon became apparent that the band leader had misplaced his horn. Stage hands scurried until it was found and taken to him.
Coleman's most recent release, "Sound Grammar," was his first in a decade and, as though in recognition that his music still is relevant, it won the 2007 Pulitzer Prize and inspired a tour by the "Sound Grammar" quartet, consisting of Coleman along with acoustic bassist Tony Falaga, electric bassist Al MacDowell and drummer Denardo Coleman, the leader's son and longtime percussionist.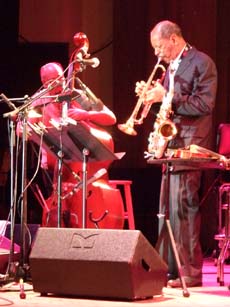 Never one for idle chit-chat, Coleman remained silent throughout the set, without a word of introduction for the tunes. He switched, seemingly at random, from alto sax to trumpet to violin, as the others followed his every whim. MacDowell was especially effective as he played his four-string Fender in the upper register, creating a dynamic contrast with Falanga's groaning upright bass.
On a bluesy tune, the acoustic bass and drums kept things grounded as Coleman pitted his alto sax against the electric bass in counterpoint. The basses then joined in unison as an introduction to Coleman's solo statement. Falaga began another tune with bowed bass in a baroque style, while Coleman moved from violin to trumpet to alto sax against the classical pattern. Yet another tune was a folk ballad with a gorgeous bowed-bass melody that was abruptly interrupted by Coleman trumpet squeaks and blats and alto sax squawks.
As the set came to an end, fireworks went off over Lake Michigan, not for the festival but for a nearby ball game. Even so, it seemed a fitting end to a sonically explosive and stylistically kaleidoscopic festival.
---