Joey Calderazzo Trio in Columbia, Mo.
January 2011
Feature Articles
Music news, interviews, memorials, commentary
BMF travels to Columbia for Calderazzo Trio
By Tom Ineck
COLUMBIA, Mo.—Revisiting this progressive Midwest college town after an absence of 15 years was a holiday celebration not to be forgotten. We last spent a couple of days here ringing out 1995 and ringing in 1996 with a stay culminating on New Year's Eve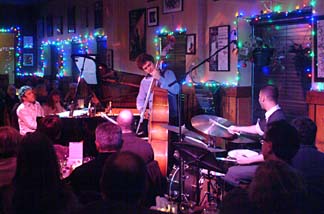 with a "First Night" series of performances at various venues in downtown Columbia. It was the 16th anniversary of the "We Always Swing" jazz series that brought us back, specifically for a Dec. 5 matinee performance by the Joey Calderazzo Trio.
My wife, Mary Jane Gruba, and I were joined by our good friends John Nollendorfs and Jutta Stuart for a weekend exploring several fine dining establishments and some area history, in addition to the stimulating music. A skilled photojournalist, John was pressed into service documenting Calderazzo's appearance at Murry's restaurant and jazz lounge, as you can see from the fine photos that accompany this story.
Leaving Lincoln after lunch on Saturday, we barreled southward down I-29 to Kansas City, then eastward on I-70, reaching our destination in about five hours. After settling in at the La Quinta, we headed downtown to find a decent eatery. We hit the jackpot at the very popular Flat Branch brewpub, 115 S. Fifth St., where the 30-minute wait for a table was well worth it. Esquire magazine rightly named this establishment one of the best bars in America. Among the excellent dishes we tried were the Mediterranean grilled salmon and the stout buffalo meatloaf sandwich. Of course, we also sampled some excellent home brews.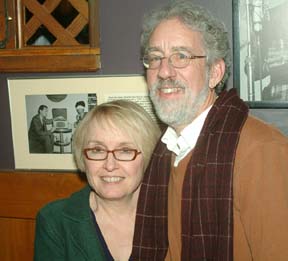 Sunday morning found us back downtown, this time for breakfast at a funky little art deco diner called Ernie's Café & Steakhouse, 1005 E. Walnut St. It's a crowded "old school" eatery where you may have to share a table with a stranger and your coffee cup will never be empty. I wolfed down a delightful omelet.
Ready to sample some local history, we sought out the Boone County Museum and adjacent Maplewood House, which are off the beaten path in historic Nifong Park. Free and open to the public every Sunday afternoon, the museum houses the usual artifacts of rural Midwestern life in an informal setting overseen by friendly volunteers. The real treat was just a short walk away at the Maplewood, where actors in historic garb re-created the post-Civil War household of Slater and Margarette Lenoir, their daughter, Lavinia Nifong, and her husband, Dr. Frank Nifong. Along with other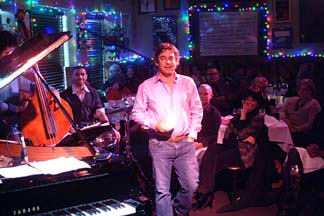 visitors, we toured the dozen rooms of the stately, red-brick Italianate manor home and conversed with its well-rehearsed "inhabitants." The house was restored after the Nifongs died in the 1950s.
Returning from the imaginary world of the late-19th century, it was time for the main event, a 3:30 p.m. performance of modern jazz at Murry's. The cozy venue, which is tucked away in a strip mall at 3107 Green Meadows Way, was festively decked in holiday lights and tinsel for the occasion. Like some of the best jazz clubs in the country, Murry's combines great live music with equally appealing food, service and ambience.
By the way, everything on the a la carte menu is reasonably priced and it includes such tantalizing dishes as New York strip steak, filet mignon, salmon, chicken, pastas, sautéed artichoke hearts, assorted soups, sandwiches, salads and dynamite desserts.
The room was nearly full for the matinee and the anticipation was palpable as pianist Joey Calderazzo, bassist Orlando Le Fleming and drummer Adam Cruz took the stage. A fiery post-bop dynamo, Calderazzo amazes with his confident keyboard attack and non-stop, melodic variations.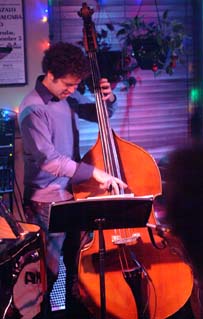 In a recording career spanning more than 20 years, the 45-year-old pianist has nine releases as a leader. A decade ago he replaced the late Kenny Kirkland as Branford Marsalis's pianist of choice, and he got his start with another legendary saxophonist, Michael Brecker, appearing on Brecker's 1988 album "Don't Try This at Home."
We knew of his technical skills, but his mischievous grin, gnomish stature and brash sense of humor were unexpected. At one point, he hilariously bemoaned the life of a jazz musician, detailing the air-travel snafus that led to an exhausting stay in Kansas City for what he described as a disastrous performance and workshop on the previous day, and emphasizing how lucky we were that he had since gotten eight hours of sleep.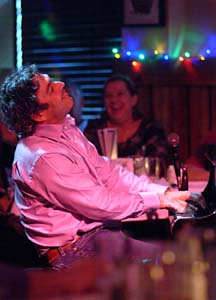 The trio began with a lively exchange on a work-in-progress, tentatively titled "Orlando's Moving to Orlando." Not surprising, the tune prominently featured native Brit bassist Le Fleming, an imaginative player who for three years accompanied singer Jane Monheit. With a nod to the holiday spirit of the occasion, Calderazzo began the next tune with a solo introduction quoting "The Christmas Song," eventually shifting to waltz time and inviting the participation of Le Fleming and Cruz on an extended version of Keith Jarrett's lovely tune "Rainbow."
Calderazzo's playing turned playful for an unusual interpretation of "How High the Moon" that freely quoted other jazz standards and spotlighted Cruz on a series of percussion breaks. Again the pianist used the familiar changes of "The Christmas Song,"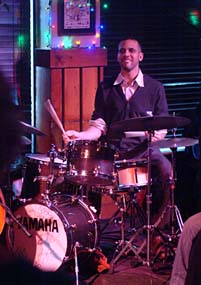 this time to introduce "The Meaning of the Blues." Just to make things interesting, the band gave the tune a Latin twist.
Likewise, they developed a new take on Charlie Parker's "Confirmation," which began with bass and drums and eventually applied a New Orleans street beat to the mix. While quoting "Jingle Bells," "Rudolph the Red-Nosed Reindeer" and a few more seasonal favorites, Calderazzo did some Jarrett-like harmonic exploration before bringing the 90-minute performance to a close, leaving the audience hungry for more.
"We Always Swing" founder Jon Poses was in attendance, justifiably proud of the organization's 16-year history of bringing world-class jazz to Columbia and collaborating with such ideal live venues as Murry's. Keep up the great work, Jon!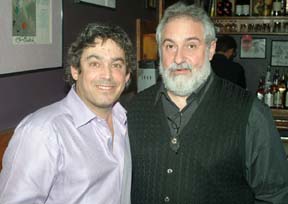 The "We Always Swing" 2010-2011 season continues Feb. 1 with bassist Stanley Clarke and pianist Hiromi, Feb. 13 with the Ellis Marsalis Quartet, Feb. 20 with the Ray Vega Latin Jazz Quintet, March 12 with the Anat Cohen Quartet, April 7 with the Lynne Arriale Quartet featuring trumpeter Randy Brecker and the MU Concert Jazz Band, April 17 with the Danilo Perez Trio, and May 1 with pianists Bill Charlap and Renee Rosnes.
For more information and to purchase tickets, visit www.wealwaysswing.org.
---
Jazz weather report ventures farther afield
By Tom Ineck
LINCOLN, Neb.—Like many other things, the live jazz scene here goes on holiday for much of December and January, at least until the University of Nebraska is back in session. But in this second edition of our quarterly Jazz Forecast column, we would like to point out a few area shows worth attending in upcoming months. While the emphasis remains on Lincoln and Omaha, we will also suggest venues and events farther afield, most notably Kansas City.
Let us know if you have any calendar events you would like us to feature.
Nebraska Jazz Orchestra
Cornhusker Marriott, 333 S. 13th St., Lincoln, 7:30 p.m.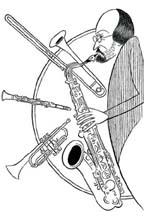 Friday, Feb. 18
"Live from New York," featuring Scott Robinson, woodwinds, and the 2011 Young Lions All-Star Band
Tuesday, April 26
"Ace of Bass: The Music of Jaco Pastorius," arranged by Peter Graves and featuring bassist Andy Hall and the 2011 Young Jazz Artist Winner
Lied Center for Performing Arts
301 N. 12th St., Lincoln, 7:30 p.m.
Friday, Feb. 25
Branford Marsalis, saxophone, and Terence Blanchard, trumpet
Friday, March 18
Count Basie Orchestra
Friday, April 29
"Simply Sinatra," featuring vocalist Steve Lippia
Capitol Jazz Society
Brewsky's Jazz Underground
201 N. Eighth St., Lincoln, 7:30 p.m.
Monday, Jan. 31
Monday Night Big Band
Pete Madsen, director

Wednesday, Feb. 2
Dueling Trombones (Pete Madsen and Marc LaChance)
Lincoln Jazz Series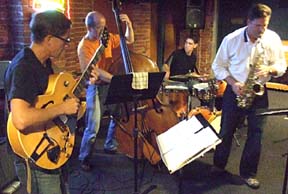 Wednesday, Feb. 16
Peter Bouffard Jazz Group
Lincoln Jazz Series
Monday, Feb. 21
Monday Night Big Band
Marc LaChance, director
Monday, Feb. 28
Monday Night Big Band
Brad Obbink, director
Monday, March 7
Monday Night Big Band
Dean Haist, director
Wednesday, March 9
Capital City Dixieland Preservation Society Jazz Band
Lincoln Jazz Series
Monday, March 14
Monday Night Big Band
Bob Krueger, director
Monday, April 4
Monday Night Big Band
Jeff Patton, director
Wednesday, April 6
UNL Jazz Combo
Lincoln Jazz Series
Monday, April 11
Monday Night Big Band
Dean Haist, director
Wednesday, April 20
Nebraska Wesleyan University Jazz Ensemble
Special Event
UNL Jazz
Sheldon Museum of Art or Westbrook Music Building
University of Nebraska-Lincoln City Campus
Tuesday, Feb. 8, 7:30 p.m., Sheldon Museum of Art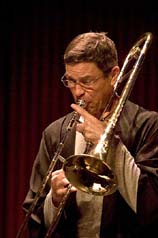 UNL Jazz Faculty
Thursday, March 31, 7:30 p.m., Kimball Hall
Jazz Ensembles I and II with Ray Anderson, featured guest trombonist
Friday-Sunday, April 1-3
5th Annual Honor Jazz Weekend with Ray Anderson, featured artist
Friday, April 29, 7:30 p.m., Kimball Hall
"Tree Lines: The Music of Christine Jensen," Jazz Ensembles I and II with Christine Jensen, guest composer, and Ingrid Jensen, guest trumpet soloist
Kiewit Hall (at the Holland Center)
1200 Douglas St., Omaha
Saturday, Feb. 5, 8 p.m.
Jazz at Lincoln Center Orchestra with Wynton Marsalis
Thursday, April 14, 7:30 p.m.
Stefon Harris and Blackout
Club 1200 (at the Holland Center)
1200 Douglas St., Omaha, 8 p.m.
Saturday, Jan. 22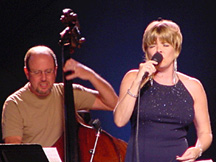 Bonerama, funk band
Friday, Feb. 18
Julian Lage Group, jazz guitar
Saturday, Feb. 26
Karrin Allyson with the UNO Jazz Ensemble
Saturday, May 21
Miguel Zenon, saxophone
Folly Theater
300 W. 12th St., Kansas City, Mo., 8 p.m.
Friday, Feb. 11
Ellis Marsalis Quartet
Friday, March 4
Arturo Sandoval
Saturday, April 2
Joe Lovano "Us Five"
Saturday, May 7
Karrin Allyson
Gem Theater
1616 E. 18th St., Kansas City, Mo., 8 p.m.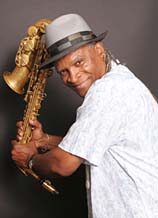 Saturday, Jan. 22
Dave Holland Quintet
Friday, Feb. 4
Bobby Watson & Horizon
Friday, March 25
Dianne Reeves
Saturday, April 16
Terence Blanchard
Saturday, May 21
Jonathan Butler
---
2010 brought the passing of many jazz greats
By Tom Ineck
Every year brings news of the demise of great jazz artists and other monumental figures in the arts, some dying long before they have achieved their mythical three score and ten years and others after reaching an advanced age. But 2010 was especially sad for those of us at the Berman Music Foundation as we lost several friends who also were timeless creators of this music we know as jazz. Three others also are honored here. Coincidentally, their career paths occasionally converged at the same time and place.
The year had barely begun when we learned of the death of pianist Jane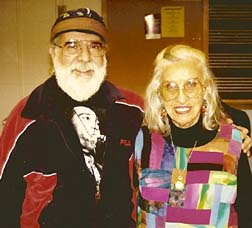 Jarvis, who died Jan. 25 at the Lillian Booth Actors' Home in Englewood, N.J. She was 94. The Berman foundation brought Jarvis to the attention of jazz fans in Lincoln, Neb., in 1997, when she appeared at the Zoo Bar with saxophonist Benny Waters, who was 95 at the time. Jane, then a relatively young and sprightly 81, conducted master classes with students at the University of Nebraska-Lincoln and at Park Middle School in Lincoln. In October 1999, she returned to the city with trombonist Benny Powell and bassist Earl May for a benefit performance at the Cornhusker Hotel, funded in part by the BMF. Way back in 1997 we reviewed her CD "Jane Jarvis Jams."
Benny Powell died on June 26 at age 80. The trombonist was also a fine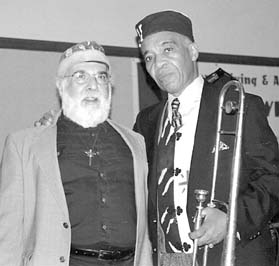 vocalist of great sensitivity. That night in 1999 when he shared the spotlight with Jarvis and May, he sang the Jarvis composition "I'll Make it This Time," a tune the pianist wrote for a Broadway production. Later in the evening, Powell used his trombone to state the melody of the Jarvis-penned tearjerker "Here Lies My Love," another tune written for the stage. Powell summed up the poignancy of the evening (and of aging) in his vocal rendering of "For All We Know."
Longtime BMF friend Ahmad Alaadeen died Aug. 15, at age 76. We last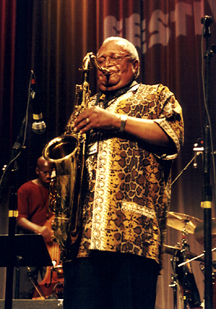 wrote about him in August 2009, on the publication of his jazz instruction manual, "The Rest of the Story." The book-signing event in Kansas City, Mo., also celebrated Alaadeen's 75th birthday. The BMF's relationship with Alaadeen goes back to at least December 1998, when the foundation brought the saxophonist and educator to Lincoln for a series of workshops at the University of Nebraska-Lincoln School of Music. In August 1999, the BMF flew Alaadeen to New York City to play soprano sax on the title track of Norman Hedman's CD "Taken by Surprise." Butch Berman also booked Alaadeen and his band at the 2005 Topeka Jazz Festival—for which Butch was artistic director—and a month later at the 2005 Jazz in June series in Lincoln. Over the course of the years we reviewed Alaadeen's "New Africa Suite" in 2005 and "And the Beauty of It All: Ballads" in 2008.
To these illustrious artists whom we pay homage we would add several other jazz greats whose work we have written about over the years—singer Abbey Lincoln, pianist Hank Jones and saxophonist James Moody.
Anna Marie Wooldridge, also known as Abbey Lincoln, died Aug. 14, a week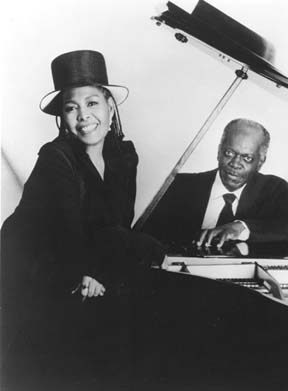 after her 80th birthday. A dramatic singer with a style all her own, she also wrote the music and words to many poignant and personal songs over the course of some 20 recordings, especially a string of releases on Verve Records in the 1990s and early 2000s. Her final release was 2007's "Abbey Sings Abbey," in which she put her indelible stamp on a collection of originals. She is also remembered by those of us at the BMF as the inspiration for Kendra Shank's marvelous "A Spirit Free: Abbey Lincoln Songbook," released in 2007. Lincoln was a friend and mentor of Shank, who performed many of the tunes from that CD at a 2007 Jazz in June quartet appearance. Lincoln also recorded a 1993 duet release with Hank Jones called "When There Is Love."
In his very active 91 years, Hank Jones did it all and continued to be busy until the end, which came on May 16. Oldest of the legendary, Detroit-based Jones brothers that also included trumpeter Thad and drummer Elvin, Hank toured in territory bands while still in his teens, then moved to New York to join the band of trumpeter Hot Lips Page. Equally adept at bop, stride, or swing styles, he recorded with Charlie Parker, accompanied Ella Fitzgerald for five years and was a staff pianist for CBS. In recent years, the prolific Jones had two wonderful releases on Lineage Records co-led with saxophonist Frank Wess and comically entitled "Hank and Frank" and "Hank and Frank II." We last wrote about Jones in a glowing review of his 2008 Justin Time collaboration with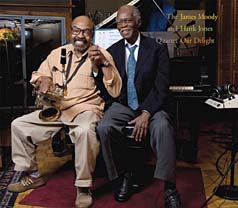 fellow keyboard master Oliver Jones (no relation) called "Pleased to Meet You." We also reviewed "Our Delight," the 2006 release on IPO Recordings by the James Moody and Hank Jones Quartet, with bassist Todd Coolman and drummer Adam Nussbaum.
Moody was 85 years old when he died of pancreatic cancer Dec. 9. The bop saxophone pioneer was also a comic genius who shared the stage for many years with fellow jazz giant Dizzy Gillespie. Born in Savannah, Ga., in 1925, he performed and recorded during seven decades, beginning in the 1940s and ending with several superb releases on the IPO. Most recently, we reviewed "4B," the second CD taken from sessions recorded in 2008 with a quartet also featuring pianist Kenny Barron, bassist Todd Coolman and drummer Lewis Nash. I had hoped to see Moody perform during The Jazz Cruise, embarking Jan. 30 from Fort Lauderdale for a week in the Caribbean. He was to be the cruise's most prominent headliner. Instead, he will be honored by his peers in his absence. Expect details on the Moody tribute in our April newsletter.
The passing of these six jazz masters in single year is made somewhat less tragic by the fact that they all had long, productive lives creating beautiful music for all of us to enjoy. That music continues to enrich our lives in the many recordings they left behind.
---
How jazz saved the honeymoon
By Tony Rager, BMF Trustee
Happy New Year!
Our faithful editor, Tom Ineck, has been asking me for several months if I would like to do an article for the "next" newsletter. Every month I tell him I will get him one and every month he kind of smiles, knowing that he probably won't see one… again. Well, I've finally got it done, Tom!
As most of you know, my articles may contain important updates, but generally they are about as exciting as a washing machine instruction manual. So I thought in addition to the usual "Foundation Update," I would also start a new section I like to call "Butch Stories." We lost Butch three years ago, but I know when I get a chance to talk with those that knew him, everyone always has a great Butch story. I have a few of my own, so if you don't mind, periodically, I thought I would take a walk down memory lane. There are several stories we cannot print in a family publication and in some instances, names will be changed to protect the innocent.
Foundation Update (the dry, but important stuff)
The down economy has taken a bit of a toll on the Berman Music Foundation assets. As a result, in 2011 we are going to scale back on our grants and sponsorships. We will still provide a few grants with various groups, including the Nebraska Jazz Orchestra, Capital Jazz Society and Lincoln's Symphony Orchestra, and Tom will write about those projects as they get closer. We will also continue to work with artists whenever we get the right opportunity. Our most important project is, and will continue to be, our newsletter.
How Jazz Saved the Honeymoon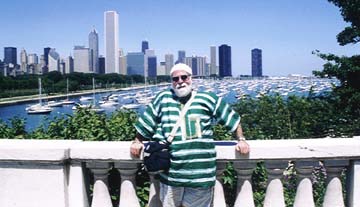 I had worked with Butch since 1993. As many of you know, he came to rely on us to help him with almost all aspects of his life. In 2003 when Butch asked Grace to marry him, we—of course—became very involved. Kay Davis, one of our current consultants to the BMF board, helped to plan all aspects of the wedding. Kay and Grace (and Butch) did an excellent job and the May wedding was beautiful and the reception was the best. Grace had several family members from Nigeria and it was an exciting and special time.
Later that summer, when things had calmed down, Butch agreed to try to fly to Chicago for their honeymoon. By 2003 I had pretty much given up on any chance of Butch ever flying again. He hated to fly and I can't remember how many airline tickets we purchased that we ultimately did not use. Prior to 2003, the last time that Butch attempted to fly he made it all the way to the airport and was checked in waiting for the plane. The flight got cancelled for mechanical reasons… apparently a door fell off. Butch took that as a sign that he was never, ever supposed to fly again.
Well, Grace convinced Butch that a trip to Chicago for their honeymoon would be the perfect chance to try flying again. It was just a short, nonstop flight from Lincoln. No problems, right? I think Butch packed almost everything that he owned (he was used to traveling by train). I drove them to the airport and noticed that Butch was very nervous and he said he was concerned about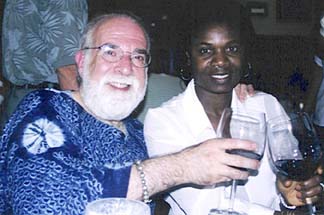 going through security. He wanted me to wait while they went through. I told him not to worry and everything would be fine.
As I was watching from below and Butch started going through security, he got pulled to the side and they started going through his carry-on luggage. I was thinking, "Butch, what did you pack?" I saw them take him further away and figured in the post-9/11 world I had no chance whatsoever of getting in to see what was going on, so I headed back to the office to wait for the phone call to come get Butch out of jail. The call never came.
I was getting very nervous when a couple of hours later I received a call from Butch… in Chicago. He said the flight was fine and he was ready for the honeymoon to begin. Of course, I had to know what happened at the airport. Apparently, Butch had packed his brass knuckles in his carry-on luggage. The airline could have refused to allow them to board even after they took away the brass knuckles, but the security agent recognized Butch from Jazz in June and vouched for him. And that is how jazz saved the honeymoon.
Hope you all have a great year and may the music never end...
---
Plans to commemorate Butch three years later
By Tom Ineck
As I related in the last "Tomfoolery" column, the upcoming Jazz Cruise, embarking Jan. 30 from Fort Lauderdale aboard Holland America's m/s Noordam, hearkens back to the halcyon days of the Topeka Jazz Festival, when Butch Berman and an entourage of Berman Music Foundation reporters, photographers and friends headed south every Memorial Day weekend to cover the event. After eight years of constant financial struggles—ending in 2005 with Butch himself serving as music director of a festival doomed to failure—it folded with great sadness and regret. An era had ended.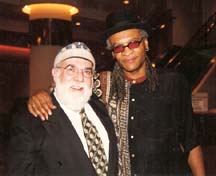 Of course, another era ended with the death of Butch Berman on Jan. 31, 2008. As the third anniversary of his passing approaches, I look forward to The Jazz Cruise as another opportunity to pay homage to his memory. I am thankful that the BMF has been able to carry on Butch's legacy with some degree of the same enthusiasm he possessed. The BMF continues to promote, preserve, protect and present great American music with grants to like-minded organizations, and we continue to acknowledge the importance of this music by covering live performances and reviewing the latest recordings.
During the weeklong cruise, I will have ample time and occasion to remember and emulate Butch's boundless joy as he listened to great music, especially as it was being created in spontaneous performances. Similar to those three-day jazz parties in Kansas, the 10th annual Jazz Cruise will gather dozens of world-class musicians to share stage time, often in new and interesting combinations. Like the Topeka festival, it will spotlight the music in informal performances, and audience members will be able to visit with musicians during their off time, in what amounts to a captive jazz community. It is the kind of relaxed, intimate setting that Butch would have loved.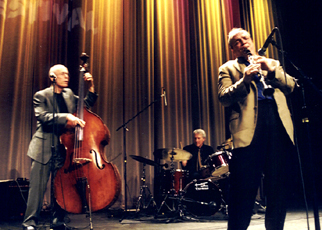 Many of Butch's favorites will be there. Of the 50-some musicians who will be on the cruise, at least a dozen also appeared at the Topeka fest—reed players Ken Peplowski and Jeff Clayton, trumpeter Terell Stafford, trombonists Wycliffe Gordon and John Allred, guitarist Bucky Pizzarelli, pianists Shelly Berg and Bill Mays, bassists John Clayton and Jay Leonhart, and drummers Jeff Hamilton and Butch Miles. You can expect a full written report in our April newsletter and website update, although photo access will be restricted during performances.
While most of the action will be on board the 11-deck ship, with live music venues positioned throughout, we also will make brief stops at four ports of call—Nassau in the Bahamas for eight hours, San Juan in Puerto Rico for 10 hours, St. Maarten in the Netherlands Antilles for eight hours, and Half Moon Cay in the Bahamas for eight hours. Inevitably, there are also two days at sea between ports, Tuesday, Feb. 1 and Friday, Feb. 4.
Butch will certainly be in my thoughts on our first day out (Monday, Jan. 31), but I also plan to pay special homage to his memory on that Friday at sea, when I will be the exact age he was when he died (he was three years and four days older). The setting certainly will be conducive to reinforcing Butch's hope—and that of the BMF—that the music will never end.
Here's to you, Butch!
---
Editor's Note: At your request, we will mail a printed version of the newsletter. The online newsletter also is available at this website in PDF format for printing. Just click here: Newsletter
---