for another BMF concert in Lincoln

By Tom Ineck

Early in its history, the Berman Music Foundation took an interest in trumpeter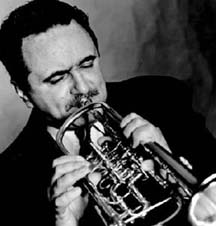 Claudio Roditi, bringing him to Lincoln for a performance with saxophonist Greg Abate in February 1996. The concert at the now-defunct 7th Street Loft also featured pianist Phil DeGreg, bassist Bob Bowman and drummer Todd Strait, all of whom have maintained close ties with the BMF.
Roditi returns to Lincoln March 16 as guest soloist with the Nebraska Jazz Orchestra at the Cornhusker Hotel ballroom, a performance again sponsored by the BMF. Roditi may not receive the worldwide recognition he so richly deserves, but he has friends and supporters in the Heartland.
Referred to as the Kenny Dorham of the 1990s, Roditi has an exciting edge in his neo hardbop approach. Born in Rio De Janeiro, Brazil, in 1946, he began playing piano as a child, but turned to the trumpet at the age of 12. Listening to records by Harry James, Louis Armstrong, Red Nichols and others, he began mixing jazz with his native music, during the 1960s bossa nova boom.
He moved to the United States in 1970 to study at the Berklee College of Music in Boston, where he picked up an occasional gig until moving to New York in 1976.
Among other leaders who called on him were saxophonists Charlie Rouse and Joe Henderson, flutist Herbie Mann, percussionist Tito Puente and pianist McCoy Tyner, but it was his relationship with Cuban saxophonist Paquito D'Rivera beginning in the early 1980s that best showcased his fiery Latin-tinged style. A versatile player on both trumpet and flugelhorn, he has recorded in numerous jazz settings and was a valuable member of Dizzy Gillespie's United Nation Orchestra.
As a leader, Roditi has recorded for various labels, including Green Street (1984's "Red on Red"), Uptown ("Claudio"), Milestone ("Gemini Man" and "Slow Fire"), Candid ("Two of Swords" and the live "Milestones"), Reservoir ("Free Wheelin': The Music of Lee Morgan," "Samba Manhattan Style" and "Double Standards"), Mons (with the Metropole Orchestra) and RTE ("Jazz Turns Samba" and "Claudio, Rio and Friends").
His solo work "Symphonic Bossa Nova" with Ettore Stratta and the Royal Philharmonic, earned Roditi a Grammy nomination in 1995.
Roditi plans to continue to blend the two musical forms he loves. As he told Stan Woolley in Jazz Journal International, "I am a Gemini. I was born in one country and live in another but I love them both, and both kinds of music, too."
The following excerpts are from an interview by Gregory F. Pappas April 7, 2001, in San Antonio, Texas:
Pappas: If you had to choose a few bars or a cut representative of your music which would it be?
Roditi: A tune that I wrote called "Gemini Man" represents best the way I feel about samba mixed with jazz. It is from an album I also did by that name.
Pappas: What musicians would you like to play with (alive or dead) and have not had a chance?
Roditi: I guess I have been very fortunate to play with most of them: Raul De Souza (living now in France), Slide Hampton, Edsel Machado (I was in his band before coming to the U.S.), Dom Um Romao, McCoy Tyner (who even recorded some of my tunes) and Horace Silver. I really wanted to play with Art Blakey and I talked with him once. He asked me for my phone number but nothing came about.
Pappas: Are there any particular young musicians that you think deserve wider recognition?
Roditi: There is a Brazilian piano player called Helio Alves. He plays fantastic. Another one of the few that knows both the Brazilian and Afro-Cuban tradition.
Pappas: You do travel a lot.
Roditi: Yes! You cannot survive if you stay put. I go to Europe quite a bit. I have different groups that I play with, sometimes in Holland but mostly in Germany. I wish I did not have to travel so far and had more opportunities in the USA.
Pappas: Historically the most famous combination of Brazilian with jazz is bossa nova. But are there other combinations worth mentioning? I notice that there is something "harder" about the approach to Brazilian jazz of musicians like Dom Um Romao, Airto Moreira, Hermeto Pascoal and you.
Roditi: Let me explain to you what happen in Brazil in the late '50s and early '60s. When I moved to Rio in 1964 (from a town in the interior) it was the height of the bossa nova period. A record label from Brazil called Musidisc issued in Brazil the entire Pacific Jazz catalog, with artists like Chet Baker, Bud Shank and Gerry Mulligan. Their LPs were available and cost much less than the imported records. That is why cool jazz had such a direct influence in that period, at least on bossa nova. Bossa was music that belonged primarily to singers, guitar players, piano players and composers. But at that time something else happened that I saw first hand but you never hear about in the US. The guys that were playing saxophone, trumpet, drums and trombone were mostly playing what we called samba jazz. In other words, what you are calling a harder approach was played there in the '60s. There were musicians that grew up near the Favelas, like Edison Machado, that also loved Elvin Jones and Art Blakey. They had to play hard!
---
By Tom Ineck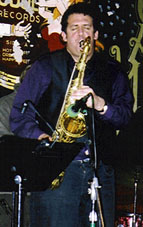 It is unfortunate that the Rob Scheps/Zach Brock Quintet is not a household name because they play like a house on fire!

The quintet made its Lincoln debut Jan. 22 at P.O. Pears, which has been the scene of many a fiery jazz performance in the last couple of years, thanks to the underwriting support of the Berman Music Foundation and the weekly jazz programming managed by Arts Incorporated.

There is nothing conventional about Scheps' approach to jazz, and that makes his music very exciting. The oldest member of the quintet by nearly a decade, he shepherds his younger sidemen through the complex changes while allowing them ample freedom to improvise. What results is a captivating performance capable of riveting the attention of even the most jaded jazz fan and holding spellbound the dozens of the University of Nebraska-Lincoln jazz history students who frequent P.O. Pears, notebooks in hand.
An Oregon native, Scheps has lived and worked in Boston and New York City, as well as performing worldwide with artists as diverse as the Gil Evans Orchestra, trumpeters Clark Terry, Arturo Sandoval, Eddie Henderson and Terumasa Hino, trombonist Roswell Rudd, singers Mel Torme, Dianne Reeves and Nancy King, bandleaders Buddy Rich and Mel Lewis, organist Jack McDuff and avant jazz legends Sam Rivers, Muhal Richard Abrams, Henry Threadgill and Julius Hemphill.
Co-leader Brock, 29, draws on a broad tradition of jazz violin, from Johnny Frigo to Stephane Grappelli and even fusion pioneers Jean-Luc Ponty and Jerry Goodman. Born in Lexington, Ky., he pursued his musical training in Chicago. For the band's Lincoln appearance, he brought along a couple of talented young Windy City musicians, pianist Jordan Baskin, 24, and bassist Matt Ulery, 22. Rounding out the quintet was drummer Morgan Childs, also 22, whom Scheps recruited in Vancouver, B.C.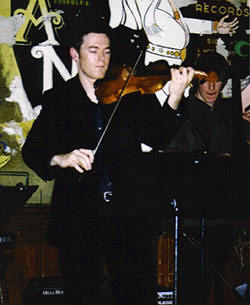 Brock's piece "Mr. Shah" kicked off the proceedings with an irresistibly clever funk riff, over which Scheps superimposed an extended tenor sax solo, with the rhythm section comping like veterans. The composer also took a solo on his five-stringed instrument, a physical display of pyrotechnics that was, at the same time, disciplined in its clean lines and melodic ideas.
"First Morning at the Tower" was composed by bassist Ulery, inspired by a visit to Italy. It was constructed on a complex melody line that worked well as a basis for solos statements by Scheps on tenor, Baskin on keys and Brock on violin. "Olivia's Arrival" had the familiar sound of a standard, but was in fact a little-known tune by baritone saxophonist Gary Smulyan. Scheps and Brock displayed a fine sensitivity in their harmonized lines, the two instruments blending surprisingly well.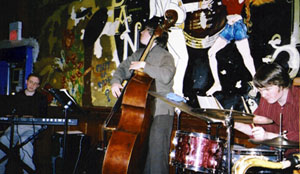 For his composition "New Homes," Scheps switched to flute, an instrument closer to the violin's range. Beginning at mid-tempo, the tune accelerated as Scheps and Brock joined in a unison line, leading to a flute solo with Baskin first comping on keys then segueing into a full-blown solo. Brock also took another masterful, confident solo.
Scheps again introduced an obscure tune with much merit. It was Joel Weiskopf's blazing "Tuesday Night Prayer Meeting," a subtle reference to the Charles Mingus swinger "Wednesday Night Prayer Meeting." It was a tightrope-walking showcase for Scheps on tenor and Brock on violin, first locked in unison and then in successive solos. Baskin joined the fray as all three took solos behind Childs' skillful drum breaks.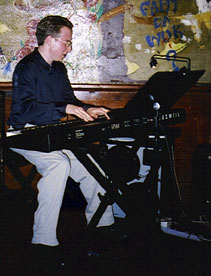 During the break between sets, Scheps told me they like to keep the audience guessing, sometimes alternating between the music of Cole Porter and Nirvana. Neither of those extremes was heard that evening, but the quintet did launch into the second set with Ornette Coleman's "Happy House," a tune not heard every day. It allowed Scheps to play "outside" on tenor sax and for Brock to show his pizzicato skill, plucking the violin like a rock guitar.
Baskin contributed the lovely "Searching for Solace," which had a waltz-like lilt. Scheps, on flute, again joined harmonies with Brock. Scheps introduced the ballad "Crestfallen," saying that he wrote it in Nebraska City, where the band had played the previous night. Brock took the lead, and turned in a gorgeous reading of the tune. "Little Jewel," also by Scheps, featured a soulful piano introduction and another great tenor solo by the composer.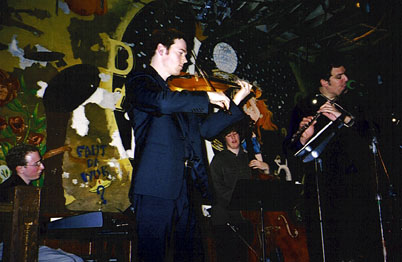 "Common Ground," a track from Brock's CD "The Coffee Achievers," was another twin-voiced piece featuring Scheps on tenor and Brock on violin. Finally, Scheps pulled out all the stops for "The Cougar," first working out on the tenor sax, then combining the flute mouthpiece and the sax body to take a soaring solo on the "saxaflute."
It was the kind of over-the-top antic that few musicians could pull off convincingly. Judging from the response, the Scheps-Brock quintet convinced everyone in the audience.

---
By Tom Ineck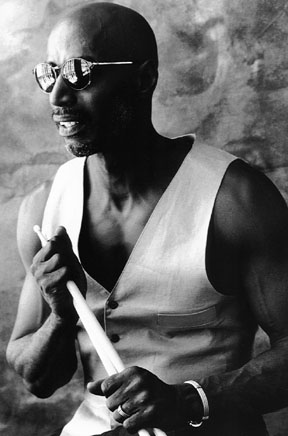 There is no more articulate and passionate advocate of jazz as popular music than T.S. Monk, the distinguished drummer and son of Thelonious Monk. As chairman of the Thelonious Monk Institute of Jazz, he also is the keeper of the flame, a responsibility that he takes very seriously.
When Monk and his band were scheduled to appear in Lincoln a couple of months ago, I arranged a live radio interview to take place during "NightTown," my weekly jazz program on KZUM Community Radio. Despite slow ticket sales that forced the concert's cancellation, Monk wanted to go ahead with the phone interview. Familiar with his eloquence from an interview we had done for publication in the Lincoln Journal Star more than a decade ago, I jumped at the chance to chat with him again.
Several recent developments in Monk's career, including the new CD "Higher Ground" and the launch of Thelonious Records (and the website www.monkzone.com) for his own recordings and those of his father, provided plenty of subject matter for our 45-minute, on-air conversation. Monk, as always, proved an easy interview.
On his fresh approach to Ray Bryant's "Cubano Chant" (from "Higher Ground") and other standards that he has recorded: "The great thing about the standard compositions is that they really provide a framework that's intergenerational, that's chronologically neutral in many, many ways, so it allows you to revisit a composition and really bend it and twist it. Because it's a standard, it generally means that it has some fundamental, bedrock elements that you really can't do without. As long as they're incorporated, you still have the same tune."
On the timeless accessibility of good music: "That doesn't change from genre to genre or era to era. Those elements that make a hit tune, so to speak, are the same for everyone. It boils down to a haunting melody that you will always remember, a great groove, and generally, some harmonics that make you think and give you some texture."
On the importance of knowing jazz history and developing a jazz vocabulary: "Jazz is a continuum, but in order for it to continue, one must constantly revisit what's gone before you, so that you know that you're in some sort of new territory, or at least in a new region. Often, at least to my ear, a lot of the younger jazz musicians don't learn tunes the way we used to have to learn tunes. You had to know 300 tunes, and what that does for the jazz musician is to increase your vocabulary. You have to revisit the music that's preceded you in order to maximize your vocabulary, so you can then go into the future and have something new to say."
On the importance of working in the consistent context of a band: "That's key, in terms of finding your creative center. A jazz musician's only true home is in a band, and if you look at the great musicians throughout the history of jazz, every single one came from a great band. You can trace them back, whether it's Bird and Miles back to the Jimmie Lunceford band or you're tracing Coltrane back to the Miles Davis or the Monk band or you're tracing Monk back to the Coleman Hawkins band. We develop a vocabulary, and that vocabulary is developed in order for us to converse. If one is to truly converse properly, you have to talk to each other on a continuous basis. You can't have brief, intermittent conversations. As you have those conversations, you develop ideas. It's the same as it is for the man on the street. It's the same as it is in all the other quarters of society. So, if you listen to what is played by Miles with Red Garland, Jimmy Cobb and Paul Chambers, those records were the result of many, many conversations over many, many nights. The only way you can do that is by keeping a band together. The great entrepreneurs in the recording industry years ago, people like Alfred Lion, understood this clearly. That's why you saw those bands stick together. You saw Monk and (Charlie) Rouse together for years and years. You saw Miles and Coltrane. You saw Wayne Shorter and Joe Zawinul in Weather Report. You saw Miles and Herbie Hancock and Tony Williams and Wayne Shorter and Ron Carter. Those are all creative cauldrons. It does make a strong case for the continuum of a creative process when musicians can play together regularly. When you look at the (current) landscape of jazz, there aren't many bands that stick together. That's had a negative effect on the overall creative movement in the music."
On the emergence of Wynton Marsalis in the early 1980s and the "jazz star:" "The jazz recording industry got a little enamored with the concept of what they might have misconstrued as 'instant stardom.' As a consequence of that, we saw the jazz labels go on a quest for about 15 years to see who could find the youngest, most unknown 'next,' and it didn't quite work out that way because that's a blueprint that we've taken from pop music and overlaid it on jazz. It doesn't work for jazz because it restricts the concept of artist development, and artist development is the most critical factor in the development of a jazz recording artist. In today's recording environment, my father, Charles Mingus, Eric Dolphy and maybe even John Coltrane in his latter years would not have gotten a recording deal. They were too different. They were doing exactly what they were supposed to do, and right now the industry has gotten an attitude of sameness. The bedrock of the music is individuality."
On Thelonious Records and its mission: "It's originally my father's dream, in that he recorded himself at home and other people recorded him in all kinds of clandestine ways. Jazz musicians pioneered the concept of the home production, the self-contained production vehicle—I wrote the music, I played the music, I recorded the music. Thelonious Records is about two things. It's about the Monk family, the branding of the Monk family, that is myself and my father and our music. It's also about new ideas. I can tell you realistically that I'm two years away from the first new ideas, in terms of signing an artist because getting up and running is the critical thing."
On the importance of marketing and promoting jazz: "I'm very old-school, and very P.T. Barnum-oriented and I say, 'Listen, I've got this six-piece band and it's baaaaaaaad. It will blow you out. We will kick your you-know-what.' That's how I feel about my band, and that's how I feel about jazz in general. Jazz is the one area in music that has enormous room for growth, and we have to take advantage of that. We have to learn how to sell our products. We have a product that has a shelf life that, we now know, can be as long as 50 or 60 years. We know that we have a marketplace that is international in scope. The concept of how you actually sell this music is a little bit of a mystery, even though it seems to sell year in and year out, at a slow pace. I don't believe that slow pace is a function of the art form. I think that slow pace is a function of the industry, and so I'm looking to change it. If a few other people get involved, we get that shift in the industry the way country music had its shift in the '80s, the way r&b had its shift in the '90s. I have been offended over the years. First, I was offended by people who said that you couldn't teach jazz in an institution. We've been very successful, and in our 18th year, with the Monk Institute. I got doubly offended by the people who said you can't really market jazz because it's really not for the mainstream. I think that's absolutely ridiculous."
On his concept of "cross-talking" and blending jazz styles: "The umbrella of jazz is really quite vast, as far as I'm concerned. Even though every jazz musician that I know is extraordinarily versatile, I don't see a lot of versatility being reflected in the bands. Bands tend to stay in one little niche. Perhaps because I'm a drummer, and I don't have a melodic instrument to rest on, I like to give you a lot of different looks. Although we change genres or change idiomatically, we don't change the instruments. That's what allows us to cross-talk, so we can please all of the people all of the time."
On his father, who died in 1984, and his mother, Nellie, who died in 2002: "Without Nellie, we would have had no Thelonious Monk. Nellie and Monk met when he was 17 and she was 12 years old, and they started dating when she was 17 and he was 22. She understood his artistry from day one, and she became all things that one human being can be to another—a lover, a friend, a confidant, a brother, a sister. Although I miss her incredibly, because not only was she my mom but I was born on her birthday, I know that she and Thelonious are together now. That's the Romeo and Juliet of jazz. That's one of the great hookups that you ever had."
On "Monk in Paris: Live at the Olympia," a CD and bonus DVD recently released on Thelonious Records: "Thelonious was really a live artist. When you speak to people who had the opportunity to see Thelonious perform live most of them say, 'I went back and saw him every night for two weeks,' because he was the real thing. Thelonious could play you 20 different solos on the same tune over 20 nights. On these recordings that I have now that we're going to be releasing over the next several years, the band is thumpin'. The band is really swingin'. A lot of listeners are most familiar with the CBS recordings that he did because those are the clearest, those are the best recordings, and those probably have the highest visibility, even more so than the Blue Note and Prestige recordings. But even on those recordings, you don't get the energy level that Thelonious projected. In many ways, you could misconstrue Thelonious as sort of a laid-back guy. But the reality is that this is the guy who influenced John Coltrane and Miles Davis and Dizzy Gillespie and a whole generation of the greatest who ever lived. And, it was because he was very exciting. In these recordings that we have with Thelonious Records, that's what's going to come out—how much fun Thelonious was live. And, when you see Thelonious (on the DVD), then a lot of the things he played make even more sense."
On Thelonious Monk's piano-playing style and philosophy of "practice": "Thelonious was a great player. The great piano player Barry Harris once said to me that there were two players he knew that he never heard 'practice.' They only played. They 'practiced' playing. That was Thelonious and his main protégé, Bud Powell. When I think back, I say, 'You know what, I never heard my father play a scale. I never heard him do any of those exercises that you always hear piano players doing, two-hand scales and all that kind of stuff. What he would do was sit down at the piano at 10 o'clock in the morning and not stop until 8 o'clock, before he went to the club at night to play his gig. He would be absolutely performing."
---
Performance Photo Feature
Jim Jacobi celebrates release of "Get Out!"
Veteran "punk rocker" Jim Jacobi had his CD release party Dec. 16 at the Zoo Bar in Lincoln to celebrate his brand new endeavor, "Get Out." All the players on the disc were there to cameo their recorded performances. Jacobi's rhythm section, drummer Dave Robel and bassist Craig Kingery, was joined by Butch Berman, piano; Dr. Dave Fowler, fiddle; Steve "Fuzzy" Blazek, lap steel; and Charlie Burton and Carole Zacek, vocals. Also in attendance were Rick Petty, congas; Phil Shoemaker, guitar; and Brad Krieger, trumpet.
| | |
| --- | --- |
| | |
| | |
| | |
| | |
---
---
Editor's Note: At your request, we will mail a printed version of the newsletter. The online newsletter also is available at this website in pdf format for printing. Just click here: Newsletter
---