Swing 105 keeps gypsy jazz alive
Jeff Newell conducts Brooklyn residency
January 2012
Feature Articles
Music news, interviews, memorials, commentary
Gypsy jazz tradition continues with Swing 105
By Tom Ineck
LINCOLN, Neb.—Through many incarnations, gypsy jazz groups fronted by the inimitable fiddler Dave Fowler have made a momentary splash in this Midwestern city—beginning with The Neon Violin Quartet and continuing with The Hot Club of Lincoln. After an extended hiatus, Fowler has reconstituted a somewhat different group of musicians playing the same style of music under the moniker Swing 105. The others are rhythm guitarist Mike Herres, guitarist Alexander Zappala and bassist Brendon Sibley.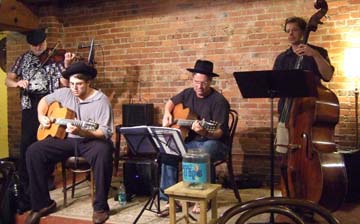 Fowler named the current band after its first venue, local wine aficionado and distributor Steve Blazek's Bin 105 shop at 105 N. Eighth St. in Lincoln. As their promotional material says, the gypsy jazz ensemble was "inspired by wine, Reinhardt and Grappelli." Most recently, Swing 105 has been ensconced on a semi-regular basis at the Crescent Moon coffeehouse in the lower level of 140 N. Eighth St. in Lincoln's Historic Haymarket District. Over caffeinated beverages at another local coffee shop, Fowler and I discussed a wide range of subjects that included the evolution of gypsy jazz and its continued practice in Lincoln and throughout the world.
Fowler's own interest in the music of Belgian gypsy guitarist Django Reinhardt, violinist Stephane Grappelli and the original Quintet of the Hot Club of France came relatively late in life. He had played for several decades in local bands steeped in the styles of bluegrass, folk, country, western swing and honky-tonk. He and his wife, Carolyn Johnsen, still offer a speakers bureau program on traditional prairie fiddle styles for the Nebraska Humanities Council.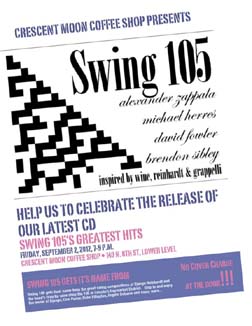 It wasn't until he saw a film on gypsy jazz and attended a 2003 gypsy jazz festival in France that Fowler's love for the music led to the formation of the Neon Violin Quartet the following year, a group co-led by rhythm guitarist Mike Herres, who shared a similar fascination with the musical challenges and idiosyncrasies of the genre. Other local musicians who have joined the gypsy jazz caravan along the way include guitarists Greg Gunter and Tom Martin, bassists Dave Boye and Brian Gerkensmeyer, and fiddler Sam Packard.
"You take two words that stand for freedom of expression—jazz and gypsy—and you put them together and you get gypsy jazz," Fowler said. Purists insist on its intricate and unbreakable ties to Reinhardt and Grappelli, even though many of the original solos are devilishly difficult to master, he said. "In the case of Grappelli, it's partly the tone and the nuance and the way he added the French inflections and, at the same time, it would just swing like mad."
Generating much of that swing in a conventional gypsy jazz outfit is the rhythm guitarist, whose expert sense of time and "chunk-a-chunk" beat largely take the place of a drum kit. Reinhardt employed two rhythm guitars to create the infectious swing behind his own lead guitar lines. Herres is capable of locking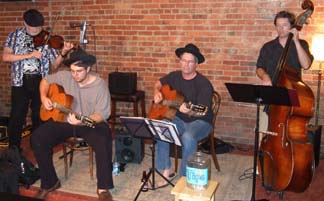 into a tempo and holding it rock-solid, as a kind of metronomic anchor for the others.
"The rhythm section is the whole key to that sound, and a bass player who doesn't get too carried away walking," Fowler explained. "The bass has to have a sense of leading the chord changes, but not walking all over the place." A Lincoln Public Schools music teacher in middle-school classrooms, Sibley switched from electric to upright bass for Swing 105 and has proven a valuable addition to the band since he broadened his repertoire of traditional jazz ("Sweet Georgia Brown" and "After You've Gone") to include the more specialized French tunes of gypsy jazz, such as Reinhardt's "Nuages."
Herres' stepson, Zappala was initiated into the gypsy jazz intelligentsia by his stepfather, who urged him to take guitar lessons from veteran Lincoln fretmaster Steve Hanson, a versatile player who excels at everything from bluegrass banjo and mandolin to rock, jazz and traditional swing guitar.
For the band's debut CD, the facetiously titled "Swing 105 Greatest Hits," Fowler gathered his cadre of players at Hanson's home studio, where the core group was augmented by Hanson on guitar, mandolin, and bass; Les Korus on bass; and Will Fowler adding alto saxophone on two of the nine tracks. As Zappala's talent for gypsy jazz guitar began to emerge so did his role as lead guitarist.
"This album is really transitional from the old Hot Club of Lincoln to a modern group, as Alexander continued to learn all these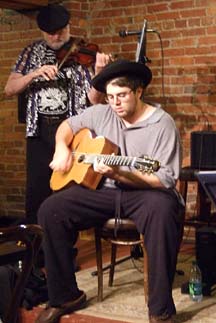 songs," Fowler said. "He's very much developed, with what he's done with Mike and what he's listened to. He seems to have a really incredible ear for chord changes. I don't think he could always tell you what the chords are, but he plays nicely across them, and he'll play outside a chord pattern, but it works in a way that I envy." As Fowler noted, Zappala—unlike many strict, diehard Reinhardt followers—does not memorize Django solos note for note, but prefers to improvise and quote guitarists from other styles, including Jimi Hendrix.
Swing 105 practices on a regular basis and the gigs at Crescent Moon have helped them maintain the high level of technical expertise needed to play gypsy jazz well, Fowler said. "It's complicated music, and the audience is an important part of that. The music grew out of clubs more for dancing and cocktail conversations. Now it's become almost salon music."
Looking ahead, Fowler envisions the group performing more frequently at Crescent Moon and other venues and perhaps playing the occasional art show opening or wedding reception.
---
Swing 105 debut release offers "greatest hits"
SWING 105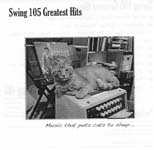 Greatest Hits
By Tom Ineck
Fans of acoustic string swing, or so-called "gypsy jazz," in Lincoln, Neb., have long awaited a recording that does justice to local practitioners of the style pioneered by the legendary Belgian gypsy guitarist Django Reinhardt and violinist Stephane Grappelli in 1930s Paris.
Finally, fiddler Dave Fowler has gathered a group of like-minded musicians and documented the music on the facetiously titled, homemade CD "Greatest Hits." These tracks may never be hits in the popular sense of the word, but the performances are solid.
As the personnel of Swing 105 were still in transition at the time of the recording, the lineup here differs from the one you will hear in local clubs. Fowler enlisted the production and playing skills of his old friend and multitalented musical partner Steve Hanson, who plays guitar, mandolin and bass. The core group of Fowler, rhythm guitarist Michael Herres, lead guitarist Alexander Zappala and upright bassist Brendon Sibley also are augmented by bassist Les Korus on two tracks and by Will Fowler on alto sax.
The nine tracks featured here are a mix of the familiar and not-so-familiar. The discographical notes, though sparse, give the listener a good indication of the range, from the popular 1918 tune "After You've Gone" and such evergreens of the 1920s as Isham Jones' "I'll See You in My Dreams" and Al Jolson's "Avalon" to the Reinhardt compositions "Anouman," "Valse Manouche" and "Stompin' at Decca" and the lesser known "Si Tue Savais" and "Vipers Dream." "Swing Gitane" is a traditional tune with an arrangement of more recent vintage credited to Angelo Debarre.
Hanson's contributions are apparent throughout the recording, especially his work on mandolin, achieving a sound that approximates the steely, high-register sting of the traditional gypsy jazz guitar. It will be interesting to hear what the current quartet sounds like on their debut release as a working band. We hope fans of Swing 105 won't have to wait long for "Greatest Hits, Vol. 2."
---
Jazz weather report for winter 2011-2012
By Tom Ineck
LINCOLN, Neb.—Below are the best of area shows scheduled for upcoming months. In addition to Lincoln and Omaha concerts, we also suggest venues and events farther afield, most notably Brownville, Neb., Kansas City, Mo., and Columbia, Mo.
Let us know if you have any calendar events you would like us to feature.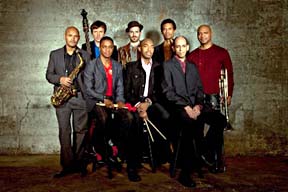 Lied Center for Performing Arts
301 N. 12th St., Lincoln, 7:30 p.m.
Monday, February 27
Doc Severinsen and His Big Band
Tuesday, March 13
SFJazz Collective, San Francisco-based all-star jazz combo
Nebraska Jazz Orchestra
Cornhusker Marriott Hotel
333 S. 13th St., Lincoln, 7:30 p.m.
Wednesday, Feb. 1
Kirk Garrison, jazz trumpet
Tuesday, April 26
Kerry Strayer, jazz saxophone
Club 1200 (at the Holland Center)
1200 Douglas St., Omaha, 8 p.m.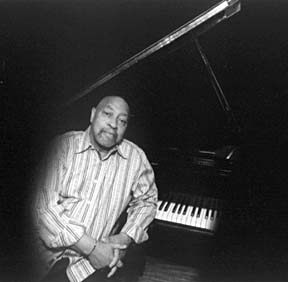 Saturday, January 21
Popa Chubby, blues guitar
Friday, February 17
Tia Fuller Quartet, jazz saxophone
Friday, May 18
Kenny Barron Trio, jazz piano
Saturday, May 19
Big Sam's Funky Nation, New Orleans funk trombone
Folly Theater
300 W. 12th St., Kansas City, Mo., 8 p.m.
Saturday, January 14
Nnenna Freelon, jazz singer
Saturday, February 4
Grace Kelly Quintet, with special guest Phil Woods, jazz saxophone
Saturday, March 3
Vanguard Jazz Orchestra
Saturday, April 14
John Pizzarelli Quartet, jazz guitar
"We Always Swing" Jazz Series
Columbia, Mo.
Sunday, January 22, 3:30 p.m. and 7 p.m., Murry's
Ravi Coltrane Group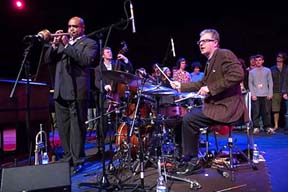 Sunday, February 12, 7 p.m., Missouri Theater Center for the Arts
Chucho Valdes & The Afro-Cuban Messengers
Thursday, February 23, 7 p.m., Reynolds Alumni Center
Benny Green Trio with Peter Washington and Kenny Washington
Thursday, March 8, 7 p.m., Hickman High School Auditorium
Russell Malone with MU Concert Jazz Band
Sunday, March 18, 3:30 p.m. and 7 p.m., Murry's
Matt Wilson's Arts & Crafts with Terell Stafford, Gary Versace and Martin Wind
Sunday, April 29, 3:30 p.m. and 7 p.m., Murry's
Tia Fuller Quartet
---
New-Trad does residency in Brooklyn schools
By Tom Ineck
Whenever possible, we at the Berman Music Foundation like to update our readers on what old friends and Nebraska natives are up to. We last wrote extensively of Jeff Newell and his New-Trad Octet when they performed a lively and well-received concert at the 2010 Jazz in June series in Lincoln.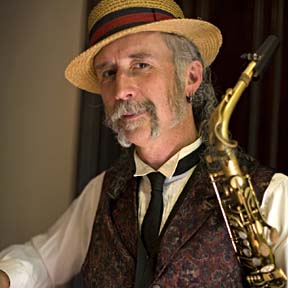 In recent months, we learned that Newell and his jazzy wind ensemble have conceived and conducted "Sousa—Music of All Americans," a series of unique six-week social studies residencies for public school fifth-graders in Brooklyn, N.Y., where the band is based. The program focuses on "cultural blending as seen through the lives of several influential American musicians and how the musical traditions they represent impacted the music of John Philip Sousa." Of course, Sousa's music was one of the primary inspirations in the formation of Newell's New-Trad Octet more than 17 years ago.
The stated goal of the residencies is that students will become familiar with "the process by which people from diverse backgrounds come together to form new and unique cultural entities." By learning about the lives of historically significant American musicians and how their music influenced Sousa, students will gain insight into this process of "cultural blending and how it occurred in the United States."
To illustrate how new immigrant music continues to influence older forms as it becomes part of the American experience, the New-Trad Octet perform a concert at the end of the residency. Students also learn about the various roles of wind instruments of the brass and woodwind families in the history of American music.
The residency also addresses fifth-grade curriculum with its social studies focus on American history, Westward expansion and regional history by studying the musical traditions of Mississippi (blues) and Missouri (ragtime) through the examples of Robert Johnson, W.C. Handy and Scott Joplin.
In recent years, these residencies have been funded by a grant from the Arts in Education Program of the New York State Council on the Arts—administered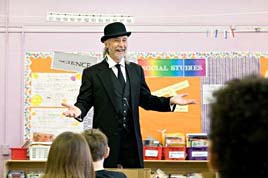 by BRIC Arts/Media/Bklyn and the Brooklyn Arts Council—and by a Chamber Music America Residency Partnership grant.
A testimonial to the value of the residencies comes from Julie Schultz, a fifth-grade teacher whose students participated in the program. She writes: "It is with great enthusiasm that I write on behalf of an extraordinary individual responsible for enriching my students, Mr. Jeff Newell." She offers praise not only for the lessons taught but for the intangibles in education, writing, "scores and data are important to any child's success, but they do not tell what makes students laugh or of other creative interests. It is the inclusion of Mr. Newell's residency, "Sousa—Music of All Americans," that makes learning the joy it ought to be."
Schultz goes on to describe Newell as a "musician, story-teller and an all-round scholar in period costume" who provided her students with "many visuals and information that lend themselves to doing activities that require higher-order thinking."
Newell does not forget his own roots in describing his ongoing attraction to American roots music of all sorts and how it leads naturally to these residencies. In a recent e-mail to the BMF, he wrote that "the strong presence of blues music in the Midwest, particularly Lincoln and the Zoo bar, had a lot to do with my love of the music and me delving into its influence on all of American music. The seeds of my interest in brass bands and their ubiquitous presence in 19th-century America also came out of some conversations I had with Jack Snider years ago, while we were both playing in the Lincoln Municipal Band." Snider directed the Lincoln Municipal Band for many years.
We extend our congratulations to Jeff Newell and the New-Trad Octet for their good work in the classroom as well as on the bandstand.
---
Zoo Bar continues to host memorable music
By Tom Ineck
LINCOLN, Neb.—Lincoln's world-famous Zoo Bar remains active some 39 years after former owner Larry Boehmer first launched a live music policy there in 1973. It still provides a venue for local artists to ply a trade, sharpen a lick and develop a following. Some have been taking the well-worn stage for decades, while others are relatively new to the experience. Here we take a look at three live music events held at the venerable Zoo in recent months.
The Tijuana Gigolos are a group of talented local musicians who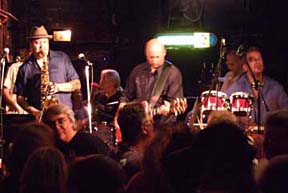 have found a very compatible groove and a very loyal following at the Zoo, packing the place on Friday afternoons about once a month and also bringing out fans on special occasions, such as the recent early show (5-8 p.m.) on New Year's Eve.
Playing a blend of roots rock, rockabilly, folk and Tex-Mex music for more than 10 years, the Gigolos are Marty Steinhausen on guitar and vocals, Antonio (Tony) Meza on congas and vocals, Tom Harvill on keyboards, Jeff Boehmer on bass and vocals and rockin' Dave Robel on drums. In recent years, they added secret weapon Joshua Hoyer, with his soulful vocals and saxophone.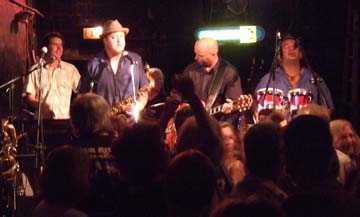 Among audience favorites are "Cajun Jukebox," "South of the Border," "Do Ya Wanna Go," "Haley's Comet," "Bordertown," "Laid to Waste," "25 to Life," "Howl at the Moon," and the marvelous sing-along nonsense of "(I Wanna Be a) Fishman."
According to the band's MySpace page, they will return to the Zoo on Jan. 13 and again on March 9 and April 13, with a side trip to visit Boehmer in Eureka Springs, Ark., where they will play a three-day St. Pat's bash with the Mescal Brothers March 16-18 at Chelsea's.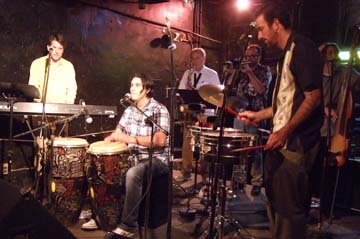 A local band of more recent vintage is Son del Llano ("Music of the Plains"), whose specialty is the dance-friendly music of 1950s and 1960s Havana. The band initially formed around Cuban native René Paula, whose vocals and tres playing gave the ensemble its authenticity.
Paula eventually left the band, but Marcelo Arévalo has picked up the vocal chores, plus congas, guitar, and percussion. Justin G. Jones also handles an assortment of percussion instruments, including timbales, congas, bongos, percussion, and coros. The horn section of Mike Brownson on trumpet and Ed Love on saxophones and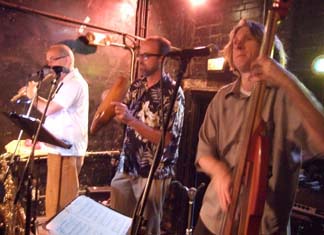 flute provide brassy punctuation, while bassist Brian Morrow and versatile keyboardist Tom Harvill add their own flair.
At the heart of their sound is Son Cubano, combining a Spanish influence with African-derived rhythms and percussion instruments. Son was popularized in Havana in the early 20th century, but the modern sound began in the 1940s, adding bolero and mamba influences and leading to the development of salsa.
After several years of gigging at a local dance club and a few other venues in the Capital City, they recently completed their first recording, which should be available soon.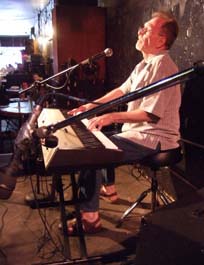 On a sadder note, longtime Lincoln piano pounder and bluesy singer Jim "Cid" Cidlik bid farewell to Lincoln last August with a final blowout at the Zoo. He was heading east with his wife to settle in New Jersey. A large contingent of friends, fans and fellow musicians turned out on a Sunday afternoon to see them off and to hear Cidlik play one more time.
Among the musicians who took the stage with the guest of honor were guitarists Jeff Boehmer and Doug Rosekrans and bassist Dave Morris, but the spotlight was on Cid, who showed us he still has what it takes to move an audience with his heartfelt vocals and killer piano.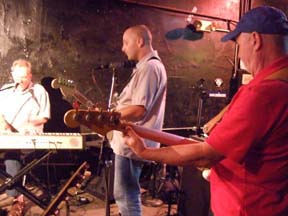 Cidlik had been a touchstone of the Zoo Bar since its inception, performing a variety of rock, blues and jazz. His gravelly voice and hard-swinging piano were heavily influenced by the Kansas City boogie-woogie style of Jay McShann. In the late 1960s, Cidlik fronted the Cotton Blues Band, also featuring drummer Dave Trupp and blues guitarist George Bryan. He later led such legendary bands as The Tablerockers and Little Jimmy Valentine & the Heart Murmurs.
---
Alaadeen pays tribute to Butch Berman
By Tom Ineck
The Berman Music Foundation and BMF founder Butch Berman were ardent fans of Kansas City saxophonist Ahmad Alaadeen, first bringing the musician and lecturer to the University of Nebraska-Lincoln for a series of clinics and performances in December 1998.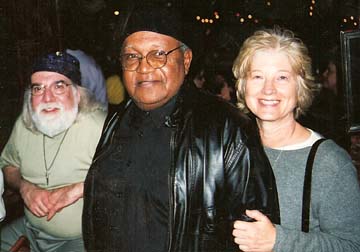 The following year, the Berman Music Foundation flew Alaadeen to New York City to record a featured solo on Norman Hedman's 2000 release "Taken by Surprise." Ahmad Alaadeen & Group 21 was featured at the 2005 Jazz in June series in Lincoln and at the 2005 Topeka Jazz Festival, under Butch's artistic direction. He performed at the Butch Berman Celebration of Life in March 2008. The BMF also helped to fund Alaadeen's book "The Rest of the Story," published in 2009. Alaadeen himself died of bladder cancer Aug. 15, 2010, at age 76.
The feeling was mutual. In his posthumously published memoir, "Dysfunctional: Life Journeys of a Second-Generation Jazz Musician," Alaadeen acknowledges the respect and admiration that they shared with a chapter devoted to Butch and Grace Berman. Here are a few choice excerpts:
"I met Butch about 1995. He was founder of the Berman Music Foundation, a DJ and an excellent musician. We'd get together when he'd come down to Kansas City. Butch was so generous; he'd invite us out to dinner and insist on always paying. We had Grace and him over to the house for dinner once. Grace loved our pear tree… said it reminded her of home in Nigeria."
"Butch gave us an open invitation to come up to his place in Lincoln and air out. So quite a few times, Fanny and I drove up for a weekend. We'd sit around and listen to music the whole weekend and then we'd go out for fried chicken and mashed potatoes."
"Butch was one of my favorite people in this jazz world. He was so committed to the music."
Alaadeen was especially thankful for the warm-hearted reviews that Butch gave his recordings, including 1997's "Time Through the Ages," which Butch ranked among his favorite CDs. "It got a hold of him, and it never let go," Alaadeen writes.
Alaadeen's "And the Beauty of It All" was one of the last recordings that Butch reviewed. In that review he wrote: "Alaadeen's a beautiful cat, spiritual and a deep thinker whose musical talent has great healing potential."
"I think it gave him some peace…" Alaadeen writes. "That makes me feel very honored that he said that. I'm glad I could help him feel better."
Alaadeen's music made a lot of people feel better.
Editor's Note: Ahmad Alaadeen's book "Dysfunctional" can be purchased at The American Jazz Museum, 1616 E. 18th St., in Kansas City, Mo. All of Alaadeen's CDs and books also are available for purchase online at http://www.Alaadeen.com.
---
Editor's Note: At your request, we will mail a printed version of the newsletter. The online newsletter also is available at this website in PDF format for printing. Just click here: Newsletter
---