Healdsburg Festival survives hard times
July 2011
Feature Articles
Music news, interviews, memorials, commentary
Jazz artists give to save Healdsburg Festival
By Tom Ineck
HEALDSBURG, Calif.—Three consecutive visits to the annual Healdsburg Jazz Festival have done nothing to diminish either the pre-festival anticipation or the post-festival sense of satisfaction. Festival founder and artistic director Jessica Felix never fails to create just the right mix of artists to maintain the event's reputation as one of the great straight-ahead jazz gatherings in the world.
That's quite an accomplishment, especially considering that the two-week, 13th annual festival almost didn't happen. Like so many things in these difficult economic times,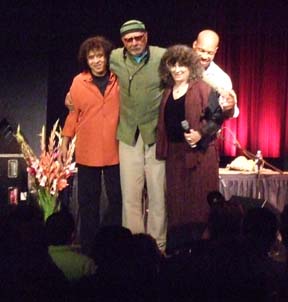 the financial future of the Healdsburg fest was in question after the 2010 edition. Felix resigned after the festival's board of directors announced it was putting the event on hiatus, at least for the following year. It seemed the end of an era for this Northern California treasure. But jazz fans, volunteer workers, businesses and musicians came to the rescue, donations and statements of support poured in, and Felix was reinstated in time to plan and engineer the 2011 festival.
The greatest tribute to Felix and the Healdsburg Jazz Festival is that virtually all of the musicians on the 2011 bill donated their services without pay. The festival is not out of the woods yet, but with fans and friends like these, its future seems much brighter than it did last year at this time.
Once again, I attended the second weekend of concerts—Thursday June 9 to Sunday June 12—and what a lineup it was! On Thursday evening, Motema Music highlighted some of the recording label's strongest featured artists, Geri Allen, Marc Cary and Babatunde Lea. Charles Lloyd and his transcendent trio Sangam were the featured players Friday night.
Saturday night's triple bill began with Denny Zeitlin, continued with the John Heard Trio and ended with an all-star aggregation fronted by George Cables and also featuring Bobby Hutcherson, Bobby Watson, Craig Handy, David Weiss, Ray Drummond and Victor Lewis.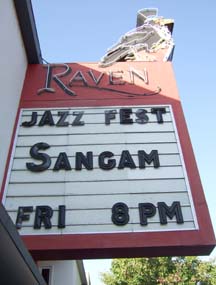 After a few hours of sleep, many of the same players—and fans—returned for a Sunday morning set of jazz spirituals, with the addition of Ruth Naomi Floyd, Pamela Watson, Benny Maupin and James Newton. A casual Sunday evening of film, conversation and performance with Charlie Haden and Alan Broadbent brought the 2011 festival to a close in grand fashion.
All concerts ranged from $35 to $45 for general admission and $65 to $75 for exclusive Gold Circle seats and were staged at the Raven Theater, a transformed movie house in downtown Healdsburg that holds about 700 people, large enough to accommodate the revitalized audiences of avid fans and small enough to create an intimate and stimulating listening experience. On some nights, after-hours jam sessions continued in the lobby lounge of the nearby Healdsburg Hotel. The mood of the entire festival is so loose and the artists so convivial that I was able to connect with several old friends of the Berman Music Foundation, including George Cables, Bobby Watson and Victor Lewis. They sent best wishes to all.
For the third year in a row, I enjoyed these performances with old friends who live in the area—Joe Phillips and Nikki Farrer, who also is a longtime festival volunteer. After 40 years, they remain the dearest of fellow music-lovers and comrades in my life. Their son, Jobee, and his fiancé, Jen, were the best of hosts to this repeat house guest. Thanks again, guys! And to Michelle Jensen, I add a friendly salute from the Cornhusker State, where we know how to celebrate Mardi Gras. That's a private joke.
I think I can safely say that we all add our voices to the thousands of others raised in support of the Healdsburg Jazz Festival, and we hope it will continue for many years to bring authentic jazz to an audience that really appreciates it.
Performance reviews appear in a separate story.
---
Jazz weather report ventures farther afield
By Tom Ineck
LINCOLN, Neb.—Fall is on the way and performing arts presenters are gearing up for a new season. Below are the best of area shows scheduled for upcoming months. In addition to Lincoln and Omaha concerts, we also suggest venues and events farther afield, most notably Brownville, Neb., Kansas City, Mo., and Columbia, Mo.
Let us know if you have any calendar events you would like us to feature.
Lied Center for Performing Arts
301 N. 12th St., Lincoln, 7:30 p.m.
Friday, October 21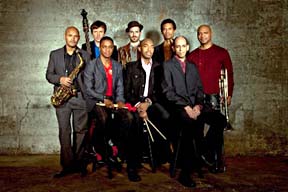 Turtle Island Quartet, jazz-influenced string quartet
Friday, November 4
Tiempo Libre, Latin jazz and Cuban rhythms
Monday, February 27
Doc Severinsen and His Big Band
Tuesday, March 13
SFJazz Collective, San Francisco-based all-star jazz combo
Club 1200 (at the Holland Center)
1200 Douglas St., Omaha, 8 p.m.
Friday, November 11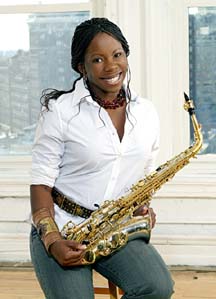 Alison Brown Quartet, banjo with jazz combo
Saturday, January 21
Popa Chubby, blues guitar
Friday, February 17
Tia Fuller Quartet, jazz saxophone
Friday, May 18
Kenny Barron Trio, jazz piano
Saturday, May 19
Big Sam's Funky Nation, New Orleans funk trombone
Brownville Concert Hall
2nd and Atlantic streets, Brownville
Friday-Saturday, October 28-29, 7:30 p.m.; Sunday, October 30, 2 p.m.
Michael Pagan, piano; Millie Edwards, jazz singer
Folly Theater
300 W. 12th St., Kansas City, Mo., 8 p.m.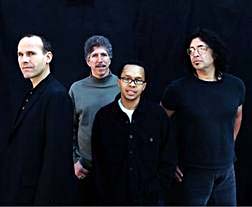 Saturday, October 1
Yellowjackets, fusion jazz quartet
Saturday, November 5
Peter Nero, jazz piano
Saturday, December 17
Mark O'Connor, jazz violinist
Saturday, January 14
Nnenna Freelon, jazz singer
Saturday, February 4
Grace Kelly Quintet, with special guest Phil Woods, jazz saxophone
Saturday, March 3
Vanguard Jazz Orchestra
Saturday, April 14
John Pizzarelli Quartet, jazz guitar
Jardine's
4536 Main St., Kansas City
Sunday-Wednesday, August 28-31; Friday-Saturday, September 2-3
Marilyn Maye, jazz singer
"We Always Swing" Jazz Series
Columbia, Mo.
Tuesday, September 27, 7 p.m., Jesse Auditorium
Jazz at Lincoln Center Orchestra with Wynton Marsalis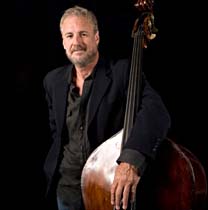 Sunday, October 16, 3:30 p.m. and 7 p.m., Murry's
Rene Marie
Sunday, November 6, 7 p.m., Blue Note
John Scofield Jazz Quartet
Sunday, December 4, 3:30 p.m. and 7 p.m., Murry's
Nilson Matta's Brazilian Voyage with Anne Drummond and Vic Juris
Sunday, January 22, 3:30 p.m. and 7 p.m., Murry's
Ravi Coltrane Group
Sunday, February 12, 7 p.m., Missouri Theater Center for the Arts
Chucho Valdes & The Afro-Cuban Messengers
Thursday, February 23, 7 p.m., Reynolds Alumni Center
Benny Green Trio with Peter Washington and Kenny Washington
Thursday, March 8, 7 p.m., Hickman High School Auditorium
Russell Malone with MU Concert Jazz Band
Sunday, March 18, 3:30 p.m. and 7 p.m., Murry's
Matt Wilson's Arts & Crafts with Terell Stafford, Gary Versace and Martin Wind
Sunday, April 29, 3:30 p.m. and 7 p.m., Murry's
Tia Fuller Quartet
---
Serendipity steps in to create memorable trip
By Tom Ineck
COLORADO—Sometimes, even when you've made travel plans to result in maximum pleasure, serendipity steps in and makes things even better!
Such was the case in mid-June, when my wife and I drove to Colorado for a nine-day outing. Our objectives were threefold—relax for a few days in the Fort Collins area, visit in-laws in Denver, then complete the trip at a cousin's son's wedding in suburban Denver before coming home. In the end, all three involved memorable jazz performances, as well.
Unable to reach former Lincoln resident and currently active Fort Collins saxophonist Andrew Vogt before embarking on our trip, I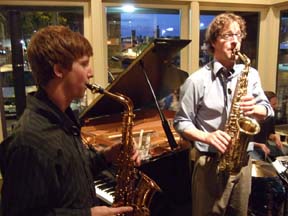 held out little hope of seeing him during our three-day stay. We roamed through the quaint and beautiful Old Town shopping area, spent an afternoon driving and hiking along the Poudre River Canyon up to the 10,000-foot Cameron Pass, and even took in Woody Allen's great new movie, "Midnight in Paris," at a funky little downtown theater. On our final night in town, we decided to dine at Jay's Bistro and Jazz Lounge, where pianist Mark Sloniker has been fronting a trio every Wednesday through Sunday for more than 10 years. Our last visit there was in summer 2008.
Just as we laid into our dinner and Sloniker launched into his first set, Mr. Vogt strolled in the front door carrying his sax. Serendipity strikes again! Andrew ordered a pizza and joined us at the table for a chat. He was up on the bandstand for the second set, as part of a stellar group that also consisted of young Myles Sloniker on drums, Mark Raynes on bass and Ben Strauss on alto sax. Among other tunes, they deftly tackled "Green Dolphin Street," "Bill Evans' lovely composition "Very Early" and a funky rendition of "Caravan."
On the following night we were at Dazzle, Denver's best jazz club, for a short first set by vocalist Gretchen Parlato, who fronted a four-piece ensemble that also featured Taylor Eigstei on piano and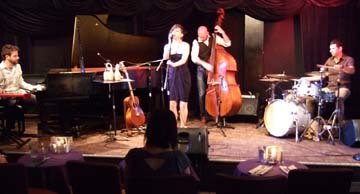 electronic keyboards, Alan Hampton on bass and acoustic guitar and Mark Guiliana on drums. This versatile foursome performed songs from Parlato's current release, "The Lost and Found," as well as two previous CDs, including Herbie Hancock's "Butterfly," the title track from "Lost and Found," performed as a duet with Eigsti, Parlato's composition "How We Love," and "Still," a tune with music by Hampton and lyrics by Parlato. A Brazilian samba called "Alo, Alo" featured hand-drumming by all. Parlato's voice is emotive, yet understated, an excellent instrument for interpreting a fusion of jazz, folk and world music.
A Los Angeles native, Parlato won the 2004 Thelonious Monk International Jazz Vocals Competition and has received raves, but her Denver appearance was less impressive than her outdoor performance at the 2010 Healdsburg Jazz Festival, despite temperatures there well over 90 degrees. In the air-conditioned indoor venue she seemed less inspired and less engaged, perhaps because she was saving her energy for the second set of the evening. She also showed no interest in performing an encore after the 45-minute lackluster set, despite encouragement from the audience.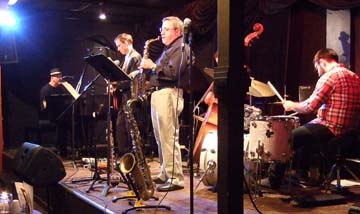 Two nights later, we were back at Dazzle for a pre-nuptial jam session led by the bride's father, longtime Denver saxophonist and educator Jim Stranahan. Among others on hand were pianist Jeff Jenkins, a Nebraska native and an old friend of the Berman Music Foundation, guitarist Mike Abbott, and young drummer Colin Stranahan, brother of the bride. An amazing talent in his own right, Colin has performed with some of the greats since moving to the East Coast, including pianist Fred Hersch and guitarist Kurt Rosenwinkel, and his is a fresh and exciting new approach to the rhythmic art.
Included in the set were such favorites as "All the Things You Are," "Nostalgia in Times Square," "When Sunny Gets Blue," and "The Way You Look Tonight," which got a lovely vocal treatment by Colin's female companion, Maria Neckam. The group also performed a Jim Stranahan original called "Ballad for Ben," dedicated to all who were unable to attend the wedding festivities.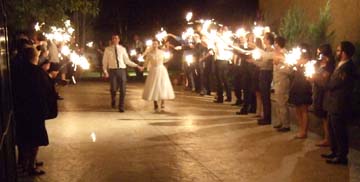 Those festivities concluded the following day with a wedding and reception at Villa Parker in Parker, Co. Live music at the reception was provided by none other than a combo led by our old friend Jeff Jenkins, another unforeseen treat. Certainly, we were in privileged company. We congratulate and thank newlyweds Phil Lienert and Lindsey Stranahan and their families for allowing us to share in all aspects of the joyous occasion. Salute!
---
Alaadeen's life story continues with memoir
By Tom Ineck
Ahmad Alaadeen's life journey ended with his death last year at the age of 76, but the story of his fascinating life continues with the posthumous publication of Alaadeen's memoir, "Dysfunctional: Life Journeys of a Second-Generation Jazz Musician."
Alaadeen's widow, Victoria "Fanny" Dunfee, said he wanted others to read his story and to learn from his poor choices and mistakes. Throughout his illness, he spent hours talking and recording his experiences in life. He died before he could finish the book, but Dunfee completed the project by transcribing his recently taped conversations and 25 years of collected interviews.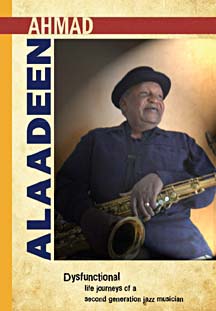 The Berman Music Foundation has been following Alaadeen—as an influential Kansas City musician, historian and storyteller—at least since 1998, when the BMF helped to bring him to the University of Nebraska-Lincoln for a series of enlightening and entertaining lectures and performances. As I later reported in a newsletter article headlined "Ahmad Alaadeen tells his story of jazz," Alaadeen described an unconventional musical upbringing.
"I came along when it was down and dirty," he told students. He studied under Leo H. Davis, who was Charlie Parker's teacher, and later enrolled in the Kansas City Conservatory of Music. But the school had no saxophone teacher because the instrument had yet to gain sufficient respect. "I left there and got my doctorate in the streets," he said.
He told students of his encounters with Miles Davis, John Coltrane, Billie Holiday, Ella Fitzgerald, Count Basie, Smokey Robinson, Sam Cooke and others. He also alluded to racism and rapidly changing music styles, for both players and listeners, all of which makes for interesting reading in "Dysfunctional." The paperback book comes two years after the publication of Alaadeen's "The Rest of the Story," a BMF-funded instructional manual that reveals some of his secrets of improvisation while also providing some historical and biographical background.
Jazz critic Willard Jenkins writes glowingly of the new book and its author.
"His story is full of cautionary tales and triumphs over adversities, of music made and music lost, of unstinting life lessons and subsequent sage observations, and ultimately of contributing to the music which gave him so much sustenance. This is a book that every aspiring jazz musician should read and take heed… He pulls no punches, reveals both the grit and the triumph, ranging from growing up to Jay McShann's magnetic music in the 'hood to the music he ultimately called his own. 'Dysfunctional' is a curious title, for this is a man who surely functioned in the world he ultimately chose, and did so with great grace and humility."
The book can be purchased at The American Jazz Museum, 1616 E. 18th St., in Kansas City, Mo. All of Alaadeen's CDs and books also are available for purchase online at http://www.Alaadeen.com.
Editor's Note: We received a copy of "Dysfunctional" too late for a thorough reading, but we did notice that one chapter is devoted to Butch Berman, who became especially close to Alaadeen and Fanny in his final years. We will write more extensively about the new book in our next BMF website update.
---
BMF "alumnus" gets to meet Barack Obama
By Tom Ineck
The person most instrumental in developing and designing the periodical newsletter that the Berman Music Foundation published—first in a hard-copy version that was mailed to thousands of BMF readers and since 2003 in a PDF version that could be downloaded from our website—was recently in the news.
Rebecca Kaiser (whom we fondly remember as "Becca") and her spouse, Natalie Wagner, were on hand May 18 when President Barack Obama made a stop in
Boston to kick off his re-election campaign in New England with a series of fundraisers. As Rebecca herself reports, one of the events was just a block from their house in Boston's South End neighborhood where the couple bought a condo last summer. Rebecca and Natalie volunteered their neighborhood contacts and helped with some of the event planning.
"We are active in Massachusetts politics," Rebecca writes, "and these efforts led us to the incredible opportunity of being able to meet and have our photo taken with President Obama during a private reception before his speech to a larger crowd of about 900 at the Cyclorama, Boston Center for the Arts." Also present were Massachusetts Gov. Deval Patrick, other local and state politicians, Boston Celtics Hall of Famer Bill Russell and current Celtics star Ray Allen.
"It was truly a once in a lifetime experience, and I feel so grateful that we were able to have this experience in our very own neighborhood!"
We extend our congratulations and best wishes to Berman "alumnus" Rebecca Kaiser, and say thanks to Becca's uncle, BMF consultant and occasional contributor Russ Dantzler, for letting us know about this story.
---
Editor's Note: At your request, we will mail a printed version of the newsletter. The online newsletter also is available at this website in PDF format for printing. Just click here: Newsletter
---